Leadership and wisdom: tribute to Sir Toby Curtis
The University sadly acknowledges the passing of a great leader and tireless advocate for education, Sir Toby Curtis (Te Arawa, Ngāti Rongomai, Ngāti Pikiao).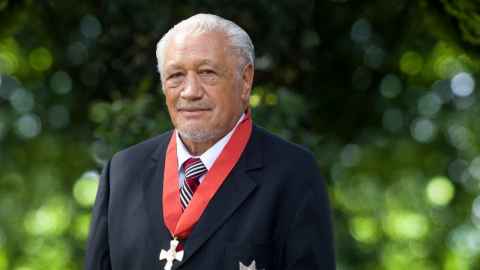 Karanga te pō
Karanga te ao
Kua hinga te totara nui a Nopera (Toby) Tamihana Curtis 13.11.1939 - 17.08.2022

Dr Sir Toby Curtis (Te Arawa, Ngāti Rongomai, Ngāti Pikiao) passed away peacefully at his Lake Rotoiti home on 17 August at the age of 83. He was surrounded by his whānau. Tā Toby will taken to his marae, Rakeiao, Lake Rotoiti for his tangi at 10am on Friday 19 August, 2022.

Sir Toby is a former student, lecturer and then vice principal of Auckland Teachers' College, and was most recently chair of the Te Arawa Lakes Trust and a member of the Iwi Chairs Forum.
He studied at the University of Auckland, graduating with a Diploma of Teaching in 1972 and a Master of Arts in 1980.
His masters thesis was titled Independent Māori boarding schools: continue or discontinue. He later completed a PhD at the University of Auckland in 2005, titled An investigation of how Hawaiki knowledge is fundamental for Māori leadership.

We acknowledge his leadership, wisdom and unwavering commitment to education.
E te manu ariki whakatakapōkai o Ngāti Rongomai me Ngāti Pikiao, e tangi te motu nei I a koe