PM welcomes back international students
The Prime Minister has welcomed international students back to Aotearoa New Zealand at a function at the University of Auckland's Unleash Space.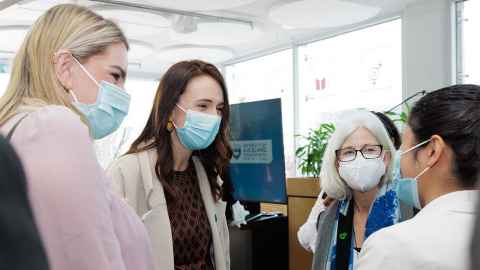 The Prime Minister, Jacinda Ardern, and Vice-Chancellor of the University of Auckland Professor Dawn Freshwater, touched on the importance of international students to both the University and the wider community at an event to welcome students back earlier this month.
While a relatively small number of students are back on campus, since 1 August there have been more than 3,200 student visa applications across the country. Applications are at around 50 percent of pre-pandemic levels and are expected to increase in the latter part of this year for a 2023 start.
Along with other speakers, Education Minister Chris Hipkins and Education New Zealand (ENZ) Chief Executive Grant McPherson, the two leaders discussed the attraction of New Zealand for international students, particularly given its reputation as a safe place to live and study, and the high value placed on people's health and well-being.
Arts and Law conjoint undergraduate student from Germany Malina Grube also addressed the group. Malina features in Education New Zealand's new global campaign 'I Am New', designing a graduation gown, which was on display.
The high point of the event for the approximately 70 international students was the opportunity to have a selfie with the Prime Minister – something unheard of in their own countries, as several pointed out.