Clean energy team awarded $6.4m
Researchers from the Geothermal Institute are leading a project to capture carbon from New Zealand's geothermal power plants.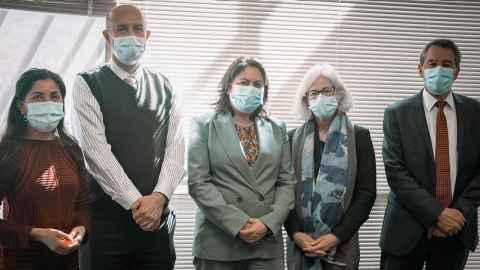 Researchers developing a way to capture greenhouse gas emissions (GHG) from the country's geothermal power plants to reinject it back into the ground is the basis for potential world-leading clean geothermal technology.
Associate Professor Sadiq Zarrouk is the co-director of the Geothermal Institute at the Faculty of Engineering at Waipapa Taumata Rau, University of Auckland.
His team's research programme, 'Reversing carbon emissions in the geothermal energy industry', was awarded $6.4m funding in the 2022 Endeavour funding round.
Associate Professor Zarrouk says, "Our research responds to the Government's strategy to achieve a net-zero carbon economy by disposing of all the greenhouse gas emissions from New Zealand's geothermal power plants."
The Government has set a target for New Zealand to transition to net-zero carbon emissions by 2050. Geothermal power stations currently account for 18.1 percent of the country's electricity and emit more than 560,119 tonnes of CO2 a year at a current cost of more than $42.3m annually.
The potential solution the researchers will trial will capture the GHG emissions and transform the main component CO2 to re-inject it into the waste geothermal brines and steam condensates that are already returned to the geothermal fields. Once deep in the ground, the GHGs solidify and remain stable in their solid mineral form.
Associate Professor Zarrouk says the programme will draw on a broad multi-disciplinary team of geothermal energy experts, chemical engineers and earth scientists and partner with Māori organisations and iwi with land assets in geothermal areas.
The research aims to ensure the approximately $10b invested in New Zealand's geothermal power generation infrastructure can reduce its carbon emissions to meet the carbon net zero national goal.
Associate Professor Zarrouk says New Zealand could be a world leader in utilising and exporting this technology to countries with geothermal power generation.
Worldwide GHG emissions from geothermal power generation are estimated to be more than 10m tonnes of CO2 a year, creating a global market and need for this technology.
He says the technology has potentially wide application to other industrial processes wanting to reduce carbon emissions.