Tackling spot of difficulty leads to award
A University of Auckland-led research team has won a major Australasian award for innovation in contributing to sexual health.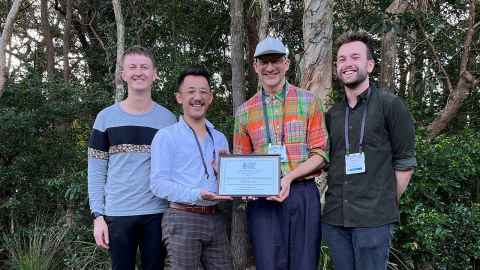 When Covid-19 scotched a research team's plans to recruit participants at events, starting with the Big Gay Out 2022, they were forced to rapidly rework their methods. Now they have won a major innovation award.
The Sex and Prevention of Transmission Study (SPOTS) team was presented with the award at the recent Joint Australasian HIV&AIDS and Sexual Health Conference in Queensland.
"We are thrilled the award recognised the research planning, preparation and pivot for SPOTS during COVID-19," Peter says. "Since the nomination, we have completed the fieldwork and collected the largest ever HIV prevention sample in New Zealand of almost 4,000 participants."
The study confidentially surveyed around 4,000 people from across Aotearoa New Zealand, including Māori, Pacific and Asian Communities on sexual activities and gave them the option of providing a finger-prick blood sample.
The goals of SPOTS include preventing transmission of HIV and STIs, reducing undiagnosed HIV, syphilis and hepatitis C, as well as improving blood donation policy for men who have sex with men (MSM). Currently MSM are excluded from donating blood if they have been sexually active in the previous three months.
Innovation was critical at every point from attracting funding through to a focus on equity to switching from face-to-face to online recruiting, to consultation and a clever marketing campaign.
Collecting dried blood samples through the post was one of the researchers' creative responses to pandemic limitations and it had the advantage of making the study more accessible to all types of MSM.
The judges commended the researchers for addressing challenges of access, cross-disciplinary membership of the research team, including community groups, concrete achievements, and meaningfully involving indigenous communities.
The team which has members from the University of Auckland, University of Otago, Te Whāriki Takapou, Burnett Foundation Aotearoa, Body Positive and the New Zealand Blood Service is now working on producing reports using data from the survey.