Students tackle scooter safety and sustainable shopping
Innovative ideas to incentivise sustainable shopping and improve sidewalk safety were awarded as part of the Solve It with 5G challenge this month.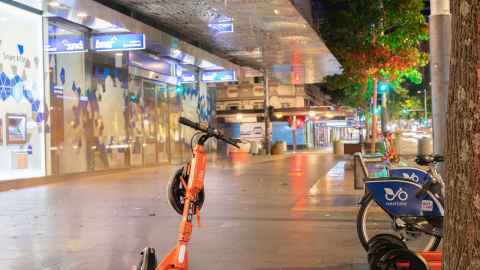 As the drive towards sustainable transport speeds up, University of Auckland students are investigating ways to make shared paths safer for electric scooter riders and pedestrians.
E-scooter riders can pose a serious risk to themselves and others on shared pathways, says arts and global studies student Cissy Xiang, who, together with five teammates, won $5,000 and took out the University's 2022 Solve It with 5G challenge last week.
Cissy's team (Team Connect) was tasked with exploring how Auckland might redevelop its road network to adapt to climate change, making it more people-centric.
The team's winning solution, formulated over an intensive week of collaboration and innovation, is designed to make footpaths safer by warning people of approaching traffic.
"5G positioning technologies can provide better location resolution than existing GPS and we looked at how we could use existing Internet of Things (IoT) networks, such as those Auckland Transport and several of the scooter companies use, to provide a service that alerts people to any potential obstacles, especially when they don't have a clear line of sight."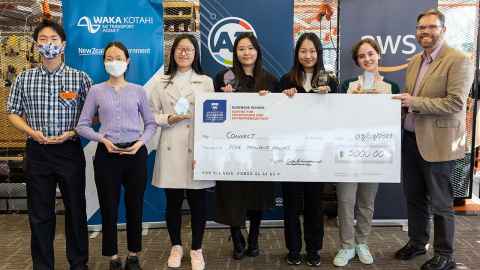 Cissy and her teammates say their software would alert people with a bicycle bell sound via their phone or a purpose-designed tag if another device was detected within a specific range.
"5G offers precise location accuracy, which can be utilised to understand when two people are getting close to each other. Software can then warn them when a person is approaching their safe zone."
Team Connect member Andi Liu says the pilot solution predicts the immediate future location of shared-zone users, and warns the users if these overlap, especially from blind angles.
"Our solution is a people-centric dynamic network, and a person's safe zone would adjust automatically depending on their speed and the speed of anyone approaching. We undertook prototype testing to understand when we would need an alert to be activated depending on speed."
As part of the solution-finding process, Team Connect interviewed university students and staff to find out about their experiences on shared paths.
"Many said they were worried about being hit by scooters," says Cissy.
"There aren't many regulations regarding e-scooters in Auckland, and although the different companies can employ speed limits for different areas and all have top speeds, some private e-scooters can go much faster. This is a big issue, and as part of the Solve It with 5G competition, we wanted to find a way to help people feel safer using shared pathways, whether walking, cycling or scootering."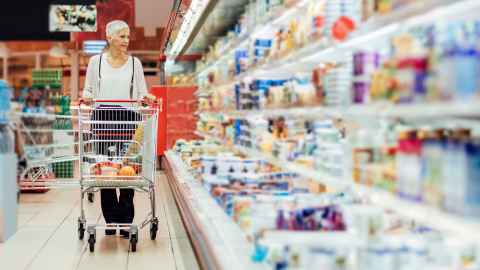 Auckland Transport, Beca, and Waka Kotahi supported the five-day problem-solving event, each presenting an industry challenge for University of Auckland teams to try and solve.
There were many solutions to the real-world concerns, including one from another award-winning team, Turtle and the Hare, who explored ways to help Auckland move towards a thriving circular economy with the help of 5G.
Turtle and the Hare team member Samuel Bain says that after interviewing people on and around campus, and brainstorming about potential barriers to a circular economy in Auckland, members decided to find a way to help Aucklanders recognise and utilise their buying power so that they might contribute to a more sustainable system.
"We had heaps of crazy pie-in-the-sky ideas, but we were able to identify some common themes across all of our thinking," says Samuel, who is studying law and global studies.
In the end, the team decided to develop a way to incentivise purchasing sustainable products and created a prototype.
"We focused on supermarkets, and using Imagr trolley technology we could track exactly what was put into and taken out of shopping carts. A tablet screen could be installed to provide augmented reality wayfinding and information on sustainable products."
Every sustainable item scanned would earn points in a loyalty system, and if a cart had more than 60 percent sustainable items, says Samuel, the shopper could skip the queues at the checkout and pay on the tablet attached to the trolley.
Meanwhile, third place in the challenge was awarded to team DJ Maas for their plan to increase composting by incentivising it for everyone, including those without access to their own facilities.
Learn more about the 5G sustainability innovation sprint.