First stage of renovations completed at Waipapa Marae
Waipapa Marae has undergone its first renovations since it opened in February 1988.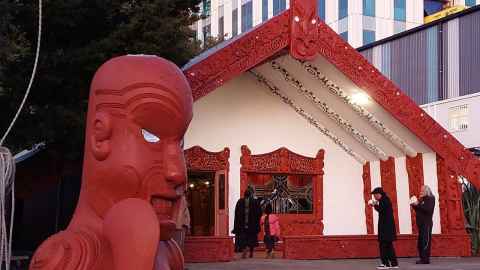 Waipapa Marae is the focal point of te ao Māori at Waipapa Taumata Rau, the University of Auckland and, among other things, is used by Māori Studies students and staff for language classes and seminars.
However, due to Covid restrictions the marae has been largely unused for the past two years, and was closed completely when renovations began in June 2022.
Those have now been completed and improvements include heated floors, a new lighting system in the wharenui, refurbished bathroom facilities, a paint job for the wharekai, new flooring, a newly installed cleaning room and upgraded stairs.
This completion was acknowledged by an open invitation to a walk-through of the marae leading up to Māori Language Week. It was opened with a pūkāea, karanga and karakia, led by te Kaiārataki o te tari o te Pro Vice-Chancellor Māori Michael Steedman, professional teaching fellow Paora Sharples of Māori Studies and representatives of Ngāti Whātua Ōrākei.
The event was attended by project manager Justin Valerio and Kalmar contractors as well as Ngā Pae o te Māramatanga staff and representatives of Ngā Tauira Māori Association.
Stage Two is set to get underway in October and will include further improvements in the wharenui and enhanced disability access.
Taurima of Waipapa Marae, Moeahi Kerehoma, said the marae plays a crucial role for Māori kaimahi (staff) and tauira (students) and says the primary ancestors of Tāne-nui-ā-rangi, the meeting house on Waipapa Marae are the ancestor-gods with whom students of all tribes can identify.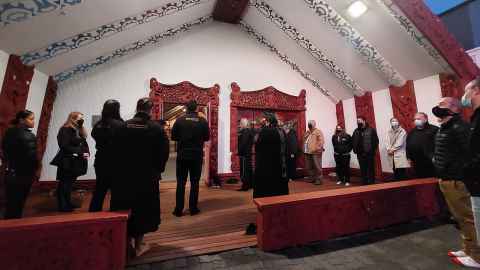 "Depictions around the walls show the captains and priest-navigators of the canoes that brought the ancestors of the different tribes to New Zealand in the 14th century.
"Also included in the house is Tangi'ia, an ancestor who connects the major islands of the Pacific with New Zealand. Thus, the house is pan-Pacific as well as pan-tribal," she said.

"The symbolic conception of Tāne-nui-ā-rangi was formulated by the tohunga whakairo Pākariki Harrison."
Moeahi said Waipapa Marae sits on the shoulders of past and present academics and Māori staff who have championed te ao Māori.
"My grandfather, the late Dr Ngāpō Wehi, was a lecturer in the undergraduate training paper in kapa haka until 2002 and introduced our whānau and rōpū Te Waka Huia to this marae in the early 90s. I have grown up here at Waipapa Marae and consider it as being one of my own."
Moeahi followed in the steps of her aunty, Rangimarie Morehu, and Mere Gillman who were the previous taurima of Waipapa Marae.
"They were its custodians for over 30 years and held the role to a standard I only hope to maintain," she said.
"It would be also be remiss not to acknowledge the valiant warriors who strove to maintain the integrity of Waipapa Marae by upholding kawa and tikanga throughout the 1980s to today - Mō koutou tēnei whanaketanga!
"To those who are still with us and to those who are no longer, your contributions to the legacy of Waipapa Marae will remain within the Poho o Tānenui-ā-Rangi, haere nei te wā."
Waipapa Marae will remain closed for educational and ceremonial purposes until March 2023. However, kaimahi or tauira are welcome to view the upgraded whare and can request to do so by email.
Media queries
Te Rina Triponel | Kaitohutohu Pāpāho Māori
E: te.rina.triponel@auckland.ac.nz
M: 021 029 90650