At present progress, a century will pass before academics reflect the diversity of our people. Sereana Naepi shines a spotlight on universities and who they serve.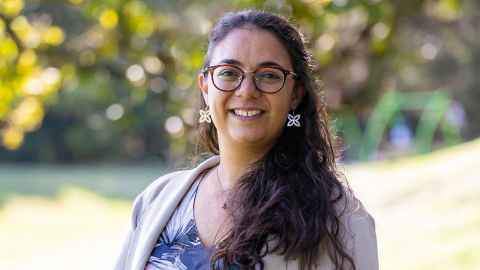 When Dr Sereana Naepi talks about feeling like a 'space invader', she isn't referring to the old-school console video game.
The term was coined by sociologist Nirmal Puwar in her book Space Invaders: Race, Gender and Bodies Out of Place, to describe how universities are a contested social space with a culture that excludes people of colour.
Puwar teaches at Goldsmiths, University of London. She outlines three mechanisms of exclusion: disorientation, the slight double-take when a person of colour enters a room of Pākehā; infantilism, where people of colour are not expected to wield authority; and hyper surveillance, when if people of colour do attain authority, the culture is unforgiving of even the smallest of mistakes.
Naepi has experienced these 'mechanisms' first hand. At heart each behaviour undermines a person's right to be in a place or institution. For her, it has led to questions chipping at the foundation of her identity. Before her wedding her husband-to-be questioned her decision to take his surname, Naepi, rather than stick with the less likely to be labelled birth surname of Patterson.
"Are you sure you want to do this?" he asked.
She recalls a PhD candidate walking into her office to explain how human resources works, then noting Naepi no doubt owed her role as a lecturer to her Pacific heritage. She had run a research centre, had obtained more than a million dollars of research funding and was well-published, but this young man, at the very beginning of his academic career, felt able to question her role and seniority. Naepi got him to leave without losing her temper.
Is the current university system serving all those who come to them? What does a university reflective of a 21st century society look like? What vestiges of the academy remain that at its founding excluded women and people of colour?
She is a lecturer in social sciences at the Faculty of Arts at the University and, in 2021, was awarded a Rutherford Discovery Fellowship for research with the daunting title: 'Planning for change: an analysis of neoliberalism, equity and change in higher education'.
Like all good research, it poses hard questions, in this case of the institutions of higher learning. Is the current university system serving all those who come to them? What does a university reflective of a 21st century society look like? What vestiges of the academy remain that at its founding excluded women and people of colour?
These are serious questions, but in person, Naepi is no doctrinaire. She is wry and bemused, happy to share fish-out-of-water stories that have been part of her time in academia. In family photos, there's nobody but her who has been to a university, not so much for many of her colleagues. She remembers a Pacific student who told her, "It's like everyone else here has gone to a pre-university university!"
She says that's so true.
"There are kids who come to university from a decile ten school and their experience and expectations are going to be completely different to kids from places who lack those particular privileges."
Contemporary Aotearoa is a far different society from New Zealand when universities were established. We are no longer homogenous and now are decidedly diverse.
"Māori experience this place differently; for Pacific people it is different again, as it is for Asian students. Those labels are big umbrella terms that can't describe the many intersecting identities. The university was not designed for these students and for them a lot of what happens at university doesn't make much sense."
Her work builds on her training as an educational sociologist, examining the nature, purpose, and role of higher education with a strong lens on what equity actually entails.
Uncomfortable snapshot
A 2019 paper 'Why isn't my professor Pasifika?' offered an uncomfortable snapshot of the diversity of the country's eight universities. The takeaway: despite national and university policies to serve Pacific people better, there had been no change in the number of Pacific academics employed between 2012 and 2017.
After five years, the Pacific academics remained at 1.7 percent of the total workforce and the percentage of Pacific academics who held senior roles of dean or professor declined over the period while 50 percent of all Pacific academics held junior roles, like tutorial assistant, that were often short-term contracts.
The figures confirmed anecdotal experience that a higher percentage of Pacific academics than other academics were members of the higher education precariat, facing work with little security or predictability.
Naepi says working on the paper, she and colleagues thought that it might not be for publication. "It didn't feel like a paper because it wasn't anything new, right? We've known for a really long time that there are very few Pacific academics."
But the act of quantifying the disparity had power. Pacific students and academics had become accustomed to being the only Pacific person in the room. But the paper put a new lens on it. "What made it powerful is that suddenly it was no longer a story of 'I don't have a Pacific lecturer in my course'." The paper provided potent evidence. "The institutions were unable to continue to gaslight us into thinking that it was just our own experience, right?"
Naepi stakes no claim to be a quantitative researcher. She is a sociologist not a statistician. However, she realised the data collected proved to be a 'blunt but recognisable tool' for universities. Universities have policies to deal with racism, but these apply to individuals. The policy allows the institution to say that it does not allow racism, while simultaneously enabling racism.
"What the numbers did is give us a way to say this is clearly a structural, institutional issue. This isn't just about somebody who called me a coconut, laughed, and walked off.
This is a country where we have fewer than five professors who identify as Pacific. Something has stopped the progression of Pacific people in academia.
"This is a country where we have fewer than five professors who identify as Pacific. Something has stopped the progression of Pacific people in academia."
She is not the first or only Pacific academic to question the status quo. And yes, institutions are creating pathways to encourage more Pacific and Māori into higher education.
But how long can this go on, she asks.
"At the present rate it could take 130 years to see Pacific equity in the academy. It shouldn't take 130 years because it's almost impossible to imagine what society will be like in 100 years."
She says universities need to acknowledge that on the present trajectory, equity for Pacific communities in higher education is as impossible as flapping their arms to fly to the moon.
Even if universities did reflect the populations they serve, that might not mean a win.
"At one level, it represents success, but not if that comes at the expense of those people from diverse backgrounds having to look and sound like everyone else. The real question is how to make universities places where people can be authentically themselves?"
Naepi is supervising a number of Pacific students through their doctorates. As one of her research participants confided," All I want is for my daughter to go to university and not have to camouflage every day."
It's another one of her big, difficult questions: "What does it take for a Pacific person to enter the academy, be authentic to themselves and rise through the ranks to become a professor without having to pretend to be something they are not, and still give the university what it wants, which is the creation and reproduction of knowledge?"
Institutional habit
Think of a large university as a small community.
"How do you create an institution where those with different backgrounds are not just comfortable being there, but feel welcome and celebrated for what they bring?"
So how does a university system with its origins in 11th and 12th century Italy and England, initially the exclusive preserve of European males, remain relevant and equitable in a nation where women hold the highest constitutional roles and demographic change has created one of the more diverse societies in the world?
To Naepi it means universities will need to learn how to celebrate and recognise different ways of creating knowledge. She lectures Stage 3 courses in sociology. To pass a Stage 3 university paper generally requires students to produce about 6000 words of text to demonstrate their understanding and analysis of the topic.
Is this the only format to demonstrate the acquisition of knowledge, she wonders. To see what this might mean in practise, Naepi shifted the assignments to rely less on essays but on directed and deep discussion.
"When I did this even the students began to feel uncomfortable when I said, 'We just need to talk it through'. They and we have been trained in a deeply ingrained process that is an institutional habit, but is it the only way to deliver on what a university does?"
As an academic Naepi will build her reputation more by flying to speak at an overseas conference and addressing a dozen or so people than talking at a Pacific community event with many hundreds in the audience.
"So, the question is how do we measure excellence? Right now, those measures are tied to Western European and North American concepts of what is excellent."
She believes the challenge for universities in Aotearoa New Zealand is not to create another Oxford, she believes, but how to create a university that looks like 'here'.
"We're known internationally for our Indigenous research. Should we not embrace that and become leaders in that field, does that not make sense?" she says.
Partly it is about the visible change universities are trying to make. Are their campuses places where all communities are welcome? What would that look like, and would there be fewer portraits in oil of illustrious white men from the past?
She wants her research to pose more questions but also find responses that make sense to the communities who want better access and equity. That means more talk, but in a specific Pacific way, talanoa, an opportunity to talk through and around specific issues in ways that enable everything to be bought to the kava bowl as it is.
She will also use the 'kitchen table' method which encompasses a social gathering to discuss and debate. She recalls the special warmth created by aunties gathering to make food, and at the same time, teach their children to cook.
"I want to recreate that intimacy of making and sharing food and in that setting have the conversation around what the university is for."
Those conversations, which she will also work with Māori partners to create, will form the basis of a reimagining of the institutions of higher learning. She has the data and the questions and is immersed in the talanoa.
She says, "I'm going to keep on thinking about the different questions we need to ask. Some may cause a little bit of trouble, but when we cause a little bit of trouble, that means things change."
Story: Gilbert Wong
Images: Elise Manahan
Mātātaki | The Challenge is a continuing series from the University of Auckland about how our researchers tackle some of the world's biggest challenges. Challenge articles are available for republication.
Media contact
Gilbert Wong | Research Communications manager
E: gilbert.wong@auckland.ac.nz