Melinda Webber: fire in her belly to bust stereotypes
Professor Melinda Webber says negative stories about Māori tūpuna have had a serious impact. She is helping counteract that by showcasing their inspiring lives in a book.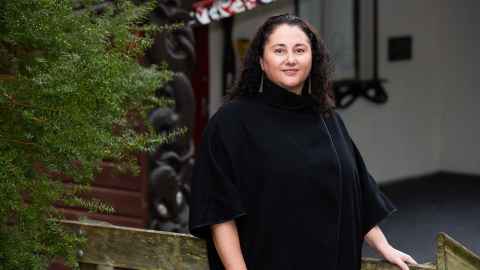 Like her Ngāti Hine ancestor Hineāmaru, a leader of great mana who forged new ground in many ways, Professor Melinda Webber is not afraid of a challenge and her sixth book was one she felt compelled to take up.
At the start of a Zoom chat with Melinda from her home in Laingholm, West Auckland, I admire the floor-to-ceiling bookshelves in the background.
"They're great aren't they? My partner made me a room downstairs for them all, and people think they're a Zoom backdrop."
In October she'll be able to add two books to the library, A Fire in the Belly of Hineāmaru (Auckland University Press), 24 stories of Māori tūpuna (ancestors) from Te Hiku in the far north to Tāmaki Makaurau, co-authored with PhD Māori Studies student Te Kapua O'Connor (Ngāti Kurī). The book has been translated into te reo Māori by Te Tai Tokerau language expert Quinton Hita as Ka Ngangana Tonu a Hineāmaru, He Kōrero Tuku Iho nō Te Tai Tokerau. Both books have original cover illustrations by New Zealand artist Shane Cotton.
Melinda (Ngāti Kahu, Ngāti Hau, Ngāti Hine, Ngāpuhi, Ngāti Whakaue) is Te Tumu, Deputy Dean in the University's Faculty of Education and Social Work. Her particular focus has been on Māori students' success, concepts of giftedness for Māori and school improvement for Māori learners.
One of the key things she learned on her numerous trips around the north talking to schools about improving Māori achievement, was the need to reverse negative stereotypes.
"We grew up without positive narratives about ourselves; in the north in particular, although that's been true across Aotearoa. The common narrative is that we were the first to be 'missionised' and Christianised, and we then became warmongers. That was the story we were taught of our ancestors."
These stereotypes shape who young Māori think they can be, and whether they want to learn their own language and histories, she says.
"They can become self-fulfilling prophecies, so our young people really need counter-narratives which talk back to those ideas and remind them that they're other people's stories of us."
There is no shortage of inspiring stories once you start looking, she says.
"When you visit a marae up north, for example, the kaumātua talk about your tūpuna as heroes. Yes, they went to war, but they were also peacemakers, caring fathers, strategists and philosophers.
"The rangatira Te Ruki Kāwiti, for example, built the Ruapekapeka Pā, a world-renowned site known for trench warfare. So we were just trying to capture those ideas in the book."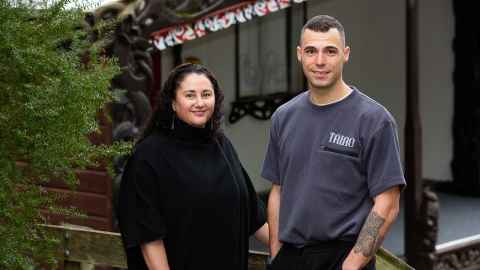 We grew up without positive narratives about ourselves in the north in particular, although that's been true across Aotearoa.
A Fire in the Belly of Hineāmaru is a six-year project involving a group of talented people, most with strong whakapapa to Te Tai Tokerau, says Melinda.
"It really feels like all sorts of things have come together. I remember writing in my application for the Marsden Grant that I was 'the right person, at the right time', to do this study. But I couldn't have written this book on my own. It is a koha by, for and with Te Tai Tokerau."

She says Ngāpuhi, the largest iwi in Aotearoa with more than 140,000 members, has a rich whakapapa of scholars, politicians, entrepreneurs and scientists.
And with the refreshed New Zealand history curriculum compulsory from 2023, the gap in educational resources was there to be filled.
"We knew a book like this was going to be gold for schools in the north, and in Auckland."
So after a chat with her former masters student, Te Kapua O'Connor, who ended up becoming a co-author after three years of research, they started unearthing stories from all sorts of unlikely places.
"Beyond the 22 books I initially identified, we focused on manuscripts that had been written by people who lived in the north; they were in people's homes, under their beds … they were personal to them."
They also found rich material in traditional songs, chants, prayers and incantations.
"For every idea, we wanted to triangulate it with different sources, because one of the things you're mindful of when you're writing whakapapa narratives like this is the iwi across the river will have a different narrative from the one you hold.
"So when somebody said it was a grandfather and another said it was an uncle, and someone else said it was a brother, we tried to reflect that in the story, and through footnotes."
She says one of the interesting things, writing-wise, was their decision to use the passive voice to reflect the position of the environment as compared to humans.
"Instead of saying, 'John chopped the tree down' you might say, 'The tree was chopped down by John' which is not the usual way of writing something, but in a Māori worldview, the environment is our older sibling and further up in the hierarchy in the whakapapa; I think that comes through in the language of the stories – care of place."
The eponymous story of Hineāmaru has a particularly personal connection, say Melinda, who is a direct descendant on her mother's side.
"My stepfather was a community leader and as kids we travelled to lots of different marae around the country where he would explain the meanings of carvings and the stories of the ancestors depicted in them.
"When we saw Hineāmaru in the north, he would tell the story of this incredibly determined woman who journeyed with her parents from the west coast to the east coast of the North Island, and who was an expert in growing kūmara.
"She was a scientist who understood about soil and all kinds of things, and it was so outside my worldview, I was just mesmerised by this woman who seemed so ferocious and spirited. As a kid, I drew a picture of her with a fire in her belly to represent her tenacity. Māori have always been taught that one's feelings rest in the belly as the centre of all emotion, so the book's title was a nod to that as well."
None of my books have been as personal or as important; not just for academia and for contributing to theory, but for community and for young people, and also for teachers.
Once completed to draft, they sent the manuscript to AUP director Sam Elworthy, who had been in contact when Melinda first won the Marsden Grant to say he'd be keen to publish it.
"Sam was really taken with it and said there's not really a book like this in Aotearoa New Zealand. He suggested an illustrator as we wanted some good pictures."
And then, she says, came an almost unheard of confluence of interest, timing, skills and whakapapa, which saw both Shane Cotton and revered te reo Māori speaker and translator Quinton Hita come on board.
"None of us knew Shane personally, but I thought I'd email him because I really admire his work, and just send him the book and say, 'This is what it's about and these are some of the stories'. He read it from cover to cover and was completely taken by it and inspired to do some paintings."
Shane focused on the Hineāmaru story but also did a couple of different paintings inspired by stories from the book. And Quinton's translation was so crucial that it substantially affected the English version, making him, in effect, the third author.
Then Christchurch mapmaker Tim Nolan joined the project to clarify the locations of various regions that readers might not otherwise recognise by their Māori names.
"Tim came back with the most beautiful maps that emphasise the topography of the land in ways that linked to the stories in the book and offered new knowledge; did you know for example, that the Māori name for Wellsford is Whakapirau?"
Whakapapa really matters on a project like this, she says.
"There's something about reading the story of your own ancestors that just triggers, or certainly triggered in the contributors to this book, a desire to be involved; to tautoko, to tell those stories with the skills they had."
Melinda feels incredibly proud of the book.
"None of my books have been as personal or as important; not just for academia and for contributing to theory, but for community and for young people, and also for teachers. I just think there are so many ways this book is needed in our communities."
By Julianne Evans
The book is available from 13 October.