Decolonising dance education in Papua New Guinea
For her PhD, Naomi Faik-Simet explored dance as a form of knowledge transmitted across generations, and argued for the need to decolonise Papua New Guinea's art and culture education system.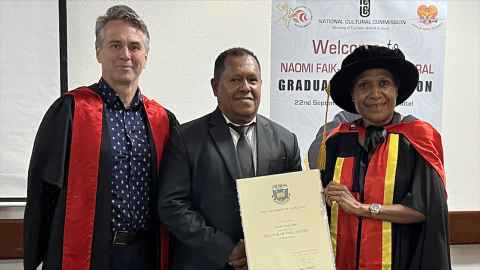 Naomi Faik-Simet completed her PhD in Dance Studies in 2021, the first PhD candidate from Papua New Guinea to graduate from the Dance Studies programme at the University.
As Naomi could not attend her official graduation ceremony in Auckland, her achievement was marked by a celebratory event in September in Port Moresby, attended by her supervisor, Professor Nicholas Rowe, the Minister for Tourism, Arts and Culture, the director and board of the National Cultural Commission, various deans and directors of faculties and research institutes in Papua New Guinea and many other dignitaries.
For her PhD, Naomi explored dance as a form of knowledge transmitted across generations, in which she argued for the need to decolonise Papua New Guinea's art and culture education system. "Art and dance in formal Papua New Guinean education settings are currently taught according to western perceptions of art, that focus on the product rather than the process," she says.
Naomi has had personal experience of feeling alienated from her people and culture in an educational setting. "Although I was born and raised in Papua New Guinea, my siblings and I often felt disconnected from our ways of knowing, learning and doing. The impact of inheriting a European lifestyle and worldview in the early postcolonial period of Papua New Guinea was evident as I was growing up."
"By learning and participating in the arts, I have developed a greater appreciation for my cultural heritage which was absent in my early years of growing up away from my village." 
 
Learning arts in schools is a form of cultural preservation and sustenance and an inherent part of Papua New Guinea's indigenous cultures and traditions.
Implementing a culturally relevant curriculum that is inclusive of Papua New Guinea's artistic expressions, such as dance, music, costume, storytelling, theatre and drama, is an ongoing challenge she says.
Her thesis focused on the educational significance of the pedagogical practice of Tena Buai. "Tena Buai are the master teachers responsible for the teaching and learning of indigenous Tolai creativity and new dance forms, generated by the Buai," she says. "They do this in collaboration with the metaphysical."
"My thesis demonstrates the significance of contextualising creativity as an indigenous pedagogical learning process for new artistic expressions that are integral to the Tolai artistic and cultural life," she says.
Speakers at Naomi's graduation event acknowledged the importance of creativity, its significance in Papua New Guinea, and the value of Naomi's research in revealing indigenous, pre-colonial systems for teaching creativity.
"This marks a shift from engaging in cultural research in Papua New Guinea simply for preservation, but instead looks at how cultural ethnography in the country can address urgent societal challenges," says Dr Rowe. " It also opens a door to more indigenous scholarship that questions the dominant narrative of creativity within a liberal Western philosophy."
Speakers at Naomi's graduation also acknowledged the sacrifices she had made to complete her studies, studying for four years as an international student in a self-funded arrangement so unable to bring her two teenage children to live with her in Auckland. She missed them dearly. In addition, she faced the enormous challenge of completing her thesis during the Covid-19 pandemic in 2020, so she could return to her family. 
Her key supports included her husband, her employers at the Institute of Papua New Guinea Studies where she is Assistant Director, Dance, and the National Cultural Commission.
Naomi is currently collaborating with the UNESCO-funded University of Auckland Dancing Oceans project, which is researching indigenous students' experiences of tertiary education in the Pacific, and establishing a network of indigenous educators of tertiary dance.
It was encouraging to see the support at the political level of those who attended her graduation in Port Moresby says Naomi. "I am pleased that this Doctoral achievement has given prominence to dance and creative arts education in Papua New Guinea."
"Learning arts in schools is a form of cultural preservation and sustenance and an inherent part of Papua New Guinea's indigenous cultures and traditions. By decolonising Papua New Guinea's foreign education system, learning of the arts provides many students such as myself a means find our sense of belonging and indigenous connection."