Best in business: exceptional Māori leaders honoured
The sold-out Aotearoa Māori Business Leaders Awards celebrated some of the country's best and brightest entrepreneurs and innovators.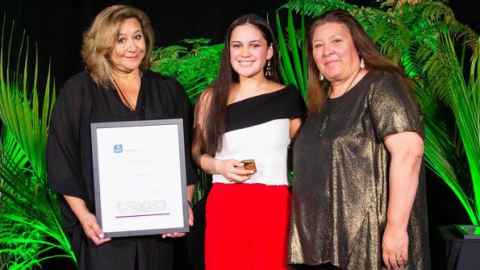 Tears, tunes, te reo Māori and outstanding talents were shed, sung, embraced and honoured at the 2022 Māori Business Leaders Awards.
Teenage CEO Georgia Latu (Kai Tahu, Ngāpuhi) received the Young Māori Business Leader Award for her enthusiasm, imagination, hard work and drive to launch and run Pōtiki Poi, the world's largest poi manufacturing business.
On accepting her award, the 16-year-old entrepreneur sang in te reo Māori, and as tears came into her eyes, several people in the 400-strong audience called out words of encouragement. The packed venue in the Auckland War Memorial Museum Tāmaki Paenga Hira then fell silent as attendees listened to Georgia's heartfelt speech in which she thanked her whānau and honoured the memory of one of her closest friends who recently passed away.
Seven other awards were presented on the evening, which the Waipapa Taumata Rau Business School put on to celebrate outstanding Māori excellence and success in business.
Tama Toki (Ngāti Rehua, Ngāti Wai, Ngāpuhi), the founder and CEO of Aotea, a business that's focused on therapeutic skincare and the efficient generation, storage and distribution of renewable energy, was presented with the Māori Entrepreneurial Leader Award in recognition of his mahi building a successful internationally-recognised business. His company also took out the Business Leader Award for promoting and achieving environmentally sustainable outcomes.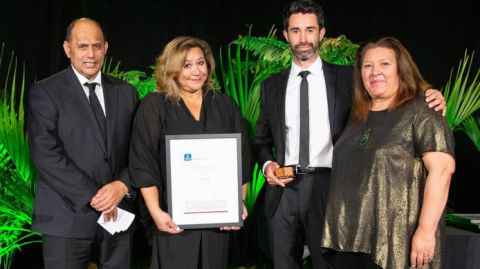 Tama, the Business School dean Susan Watson who opened the event, and the other awardees, all spoke in te reo Māori and the language felt alive and embraced. The guest address, given by Minister for Māori Development, the Hon Willie Jackson, was funny, moving and inspiring, and the banter between Jackson and the evening's MC, the award-winning broadcaster and former television executive Julian Wilcox (Ngāpuhi, Te Arawa), kept the crowd entertained between awards.
Para Kore, which empowers and supports marae and other organisations to reduce waste, took out Te Tohu Whakanuia te Rangatira a Mānuka Henare, an award in honour of the late Māori academic Dr Mānuka Henare.
Food and beverage producer and exporter of premium wine, seafood, craft beer, fruit and natural fruit bars, Kono, an associated business of Māori-owned Wakatū Incorporation, won Te tohu Taumata Rau award, which recognised the company's strong cultural ethos portrayed in the global arena.
The Outstanding Māori Business Leader Award went to innovative agritech entrepreneur Steve Saunders (Ngāi Te Ahi, Ngāti Ranginui) in recognition of his exceptional success and outstanding leadership.
Robin Hapi, CNZM (Ngāti Kahungunu), was presented with Te tohu Rātā Whakaruruhau a te Kahurangi Mira Szászy Dame Mira Szászy Lifetime Award for his exceptional long-standing record in governance.
Meanwhile, the Outstanding Māori Business Leadership Award, in recognition of a kaupapa Māori business that has achieved significant success and transformation in their industry, sector or community, went to North Drill Limited, a fast-growing Whangarei-based drilling company that proactively works to improve the wealth and well-being of its people.
The awards were hosted by the University of Auckland Business School and sponsored by Bank of New Zealand, Ngāti Whātua Ōrākei, Asia New Zealand Foundation, He kai kei aku ringa - the Crown-Māori economic growth strategy (sponsored by MBIE and TPK), NZ Māori Tourism, PwC, and Te Rūnanga o Ngāi Tahu.