Rutherford fellowships recognise fresh ideas with real world impact
2022 Rutherford fellowships awarded to three researchers at Waipapa Taumata Rau, University of Auckland.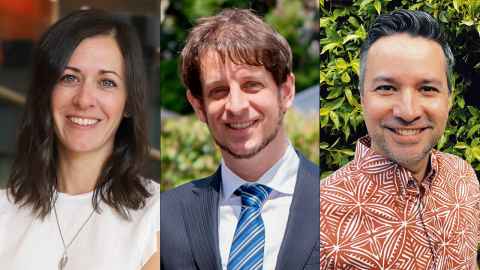 Work to address the diversity crisis in software engineering, piecing together the puzzle of music globally, and a map of how international legal frameworks impact upon Pacific nations are three projects from University of Auckland researchers who have been recognised with Rutherford Discovery Fellowships for 2022.
The three early to mid-career researchers, who each receive $800,000 funding, are Dr Kelly Blincoe (Engineering), Associate Professor Guy Sinclair (Law) and Associate Professor Patrick Savage (Science).
Dr Blincoe is addressing the software industry's diversity crisis that currently sees only 23 percent of software roles in Aotearoa filled by women, with many women leaving the industry.
Associate Professor Sinclair will map and analyse the complex international legal framework in the Pacific, a region covering a third of the world's surface with vast resources, cultural diversity and geopolitical significance.
Associate Professor Savage's expertise is in the cultural and biological evolution of music. All societies have language and music, but little is known about how aspects of each are shared or are distinct across cultures. He will work with native speakers to collect thousands of recordings of people across the world.
Associate Professor Marama Muru-Lanning of the University and the chair of the selection panel, said: "It has been a privilege to meet and work with scholars who were shortlisted for the Rutherford Discovery Fellowships.
"They are remarkable people in so many ways. I have great hopes for this year's successful group and look forward to seeing them thrive and give service to Aotearoa-New Zealand and humanity."
"Whiria te tangata, ka puta te oranga
Whiria te mātauranga ka puta he tino rangatiratanga"
"By weaving people, promote well-being
By weaving knowledge, promote excellence."
The Rutherford Discovery Fellowships aim to attract, retain and develop New Zealand's most talented early to mid-career researchers and support their career development by helping them to establish a track record for future research leadership.
Royal Society Te Apārangi manages the Rutherford Discovery Fellowship programme on behalf of the New Zealand government.
The scheme receives government funding from the Ministry of Business, Innovation and Employment of $8 million per annum and awards $800,000 over five years to each research fellow. There are at least 50 Rutherford Discovery Fellows supported at any one time.