Cutting-edge brain technology takes out top Velocity prize
A tool to improve precision and safety during neurosurgery is shining a new light on the old adage, measure twice and cut once.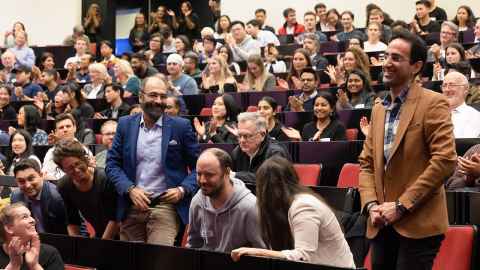 Neurofanos, a high-tech image-guided tool is the brainchild of a multidisciplinary team who took the spotlight as first place winners at this year's 2022 Velocity $100k Challenge for their work on revolutionary technology which will help neurosurgeons see the structures deep in the brain more clearly than ever before.
The Neurofanos team is spearheaded by University of Auckland Bioengineering Institute (ABI) research fellows Dr Hamid Abbasi and Dr Soroush Safaei, with Dr Jason Correia, consultant neurosurgeon, Auckland City Hospital, and co-director of the Neurosurgery Research Unit at the Centre for Brain Research, and Dr Samantha Holdsworth, director at Mātai Medical Institute. As part of the Velocity Challenge first place prize pool Neurofanos was awarded $25,000 seed capital.
Dr Soroush Safaei, principal scientist at ABI, where he is founder of the Virtual Brain Project, says Neurofanos leverages the power of pioneering computer vision and AI to create an early-stage technology solution for brain surgery.
"Our tool analyses complex data in real time to present surgeons who are performing delicate and life-changing operations with the visual cues to identify structures deep within the patient's brain with submillimetre accuracy, even far into the subcortical structures. They will be able to look around the brain tissue of an individual patient while surgery is taking place to help them navigate intricate surgical zones.
"Neurofanos technology would aid identification and support surgeries for even the most challenging types of brain tumour. For example, invasive gliomas which are often intertwined with healthy brain tissues with hard-to-detect residual tumour cells beyond the margins of the tumour."
Surgeons could use this visual aid to carefully navigate bordering healthy brain tissues, allowing them to identify and remove suspect tissue with greater confidence and vastly reducing the likelihood of potential regrowth and improving patient outcomes.
Dr Hamid Abbasi is the project lead and a machine-learning expert with extensive experience in developing deep-learning algorithms for health-care applications. He is part of the Musculoskeletal group at the ABI as well as the Department of Physiology and the Centre for Brain Research at the Faculty of Medical and Health Sciences at the University of Auckland.
"We know the novel idea of Neurofanos is first-class and this has been further honed by the very tough Velocity competition process," he says. "By participating in this challenge, the success index of our innovative idea has been strongly assessed for entering a super-competitive world. We know the quality of winning ideas are almost 100 percent assured and that gives us a great boost in confidence."
He says the Neurofanos name has its roots in fanos or phanos, an ancient word shared between many languages, meaning lantern or to bring to light.
"This reflects the core concept of our technology, to help neurosurgeons confidently navigate in the surgical zone and visualise the 'unseens' during every moment of surgery.
"We aim to harness the most advanced technology for a better living world, by contributing to improving patient care, surgical precision, and reducing costs. Watch Neurofanos as it grows globally!"