Scholarship offers "new beginning" for business masters students
A scholarship helped Doan Thanh Hoa realise her dream of studying abroad and paved the way for her accounting career.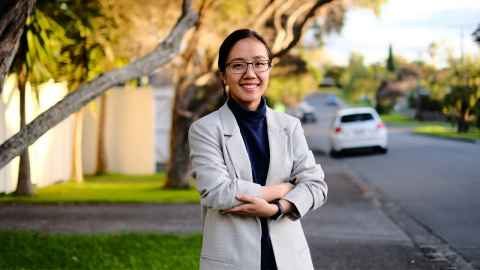 Growing up in her native Vietnam, Doan Thanh Hoa always dreamed about studying abroad – but it wasn't until she was awarded the International Business Masters Scholarship that she turned her dreams into reality.
The scholarship allowed her to follow her passion for finance with the Master of Professional Accounting (MProfAcctg) programme at the University of Auckland. After graduating in March last year, she now works as an Assurance Associate at EY.
"I felt so honoured to receive that scholarship. It reduced my financial burden and helped me a lot in pursuing my higher education here," Hoa says.
"It made my journey of study at the University very memorable."
Hoa loved learning from her knowledgeable professors, who were always available to answer her questions. She also appreciated how the programme incorporated case studies of real New Zealand businesses, which helped immensely in searching for a job.
The programme helped me a lot – not just with overall accounting knowledge, but also with transferable skills such as critical thinking, analysis and communication.
When it came time to land that dream job, Hoa was able to lean on the career development and support services available at the University. She practised mock interviews with student advisors and polished her writing and presentation skills with the help of the faculty's Business Communications Team. The student support team also connected her with people who could give her an insight into what it was like working in New Zealand's accounting industry.
"That's one of the things I liked most about studying at the University. Not only is it a high-quality programme, they also looked after us to help us find jobs," Hoa says.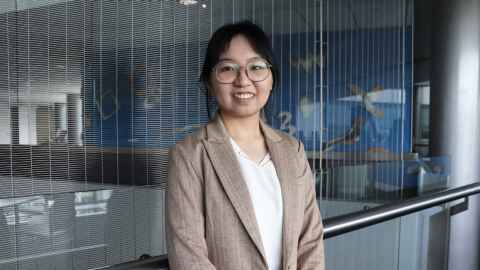 New student Xinbei Li, who is also enrolled in the MProfAcctg programme this year, is hoping to forge a similar path for her future career.
She was drawn to New Zealand after a previous trip in 2018, where she fell in love with the beautiful natural landscapes and the friendly Kiwi nature. Now, as one of the lucky recipients of the International Business Masters Scholarship, Xinbei is ready to make the most of her studies here.
"I really like this country and this city. It's really different to my country," Xinbei says. "It's a new beginning."