Business students work with not-for-profit to improve ovarian cancer outcomes
The Accelerate Programme gives first-year Business School students the opportunity to solve real-world problems in their community.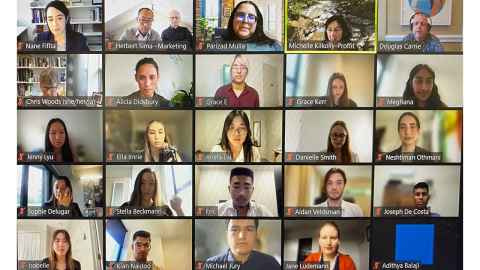 Throughout Semester Two, the 6th Annual Accelerate Programme took place. First run in 2017, the programme was created with the aim of connecting Business School students with Kiwi not-for-profits and charities to help with their pressing business challenges.
Each year, high-achieving first-year Business School students are invited to apply for the programme. The students are also selected on personal qualities and experiences to ensure that the students are capable of working closely and competently within a 'leaderless' team.
They are placed into teams, each of which has a staff mentor, and are briefed by the client – a pre-selected charity or not-for-profit. They work together as a team to analyse the organisation's challenges and, over ten weeks, develop solutions to them. The teams then need to present and justify the solutions they recommend to the client during the final event. Accelerate is a volunteer exercise – the students receive no grades for their efforts, and the six staff view it as an 'above-workload' professional endeavour.
This year the client was Cure Our Ovarian Cancer. In Aotearoa New Zealand, ovarian cancer is the leading cause of gynaecological cancer death, killing more people than uterine, cervical and the other gynaecological cancers combined. Survival rates are less than half that of breast and prostate cancer.
Cure Our Ovarian Cancer is the only dedicated ovarian cancer charity in New Zealand, founded in 2018. Their mission is to help women with ovarian cancer live better, longer lives, and to help people get diagnosed earlier, feel supported through their journey, receive better treatments and fund research, Cure Our Ovarian Cancer has many challenges as a small, new, not-for-profit. Jane Ludemann is the founder of the organisation, and the 'client' for this year's Accelerate Programme.
She outlined their main external challenges as a lack of resourcing, stigma around gynaecological cancers, lack of survivors to advocate and fundraise on behalf of the cause, and lack of awareness.
The Accelerate Programme strives to help and support the client, more than anything else, and to encourage students to become involved with their community. Therefore, there is no traditional winner, and instead, out of the many exciting strategies which are generated by the student teams each year, the client simply chooses the idea(s) which resonates the most with their organisation, reflecting on factors such as how engaging the presentation was, or one or two key ideas that jumped out of that presentation.
The Accelerate Programme strives to help and support the client, more than anything else, and to encourage students to become involved with their community.
This year, Team One delivered the presentation that resonated the most with Cure Our Ovarian Cancer. They proposed solutions which were based on one of the external challenges: lack of awareness, specifically in the medical field.
"The lack of awareness in the field has led to a lack of research on ovarian cancer and treatment for it, meaning it is a major challenge," explained Team One. "This has meant that there has been a significantly low amount of information and treatment options available, especially compared to other similar cancers."
Team One's proposal was centred around the creation of a content competition. The competition will be based around creating informative resources about ovarian cancer, e.g., essays, posters and videos. Competitors will be future healthcare professionals – university students enrolled in a Medical and Health Sciences programme. The competition will run annually, have a cash prize, and be pushed out via University of Auckland channels, as well as Cure Our Ovarian Cancer's channels.
The team suggested targeting these students in particular to spread awareness about the cause and hopefully, plant a seed which will encourage research to take place when these students are older and working in the medical field.
Additionally, they added that these resources could be used by Cure Our Ovarian Cancer to spread awareness to the public.
Jane Ludemann, who was part of the judging panel for Accelerate this year, congratulated the team, noting that they had presented a "really well thought-out, comprehensive brief."
To learn more about the Accelerate Programme, please contact Dr Herbert Sima, h.sima@auckland.ac.nz
Accelerate Staff Mentors are: Associate Professor Richard, Brookes, Dr Doug Carrie, Dr IIaisaane Fifita, Dr Michelle Kilkolly-Profit, Dr Parizad Mulla, and Dr Herbert Sima.