Vice-Chancellor signs agreement with university in Viet Nam
Professor Dawn Freshwater, Vice-Chancellor of the University of Auckland, signed an agreement with Ho Chi Minh City University of Technology (HCMUT) during a senior business delegation to Viet Nam, led by Prime Minister Jacinda Ardern.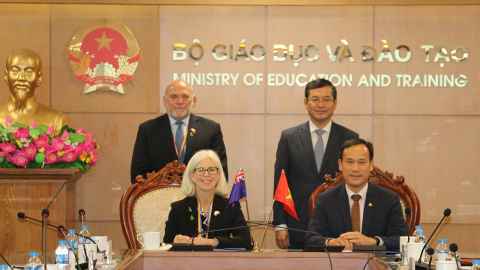 The signing between the University's Faculty of Science and the Faculty of Computer Science and Engineering at HCMUT took place at an event hosted by the Vice-Minister Nguyen Van Phuc at the Ministry of Education and Training in Hanoi.
The Minister then hosted a two-hour education cooperation round table entitled, 'Promoting Education Cooperation in the New Context'.
Two agreements between the tertiary institutes were signed. One provides direct access for qualifying students from the Bachelor of Computer Science (BCS) at HCMUT into Year 2 of the Bachelor of Science (BSc), majoring in computer science or data science, with the total of two years study in the BSc at the University.
Successful candidates will graduate with a Bachelor of Science (BSc) degree awarded by the University of Auckland.
The second allows qualifying students from the Master of Computer Science (MCS) in data science or cybersecurity at HCMUT to have direct entry into the Master of Professional Studies (MProfStuds) in data science or digital security at the University of Auckland.
Successful candidates will graduate with a Master of Professional Studies (MProfStuds) degree awarded by the University of Auckland.
The University has several existing relationships with Vietnamese tertiary institutions, and in October announced a scholarship for new international undergraduate and postgraduate students from that country, offering up to $20,000 towards compulsory tuition fees.
During the Covid pandemic many international students, including those from Vietnam, chose to study remotely with the University while borders were closed.
The University worked with a Vietnamese-based partner to improve this international student experience with an optional Study Hub service in Ho Chi Minh City.
This provided offshore Vietnamese students with an enhanced online learning experience through interactive engagement and support on the ground in their home country.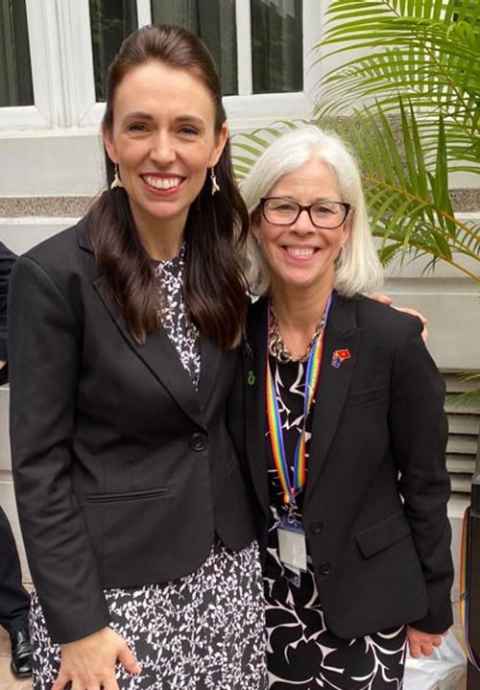 The signing with HCMUT took place during the Prime Minister-led trade delegation to Viet Nam, also attended by Minister for Trade and Export Growth, Hon Damien O'Connor.
Prime Minister Ardern said the trade mission would be the government's fourth alongside New Zealand businesses this year.
"We are committed to doing everything we can to open doors and support businesses to foster the economic opportunities that reconnecting with the world presents," she said.
"The 18-strong business delegation is made up of some of New Zealand's most successful businesses who we want to keep supporting and see them grow."
To this end, the Prime Minister was supporting businesses through a range of events in Southeast Asia's fastest growing economy, including the University of Auckland signing.
Professor Freshwater said our world is more connected than ever.
"In this digital age, information is passed on and shared within milliseconds across borders, languages, and faiths. Regional and international collaborations are paramount."