Chris Shaw: cheerleading for brain science
Professor Chris Shaw has spent his career hunting for rogue genes and collaborating to share insights into brain diseases.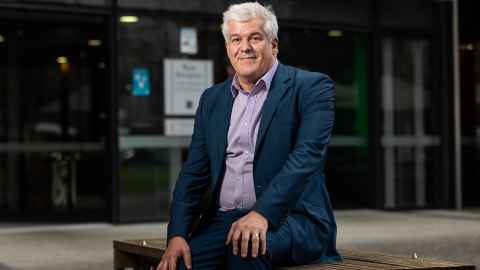 As a student at university in the late 1970s, Professor Chris Shaw was ahead of his time.

"A lot of my friends at Otago were Māori and Pacific. We were involved in political activity promoting Māori language which, reflecting on it now, was quite unusual. We wrote a play depicting the persecution of the tāngata whenua that we took around schools. It was a lot of fun and created some strong friendships."

Chris is impressed with the cultural changes that have occurred in New Zealand over the 30 or so years he has been working in the UK.

"I'm so proud of New Zealand and its transformation, to acknowledge the importance of Māori culture and Māoritanga, and the resurgence of te reo Māori. I feel like I left New Zealand and came back to Aotearoa."

Chris is now a world-leading neurologist at the forefront of gene therapies for neurodegenerative disorders. He is a professor of neurology and neuroscience at the Institute of Psychiatry, Psychology and Neuroscience at King's College, and the director of its Maurice Wohl Clinical Neuroscience Institute.

He is returning to New Zealand from London to become the inaugural Hugh Green Foundation Chair in Translational Neuroscience at the Centre for Brain Research (CBR), one of the University's seven flagship transdisciplinary research centres.

Initially there'll be a few years tripping back and forth from the UK to New Zealand, but when he's back for good, Chris would like to track down some of his old university buddies.

Chris's desire to inspire Māori and Pacific students into medicine comes from the heart.

"I want to reconnect with Aotearoa and make some sort of contribution. Whether it's going out to schools or giving lectures, I'll do what it takes to get young people to consider biological sciences as a career."

With the economic crisis biting, he knows it's not easy for students to dedicate many years of their life to study so would also be keen to establish scholarships funded through philanthropy.

"I think that's one good way to do it. But the first thing is to show that it's incredibly exciting, and there are amazing opportunities. And it's such a rewarding part of life."

Chris left New Zealand in the mid-90s and his first job was at King's, where his roles since, along with all his research, include running the teaching programme, working in the clinical service and leading academic neuroscience.

He has also been a big driver of fundraising for research, raising more than £100 million over the years for the college.

"Part of that money helped to design, build and recruit for a new research facility. The Maurice Wohl Clinical Neuroscience Institute is one of the largest neuroscience research facilities in Europe. It is home to around 250 neuroscientists and it's buzzing."
Whether it's going out to schools or giving lectures,  I'll do what it takes to get young people to consider biological sciences as a career.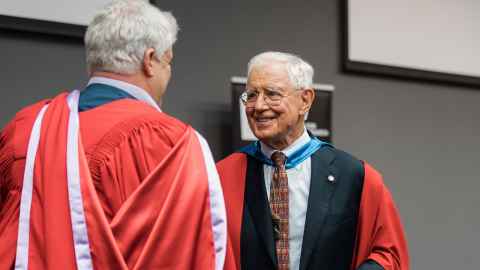 His special interest is in motor neuron disease (MND).

"MND starts with a disability, and then takes more from you until you're unable to move your limbs, feed yourself and talk. Later you're unable to toilet yourself, and then can't breathe. It is grim.

"Nearly 30 years ago, I met two women with the familial form of MND. They'd seen their mothers die of it."

The first woman told him she'd spent her life waiting for the disease. Every time she tripped on a paving stone or had trouble opening a door, she wondered if that was the onset. Worse, she feared she'd passed it on to her children.

"It was the year that the first gene for motor neuron disease was discovered, and we found she had a SOD1 gene mutation.

"I met a second woman with a different SOD1 mutation three months later. I thought this was probably the worst disease you could possibly get. From that time, I've worked to understand what causes MND and to advance new treatments."

Over the next 25 years Chris and colleagues tracked down the genes that cause MND, to gain an understanding of the disease mechanism and thereby share their research so experts could develop treatments that could work.

"We did a lot of gene hunting, and we discovered more genes than pretty much any other laboratory. We were also part of massive international collaborations and have changed the field. Now we really do have fantastic insights into the disease's mechanisms."

As a result, some of Chris's MND patients, including a New Zealander, are now enrolled in clinical trials of anti-sense oligonucleotide (ASO) therapies that target three different genes. One of these therapies, targeting the faulty SOD1 gene, appears to be effective.

"It absolutely works. If you get in early, you can stop the disease in its tracks."

Treatment is by lumbar puncture injection every month and expensive.

"We're working on trying to get the body to make its own anti-sense to target the same genes. It can be done, it's just not easy."

For that, the neuroscientists are using a virus that contains a genetic package capable of making 'silencing micro RNA', and it can do this continuously from a single injection. Delivering this into the brain and spinal cord is complex – the brain is good at protecting itself from virus particles getting through its protective pial membrane, which Chris describes as "like cling wrap around the brain, preventing viral entry".

Chris says other researchers have had remarkable success using viruses to deliver missing genes in a condition called spinal muscular atrophy which is an infantile form of motor neuron disease. Untreated, these children will end up on ventilators or dead by the age of two.

"A group in the US used an adeno-associated virus (AAV) to carry a package containing the gene that's missing in these kids and delivered it intravenously. If given in the first year of life, a virus in the bloodstream can cross over into the spinal cord and deliver the genetic package to motor neurons, so that the body will keep making the protein that they're missing.

"The downside is you have to get in early, and the drug is very expensive but it's a one-off treatment. It was originally $4 million for the injection. Some of the kids treated with AAV are now seven or eight years old, running around, going to ballet, going to school, things they could never have done before."
I love New Zealand; I just love its ethos. I think it has a wonderful spirit. New Zealanders are usually endowed with a ridiculous sense of self-confidence and optimism.
He says these remarkable results threw down the gauntlet to other neuroscientists to crack on with curative therapies.

But it's harder to get AAV into the brains of adults as their bodies' protective mechanisms are better developed.

"I started to read papers describing how neurosurgeons had delivered AAV directly into the brain tissues. We did something similar in mice, then sheep. We launched a company on the back of that called AviadoBio."

Chris is founder and chief scientific officer of AviadoBio which is now developing gene therapies to target neurodegenerative disorders such as motor neuron disease and frontotemporal dementia, backed by $100m.

"We are poised to try and treat our very first patients, probably by early 2023.

"I didn't plan to start a company and have no commercial interest whatsoever, but these clinical trials are so important. And I'm grateful to the investors who have funded us because they believe in what we're doing."

Chris will continue to work with AviadoBio alongside his role with the CBR.

"I've wanted to come back to New Zealand for quite a long time. I love New Zealand; I just love its ethos. I think it has a wonderful spirit. New Zealanders are usually endowed with a ridiculous sense of self-confidence and optimism. We tend to do things that other people would say, 'don't do that, it's not a good idea'. We just go and do it."

Chris's wife is a Turkish-born New Zealander whose family emigrated when she was eight. She has a doctorate in economics and is an economic consultant.

"Before Covid, we used to come back pretty much every year with our two children, now aged 18 and 22.

"The reason I've wanted to return is to give something back to the country of my birth. I want to inspire people to take up biotechnology and, of course, especially neuroscience."

As well as Professor Sir Richard Faull, Chris already knows Dr Emma Scotter from the CBR.

"She's a remarkable person. She came to work in my lab in England, and it was a bit alarming because she was waiting for funding to come through, but got bored and decided to come anyway. That Kiwi thing! Anyway, she got fantastic funding and was a great asset to the lab."

Emma is now back at CBR. "She's been a huge success and remains a valued colleague."

Chris also works with scientists at Lincoln, and will maintain his connections at King's and AviadoBio, which will be hugely beneficial to university researchers in New Zealand.

And despite the impressive roles he has had overseas and the work he has done in fundraising, he will operate differently in New Zealand.

"I'm not trying to replicate that. To be honest, trying to run a company with 50 people and a research institute of 250 people, as well as clinical practice and running clinical trials is tough. So I consider New Zealand a chance to re-energise.

"What I want to do in New Zealand is offer whatever help and advice I can to the people in CBR, including whatever connections I've got to facilitate them in their outreach into my network of people.

"I want to go into schools and get young people excited about research. Not just any people – I want to see Māori and Pacific really engaged in science, biological science, neuroscience in particular. I want to get them excited about the opportunities in biotechnology and medicine."

The role at CBR has been a slow-burner stemming from mutual admiration between Sir Richard and Chris.

"Chris Shaw is so passionate," says Sir Richard. "He's going to light a fire as part of our translational neuroscience network within the CBR."

Says Chris: "I'm a huge admirer of Sir Richard and what they've created in the CBR is so impressive. One of the reasons I left New Zealand for the UK was there was so little funding for research and almost none for neurological research. But things have changed, thankfully.

"I really want to work with Sir Richard and build a strong research group, and raise some funds and proselytize about the opportunities in science, neuroscience and biotechnology. But I see myself more as a cheerleader than building up a huge group of scientists."

As well as delivering his inaugural lecture at the University in October, Chris was able to see his 92-year-old mum for the first time in three years, as well as a brother and great-nephew who live in Wellington.

"I was born in Dunedin and my father was a biochemist. We went to the States when I was six, and then my parents split up. My mother brought up three boys in Christchurch as a schoolteacher - she's five foot one and fierce. We all managed to stay just inside the boundaries of good behaviour.

"I think we've done alright."

Must be in the genes.

By Denise Montgomery
This story first appeared in December 2022 UniNews.