Matire Harwood: destined to be a doctor from childhood
It has been a busy few years for award-winning doctor Matire Harwood. She talks about the challenges and rewards of being a Māori academic and GP.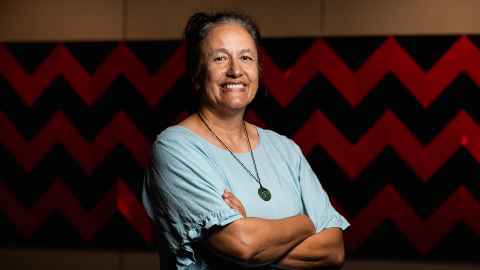 Matire Harwood is a proud wahine Māori who divides her working time across two worlds.

She's a general practitioner at Papakura Marae Health Clinic and also an associate professor in the Faculty of Medical and Health Sciences at Waipapa Taumata Rau, University of Auckland.

A specialist in primary healthcare, Matire (Ngāpuhi, Ngāti Hine, Ngāti Rangi ki Moerewa) was recently promoted to Head of Department of General Practice and Primary Healthcare at the University. She says her community health and academic worlds complement each other and allow her to draw on her involvement in the Auckland community of Papakura, to boost her passion to teach, learn and give back to Māori communities.

"I feel like I can't do one without the other," she says. "Ever since I was a little girl, I saw the issues around poverty and housing, and how they affected everyone's health. That's why I always wanted to be a doctor – one who'd make sure all people would get excellent care."

After being promoted to head of department in September, Matire now does one day as a GP and the rest at the University, with research interests including asthma, heart disease and diabetes.

South Auckland has been at high risk of Covid-19, yet vaccination rates were at an incredible low at the height of Omicron. Matire drove community-centred initiatives to change that. She ensured vaccinations were available at the marae and on a bus that drove into local communities for whānau with accessibility issues.

She was a regular commentator in the media about the importance of vaccination and boosters, vaccine hesitancy, and informing vulnerable communities about changes to alert levels.

In July 2022, she was awarded the prestigious Community Service Medal from the Royal New Zealand College of GPs for her services to Māori hauora during the pandemic.

It's one of many contributions for which she's been recognised as part of her dedication to creating effective health changes for Māori. But she says personal recognition sits a little uneasily.

"At first, I was a bit angry to have been nominated because it wasn't a solo effort. All of us went above and beyond during lockdown to ensure the safety and well-being of the community. It wasn't easy for anyone.

"But then I took it as an opportunity to recognise my colleagues and the work we do, to celebrate one another and how hard we work. It was a huge honour, although I thought I didn't deserve it."
Ever since I was a little girl, I saw the issues around poverty and housing, and how they affected everyone's health. That's why I always wanted to be a doctor.
Matire's road to becoming a doctor began aged six, when she visited a hospital with her grandfather, Ngāture, a tohunga in her whānau and a significant inspiration in her life.
"I remember being so intrigued by the work everyone was doing and thought, 'I'd like to have a job like this', and Pāpā said to me, 'Not only will you become a doctor, but you will be at the top'."
In 1977, Matire and her whānau, including Ngāture, moved to Australia where she lived for ten years. In 1979, Ngāture passed away and was brought home to be buried at Tautoro, near Kaikohe. Matire continued living in Australia, but made frequent visits to Aotearoa as a way of staying connected to her pāpā and her roots, until she decided it was time to follow her passion and start studying medicine.
Following Ngāture's passing, she was drawn to serving the people of Aotearoa. Matire began her studies in the Faculty of Medical and Health Sciences, at just 17, and relished it.
"I love science, I love research, I love working with people.
"I'd thought about going to med school in Australia, but I always knew I had to do this at home. I had a really strong connection to Aotearoa. Every time I came back on holidays, I'd say 'I wish I could stay here'."
Matire's mother was her biggest supporter and even during the family's years in Australia, "she was always pro-Māori".
"She never let any of us kids forget it. We used to live in council flats in Freemans Bay during the 1970s, but then my parents decided they wanted their own home. My mum, Haupuru, has always been about going places where people don't want 'us'. That's her Hone Heke genes coming through.

"She said: 'Let's move to the North Shore; there are no Māori there. Let's go park our flag there!"
That kind of attitude inspired Matire's mindset to always create space for Māori, particularly in places where they are unseen. She also wants that to happen in New Zealand's health system; to see more Māori working in healthcare.
"We need to build robust pipelines for our people getting into the health workforce and to address the pay associated with those roles too. If you get whānau into better-paying roles, it gives them better opportunities and influences good decision-making.
"Poor housing, poverty, lack of education – these have huge impacts on whānau health and well-being and can diminish their mana. We need to address that."
At first, I was a bit angry to have been nominated because it wasn't a solo
effort. But then I took it as an opportunity to recognise my colleagues.
Matire says having more Māori in healthcare will also improve connections and understanding.

"Doctors and clinicians have a responsibility to ensure people get the best care possible so that when they leave their appointments, they're in the best position to carry on. It's about quality care in our health system."

Being a Māori academic at Matire's level means she is in a position to increase Māori staff, which is an opportunity she is embracing. She supervises many Māori doctoral candidates, including some who have won Vice-Chancellor Awards for the best thesis based on kaupapa Māori research.

"I count myself lucky that I'm able to open doors for others, because I'm all about filling up space with our people. The health system in New Zealand can be hierarchical; people often play games to get ahead. You're meant to suck up to people and I find that challenging, especially if I think you haven't earned my respect."

Sucking up was never the case for Matire.

"Looking back I think 'jeez I worked hard'. It is a sacrifice, and you do end up going above and beyond.

"Pāpā Ngāture always used to say to me, 'Don't get mad, don't even get even, just be better'. That's the attitude I adopt to address racism, sexism or any 'isms' I encounter in my work."

Matire acknowledges the example of her hard-working parents, Haupuru Werekake/Wilcox and Peter Harwood, who are big on community and helping others. But she also pays tribute to her academic mentors, Professor Papaarangi Reid (Auckland), Professor Richard Beasley (MRINZ), Associate Professor Bridget Robson (Otago), Professor Linda Tuhiwai Smith (Waikato) and Professor David Tipene Leach (EIT). It's a wide network of like-minded people striving to achieve similar goals in health equity.

Outside of work, she has goals too: out on the water. Matire paddles in a mixed masters waka ama crew and they won silver at the 2022 National Long Distance (26km) race at Waitangi in October.

She trains three times a week from Te Atatu and Ōkahu Bay boat ramps, getting in ten to 25km each time.

"I love it: love being out on the water, participating in a sport that originated in Te Moana-Nui-a-Kiwa, the Pacific region. It does wonders for the mind, wairua and body."
By Te Rina Triponel
This story first appeared in UniNews, December 2022.