Researchers explore potential of LSD to treat mental health issues
A team of researchers at the University of Auckland is exploring the potential of psychedelic drugs to help treat mental health issues.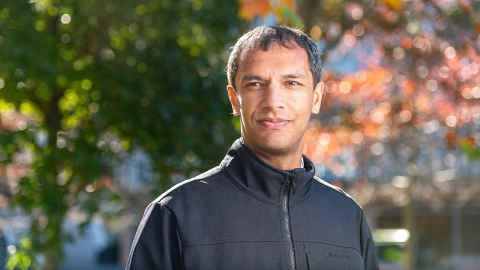 Led by associate professor of pharmacy Dr Suresh Muthukumaraswamy, the research, which was kickstarted by philanthropic funding in 2020 and subsequently supported by the Health Research Council of New Zealand, focuses on how microdoses of LSD affect our mood, creativity, focus and cognition.
Most recently, Dr Muthukumaraswamy and his team conducted a trial where they gave volunteers 14 small doses of LSD (or, for control purposes, a placebo) over a period of six weeks and monitored them as they conducted a range of tasks to assess the drug's effect on the brain.
The next trial planned will involve patients with major depressive disorder, and investigate whether LSD microdosing could have an anti-depressive effect on participants.
With rates of mental health conditions steadily rising Dr Muthukumaraswamy says he believes such research is more important than ever.
"There are a lot of patients out there with mental health issues and patients with depression who either don't like the medicines that they're on or the medicines that they get prescribed don't work for them. So they need more options, that's become pretty clear."
The potential of psychedelic drugs to help people suffering from mental health issues has seen an uptick in interest from researchers in recent years, with studies also taking place at institutes such as Johns Hopkins University in the US and London's Imperial College.
Dr Muthukumaraswamy, who has also researched the effects of other psychedelic drugs on the brain, such as ketamine, says their first study has shown LSD can have a positive effect on mood, "so that suggests to us that it might be interesting to look at that in patients who have lowered mood."
"If we do see mood-enhancing effects in patient groups then that would be exciting and something that could be followed up in larger scale trials."
The scientist admits that getting approval for the initial trial was tough, given that LSD is classified as a Class A drug in New Zealand, but says as the research gains momentum approval seems to be getting easier.
"Now that we've established a pathway, we're in a good place to do more of this work."
One aspect that was critical to getting the research off the ground in the first place was philanthropic funding, says Dr Muthukumaraswamy, who credits the support of a group of three initial donors – including the Saisei Foundation, created by prominent US author and podcast host Tim Ferriss.
"None of it would have happened without philanthropy as the base funding. That was really the seed that started the whole thing up – it really allowed us to build a team and get the kind of feasibility established that said yes we can do this."
Since then the research has received additional funding from the Health Research Council, as well as commercial backing from MindBio Therapeutics Ltd.
And although research into LSD micro-dosing remains "in its really early days", Dr Muthukumaraswamy says given the right support and funding, New Zealand has the potential to be a world leader in this innovative new field.
"Given our relative size we're definitely punching above our weight," he says. "The major barrier is funding."
Future studies Dr Muthukumaraswamy and his team hope to carry out include investigating LSD microdosing's effect on women's health and the drug's potential to treat addiction.
Media contact
Helen Borne | Communications Manager
Alumni Relations and Development
Email: h.borne@auckland.ac.nz