Scholarship helps student chase dream of supporting Māori youth
For second-year student Cyrus Rudd, a scholarship established by two University of Auckland alumni is helping him achieve his goal of supporting Māori youth facing mental health challenges.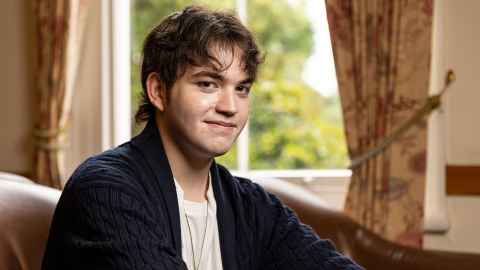 Cyrus, who is completing a conjoint bachelors degree in Science and Commerce, is the 2022 recipient of the Chew Liong Kim & Tan Chee Chin Scholarship, funded by Malaysia-based alumni Chew Liong Kim and Tan Chee Chin. Majoring in psychology, marketing and operations management, Cyrus says he is particularly interested in cultural psychology, which focuses on the way our external environment influences how we think, feel and behave.
"The media we consume particularly influences how we socialise and relate to each other," he explains. "Especially with Covid, the more media we consume, the more it informs our social interactions."
Originally from Ōtaki, Cyrus grew up in Palmerston North before moving to Auckland to study. And although amazed at how lively and diverse the big city is, Cyrus says adjusting to the high cost of living has been tough – and he's grateful for the support the scholarship has offered.
 "It feels like I'm under a guillotine sometimes, but [with the scholarship] it's not so stressful, and it allows me to focus on my education and internships and stuff like that," he says.
As well as helping to alleviate some of the financial stress he faces, Cyrus says the scholarship has also given him a boost of confidence, "like it's all been worth it".
 As the first member of his family to attend university, Cyrus is intent on making the most of his studies and describes his journey so far as going "from small town to big picture". 
 The 18-year-old hopes his education will help him "grow personally and brighten the current cultural climate", as well as allow him to provide support for his community and those around him.
 One area he is particularly passionate about is Māori youth mental health, and his long-term goal is to develop the necessary skills to be able to make a meaningful contribution in this field. The next step after completing his bachelors degree is to continue on to postgraduate study, with his sights set on either a masters or doctoral degree in clinical or forensic psychology.
"Being of Māori descent...I am aware of the inequities facing my people. I am grateful that this scholarship provides a supportive foundation on which to focus my efforts. I hope that one day I will be able to combat the inequities and inequalities plaguing Māori, and particularly Māori youth, in the forensic and clinical fields.
 "This scholarship has further sparked a fire that will blaze towards that goal, affirming to me that my goals are possible if I continue to apply myself and practise empathy throughout all my interactions."
Media contact
Helen Borne | Communications Manager
Alumni Relations and Development
Email: h.borne@auckland.ac.nz