University signs Kōtuitanga with Ngāti Whātua Ōrākei
Waipapa Taumata Rau has strengthened its Kōtuitanga with Ngāti Whātua Ōrākei, with a mutual goal to enhance the University's global impact through a mana whenua lens.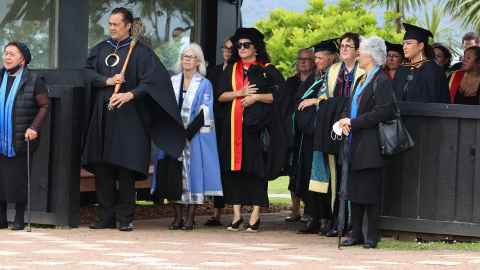 On Monday 5 December 2022, Waipapa Taumata Rau leaders joined Ngāti Whātua Ōrākei (NWO), the ahi kā of central Tāmaki Makaurau, at Ōrākei Marae to further cement the partnership between the University and tangata whenua. The Kōtuitanga, formerly called the Memorandum of Understanding, represents the ongoing partnership and the University's commitment to Māori knowledge, particularly with the guidance of NWO.
As Waipapa Taumata Rau sits in the heart of central Tāmaki Makaurau, the manaakitanga and relationship between the University and Ngāti Whātua Ōrākei is regarded as crucial for a successful future for the University's diverse kaimahi (staff), tauira (students), alumni, and whānau.
The Kōtuitanga builds on the 2003 partnership established by then Vice-Chancellor John Hood and Ngāti Whātua Ōrākei rangatira Sir Hugh Kāwharu; this year, the University and iwi are committed to doing more.
This will include supporting the enduring Waipapa Toitū framework and its strategic plans, programmes, and activities, as well as contribution to cultural narratives, and Te Reo Māori, tikanga and kawa.
Vice-Chancellor Dawn Freshwater said the University valued the relationship with Ngāti Whātua Ōrākei and she looked forward to working with iwi to strengthen it, saying "We are privileged to have the support of Ngāti Whātua Ōrākei. The Kōtuitanga reflects our joint commitment to education, community and relationship".
Pro Vice-Chancellor Māori, Professor Te Kawehau Hoskins says a relationship with mana whenua is critical and looks forward to what will emerge in the future.
"We are thrilled to be deepening our relationship with NWO. The Kōtuitanga is the platform upon which Waipapa Taumata Rau and NWO can establish shared purposes, while also actively supporting the specific development aspirations of each partner.
"We have much to learn from and contribute to each other."
As iwi manaaki, Ngāti Whātua Ōrākei will support the University with Mātauranga-a-iwi (iwi knowledges) by sharing cultural narratives of central Tāmaki, the cultural framing that connects and develops Auckland's past, present and future. This also includes traditions, concepts, philosophies, and world views.
Waipapa Taumata Rau will continue to seek the guidance of Ngāti Whātua Ōrākei Trust as a primary partner on all matters pertaining to Mātauranga, tikanga and kawa (including karakia, pōwhiri, whakairo, mahi toi, rāranga, whakamānawa, and tuku ingoa) and to ensure the kawa of Waipapa Marae is Ngāti Whātua Ōrākei kawa. This means that the iwi will step in on behalf of the University when facilitating new iwi relationships.
Waipapa Taumata Rau will commit to providing innovative, relevant, lifelong learning opportunities connected to Te Tiriti, Mātauranga, and kaupapa Māori and advance research from its distinctive location that gives life to te Tiriti and values Mātauranga Māori for the betterment of Aotearoa New Zealand and the world.
The University will continue building its commitment to Te Tiriti outlined in the University's Vision and Strategic Plan, Taumata Teitei, and collaborate to meet community and world challenges.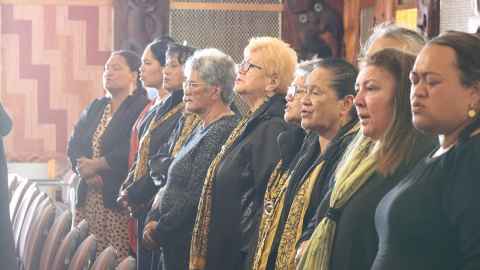 Chair of the Ngāti Whātua Ōrākei Trust Board Marama Royal said that the Kōtuitanga reflects the unique nature of Te Tiriti o Waitangi and records aspirations for the development of the relationship now and into the future.
"Ngāti Whātua Ōrākei as tangata whenua of central Tāmaki is proud to work with University of Auckland to realise its purpose to create globally transformative impacts through its distinction in world leading research, scholarship, teaching and collaborative partnerships, inspired by its unique position in Aotearoa and the Asia-Pacific," she said.
The Kōtuitanga is grounded on the values of: Manaakitanga – To encourage respect and care of people, place and diversity and respect for each other's roles and responsibilities; Rangatiratanga – To live and practice strong leadership; Kōtahitanga – To work collaboratively towards achieving a shared purpose; Kaitiakitanga – To look after people, lands, resources and taonga, including the University of Auckland campus and the whenua upon which it sits, for present and future generations; and Pūataata - To be honest, transparent, and open with each other.