Obituary, Emeritus Professor Stuart McCutcheon
It was with shock and sadness that staff, students and the wider community of Waipapa Taumata Rau, University of Auckland, learned of the sudden death from a heart attack of Emeritus Professor Stuart McCutcheon on Friday 6 January 2023.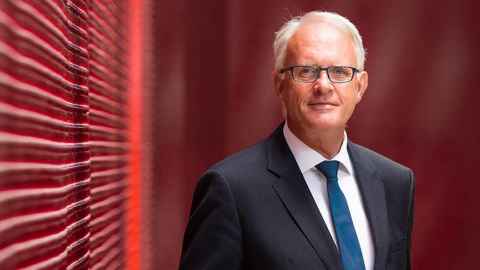 Professor McCutcheon was the University's Vice-Chancellor and UniServices Chair from 2005 to March 2020, a 15-year tenure that was one of the longest of New Zealand vice-chancellors.
He brought passion, professionalism and personality to these roles, and his commitment to the success of the University and its people was evident in everything he did. He had an extraordinary ability to remember faces, names and project details, and an easy and relaxed manner with everyone he met. Many staff and students over the years were surprised and impressed to receive a prompt and thoughtful response from Stuart to emails and questions. He never allowed his busy schedule as Vice-Chancellor to get in the way of his responsibilities to the people he led.
Although a formidable opponent in debates and negotiations, he always maintained the respect of those with whom he engaged. A profound testament to his professionalism are the many recent tributes made on social media by people who found themselves on the other side of the negotiating table at some point. Although they might not have agreed on the issues, and even clashed at times, they express the deepest respect for Stuart's ability to listen and reflect with an open mind. He was consistently a fierce champion of freedom of speech, diversity of opinion and academic freedom.
Stuart's time as Vice-Chancellor of the University of Auckland saw significant development in every area. His leadership was marked by a determination to protect the University's administrative and academic autonomy and excellence. The University was able to build on its outstanding international reputation, maintaining its position as this country's leading university and scoring highly in the rankings of global universities, something to which he paid close attention.
During his tenure, staff and student numbers increased, and the University's buildings and facilities were rationalised and modernised with major new buildings for medical and health sciences, business, science and engineering and new student halls of residence, as well as plans for the impressive new Recreation and Wellness Centre. The purchase of land for the new Innovation Precinct at the Newmarket Campus followed the sale of Tamaki Campus.
Stuart's goal was to provide local and international students with world-class research and teaching facilities and attractive accommodation for students. He wanted to create an environment equal to the best public universities internationally, attract staff and students from Aotearoa New Zealand and abroad and, as one of the largest employers in the city, contribute to and enliven the life of Auckland. And he achieved it.
By 2019, the University's operating revenue had almost doubled to $1.2 billion and net assets more than trebled to $3.5 billion. During his 15 years, over 100,000 of almost 200,000 alumni actively engaged with their university, and he saw more than 115,000 students achieve their academic goals and graduate.
This last point was of particular importance to Stuart as an educator and leader. He grew up in the Wellington suburb of Miramar, went to Rongotai College and became the first in his family to attend University. He understood on a personal level the power of education and universities to improve the lives of not just the graduates but their whānau and families, future generations and the wider community.
He gained a Bachelor of Agricultural Science with first Class Honours (1976) at Massey University and a PhD in metabolic physiology. From 1982 to 1984 he was a postdoctoral fellow at Cornell University, New York, while the recipient of a Harkness Fellowship. His research interests included how biological processes such as foetal and neonatal growth and lactation are regulated.
Having established a successful career as a researcher, his deep belief in the importance of a strong university system, particularly for a small country like New Zealand, drove his move into university administration. For the next 25 years he served in leadership positions, including two terms as Chair of Universities New Zealand – Te Pōkai Tara, the tertiary sector body representing all eight New Zealand universities.
In 1990, he was appointed Head of the Department of Animal Science at Massey University, then Assistant Vice-Chancellor (Research) in 1994, and Deputy Vice-Chancellor in 1999. In November 2000, he was appointed Vice-Chancellor of Victoria University of Wellington and in January 2005 took up the role of Vice-Chancellor at the University of Auckland. He brought his belief that every great country and city should be home to a great university. That vision and aspiration for New Zealand to have a leading public university of global standing drove the development of strong partnerships with international universities with a shared commitment to excellence in research-led education.
Stuart was a vocal proponent of increased financial support from government to meet the aspiration of becoming the great university he believed the country needed and warranted. However, during his time, the role of philanthropy in the financial life of the University became increasingly important. This was an area he excelled in. He was actively involved in building relationships with donors and philanthropists, and he led the country's two most successful fundraising campaigns, 'Leading the Way' and the University of Auckland 'Campaign For All Our Futures'.
Stuart was a big personality and a big presence – on campus, building relationships and connections with industry and local and national government, and with educational peers across the globe. He was enormously proud of the achievements of the University's teaching and research staff, its students, and the mark that alumni made on the world.
Stuart is survived by his wife, Deborah, and their sons Charles and Alex.
Emeritus Professor Stuart McCutcheon, 10 November 1954 - 6 January 2023
Kua hinga he totara i te wao nui a Tane.
A Service to celebrate Stuart's life was held at St Mary's in Holy Trinity, 446 Parnell Road, Parnell on Friday 13 January. The service was livestreamed and can be seen here: 
https://vimeo.com/event/2772620/521934d014