Ngāti Whakaue descendant to blaze Te Matatini stage
Anipātene Biddle is a Faculty of Arts student who will take centre stage among some of the elite groups of Aotearoa at Te Matatini Kapa Haka Festival 2023.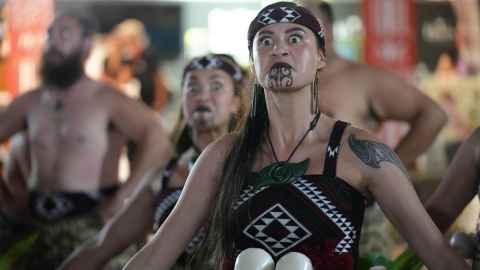 Born and raised in Rotorua, Anipātene Biddle (Ngāti Whakaue) is set to perform at Te Matatini 2023 at Eden Park, alongside her iwi-group, Te Kapa Haka o Ngāti Whakaue. The University of Auckland student is passionate about te reo Māori and says kapa haka has been a huge part of her life since she was a child.
Anipātene studies within the Faculty of Arts, and will soon complete a Bachelor of Global Studies, majoring in human rights and politics, and specialising in Latin America. She also studies anthropology in Māori Studies.
"I've had so many amazing experiences at this Univeristy," she says. "I see myself teaching once I complete my studies, overseas and eventually kura kaupapa."
Outside of her education aspirations, she's dedicated to Te Ao Māori and says Te Matatini has given her the opportunity to frequently connect with whānau as she gears up for the competition ahead.
"I've been doing kapa haka since I was a child, throughout primary, intermediate and high school. My first job was doing concerts at Mitai Māori Village when I was 15, three nights a week."
It'll be the second time that Anipātene will compete at an advanced level, and also the second time for her group.
"Our kapa actually hadn't made it into Te Matatini for over 30 years until 2019," she says.
"Our performance during the regional competition in 2018 secured our spot for Te Matatini – and it was the best feeling ever. All of our kaumātua were so happy to see us return to the national stage.
"Even though we didn't make the top nine teams that year, it got our iwi back up there and this year we're even more determined."
She says Te Matatini is important because it gives people a chance to represent their iwi. Anipātene, gets to do it with her whānau too.
"I grew up on Ngāti Whakaue whenua, and my life has completely revolved around my iwi. I went to Te Kura Kaupapa Māori o Te Koutu which is on Ngāti Whakaue land too.
"We are so lucky to have Te Matatini. We share our stories by connecting to our whakapapa, we go back to our tūpuna and revive some of the things they used to do and we revitalise our culture."
Anipātene is looking forward to watching her friends who are also performing, some who are students at Waipapa Taumata Rau too.
"I'm looking forward to watching Te Whānau a Apanui, Angitū and Whangarā to support my mates who are performing in those groups."
"Even though I'm competing against my mates, I'm happy for them and what they bring to the table and that we all get to do what we love. It's a beautiful kaupapa to be a part of."
For those who have never experienced Te Matatini, Anipātene says to "expect to be blown away".
"It's a happy occasion for everyone, to be in an atmosphere where we are absolutely proud to be Māori.
"It's a wholesome experience, although competitive, there is an outpouring of aroha and whanaungatanga. Being around people that are there for one kaupapa, people who are genuinely there to hear our reo, our waiata.
"No groups are the same, Māori are so clever and creative and have this ability to take their performances to the next level.
"For people who don't know Te Matatini – you're going to have the time of your life."
Waipapa Taumata Rau, the University of Auckland, is a sponsor of Te Matatini Kapa Haka Festival 2023, in support with the Univeristy's Iwi-manaaki and hosting rohe, Ngāti Whātua Ōrākei. Te Matatini brings together the country's most elite Kapa Haka groups in celebration of Māori culture. The festival is held biennially in different cities and is welcomed back to Tāmaki Makaurau after 21 years. The University of Auckland's sponsorship aligns with Taumata Teitei, the University's strategy to enhance kaupapa Māori.