Te Whare Rūnanga's 'universal nature' explored in award-winning essay
Sir Āpirana Ngata's role in the construction of the meeting house influenced Māori architecture as we know it, finds graduate Sahil Tiku.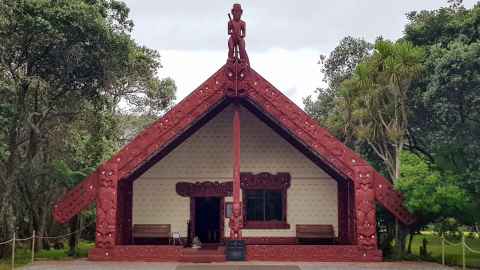 One of Aotearoa's most iconic examples of Māori architecture, Te Whare Rūnanga, is explored in an award-winning research essay by Waipapa Taumata Rau, University of Auckland graduate Sahil Tiku.
Tiku was named as the global winner of the Art History and Theory category at The Global Undergraduate Awards 2022 for his essay A Renaissance of Māoritanga: whare whakairo as novel 'traditional' identity.
The Bachelor of Architectural Studies graduate was chosen as one of 25 global winners from a pool of over 2,800 submissions and travelled to Dublin to attend the ceremony in November.
The essay focuses on what Tiku describes as "perhaps the most famous whare whakairo (carved meeting house) in Aotearoa".
Te Whare Rūnanga is located at Waitangi Treaty Grounds and opened on 6 February 1940 to mark the centenary of the signing of Te Tiriti o Waitangi. Renowned Māori statesman Sir Āpirana Ngata (Ngāti Porou) played a key role in its construction, and his work has had a profound influence on Māori building methods ever since.
In his essay, Tiku examined how Ngata established the whare whakairo as a 'new' key architectural identifier of Māoridom, and why the style has been so readily accepted as 'traditional' in the eyes of Western society.
"What much of the nation perceives as 'traditional Māori architecture' is in fact the result of a series of politically motivated decisions by Sir Āpirana and his contemporaries to drive a cultural rebirth, which achieved great success," says Tiku.
Ngata helped to spearhead this cultural renaissance by founding the School of Māori Arts and Crafts in 1926, when he was MP for Eastern Māori. His influence on the construction and design of Te Whare Rūnanga soon after was hugely important, says Tiku.
"The call for construction was headed by Ngata, the carvers were selected by Ngata, the plans approved by Ngata, in a socio-political context greatly influenced by Ngata's own efforts."
However, the whare whakairo is not a typology that reaches back centuries to pre-contact tikanga and tradition as one would expect, says Tiku. Instead, it was developed into its contemporary form by mixing Indigenous architectural features that Ngata aimed to centre around Māori identity.
"The tukutuku panels between the whakairo poupou visualise universal concepts – such as the open armpits of a warrior in battle, or the prestigious patterns found at the edges of korowai, or the growth of man. These references, not tied to any one identity or confederation, further espouse the universal nature of the house," he says.
"It's a fascinating aspect of Indigenous independence and history."
At the time of construction, whakairo (carving) and wharenui (meeting houses) were viewed by the Government as 'apolitical' enough to support, says Tiku.
"Of course, we then discover that what Ngata was doing was actioning the creation of a semi-homogenous platform from which to launch a massive rebirth of culture, arguably an act of tino rangatiratanga and doubly commendable as it used the institutional prowess of the Crown's government to set in motion its means," he says.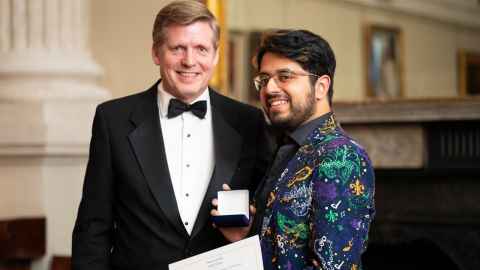 Tiku was born in New Delhi and moved to Tāmaki Makaurau when he was two years old. He says he's still in "a semi-state of disbelief" about winning the award for his essay, which he wrote during the final year of his undergraduate studies. He plans on carrying out further research into the topic as part of his postgraduate studies.
His initial interest in Māori architecture and its rich cultural history stemmed from a study tour he took as a student to Te Tai Tokerau in 2021.
"I was a little disappointed that Te Ao Māori did not take a more mainstream place in the syllabus, and as a child of the Indian diaspora, I was particularly interested in familiarising myself with the stories of the Indigenous peoples of my (now) home country."
Te Whare Rūnanga is a highly unique part of local architectural history and theory as it represents the pursuit of a successfully bicultural Aotearoa, he writes in his essay.
"It stands as a symbol of hope for the manifestation of a utopia wherein Tiriti promises are honoured, where Māoridom achieves tino rangatiratanga. Its very existence holds at bay outdated thoughts of monoculture and Māori assimilation."