Art exhibit explores new horizons of Māori fibre practices
A new exhibit of makawe takatāpui (Māori wigs) takes inspiration from one of Aotearoa's most iconic love songs, Pōkarekare Ana.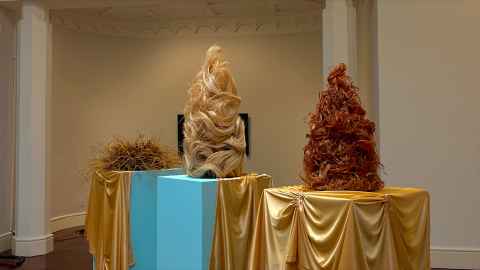 Takatāpui artist Arapeta Ashton (Ngāti Mahuta, Ngāti Whanaunga, Ngāti Porou, Muriwhenua) has fond memories of singing Pōkarekare Ana as a child.
Years later, the iconic waiata is the key inspiration behind the artist's latest exhibit, Cupid's Valentine.
The doctoral candidate and teacher at Elam School of Fine Arts drew inspiration from the waiata's setting in Lake Rotorua to handcraft a contemporary Māori cloak and set of three makawe takatāpui (Māori wigs) that explore Arapeta's fascination with gender expression.
The work was commissioned for The Sentiment of Flowers, a new exhibition at Gus Fisher Gallery that brings together artworks by leading Aotearoa and international artists that explore ecology and "a non-binary approach to thinking about nature".
"Pōkarekare Ana was sung to me as a lullaby by my grandmother, my aunties and my mum," says Arapeta. "My relationship to it is based around nurturing and soothing. That's the energy that I received from it and it's the energy that I'm putting back out into the universe."
Pōkarekare Ana is one of the country's most cherished waiata, with well-known renditions sung by Dame Kiri Te Kanawa and Hayley Westenra. Traditionally viewed as a heterosexual love story based on the Māori legend of Tūtānekai and Hinemoa, Arapeta says the queer narrative of the song lost its meaning due to colonial assimilation.
"Over the years, the recipient of that song has changed. A lot of people have said that it's for Hinemoa, but in my understanding it's for his male lover, Tiki," says Arapeta.
"The more that I've learned about my takatāpuitanga (Indigenous queer identity), my reading of Pōkarekare Ana has changed because it's more of a conversation about being masculine and feminine, and the convergence between those two energies within myself."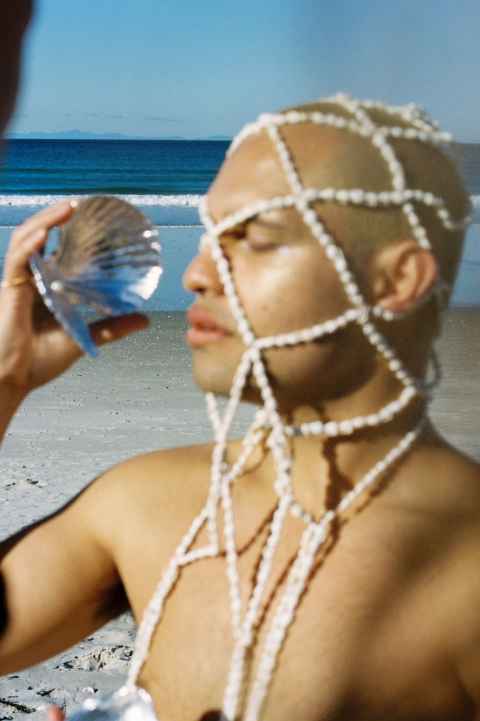 Cupid's Valentine sees Arapeta continue their foray into Māori fibre practices that have been at the centre of their previous work. For this exhibit, Arapeta shaped the makawe takatāpui from natural fibres like harakeke, houhere and pīngao that have been traditionally used in cloak weaving.
Another makawe made of kiekie took Arapeta almost two years to finish, with the material needing to be soaked in water for a year before it could be assembled.
Water is a recurring motif that flows through Arapeta's new work. The satin gold cloak is an extravagant floor-to-ceiling piece that symbolises the waters of Lake Rotorua and "speaks to mātauranga Māori through a queer lens."
"The relationship to water in Pōkarekare Ana is very strong," says Arapeta. "I wanted to expand the waiata into a new physical space and ask, 'what would that look like?'"
Cupid's Valentine is "a little nod to my relationship," says Arapeta, whose partner's birthday is on Valentine's Day. "It's a very different approach to how I usually do exhibitions, because it's more playful and queer."
"My main goal, in all the artworks that I make, is that people enjoy it. Art is such a good place to be joyous and to celebrate queerness."
Cupid's Valentine runs until 6 May at Gus Fisher Gallery, 74 Shortland St, Auckland Central.