Te Matatini: arts and science student enters Te Matatini for the third time
Hikawai Te Nahu, 21, has aspirations to cater to te taiao through his studies, and is a kaihaka for Te Kapa Haka o Ngāti Whakaue.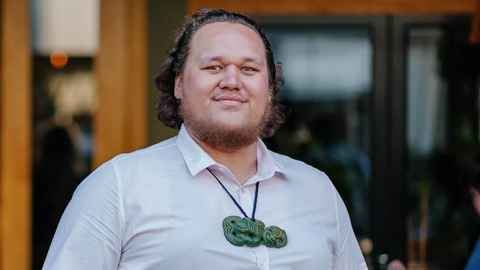 "He kaihoe tēnei no ngā waka o Te Arawa, Takitimu rātou ko Horouta. He hekenga hoki nō te kaieke tohora a Kahutiaterangi. Ko ōku tātainga whakapapa, he mea tuhono ia āu ki ēnei nā, Te Arawa Whānui, Rongomaiwahine, Te Aitanga a Hauiti, Te Whanau a Hunāra.
"I whānau mai, i tipu ake i roto mai i ngā Waiariki, nō roto mai o Te Arawa, ki Te Rotorua-nui-a-Kahumatamomoe."
Hikawai (Te Arawa Whānui, Rongomaiwahine, Te Aitanga a Hauiti, Te Whanau a Hunāra) is in his final year of studies at Waipapa Taumata Rau, studying for a conjoint degree in arts and science. His fields of study are Māori studies, environmental science, marine science, and sustainability.
"I hope that through this pathway, I will be able to be part of an environmental shift to revitalise sustainable environmental practices, kia whakarauora i te mauri o te taiao," he says.
Hikawai is also a kaihaka for Te Kapa Haka o Ngāti Whakaue and will be competing this month at the prestigious national kapa haka festival, Te Matatini.
"This will be my third Te Matatini performance, but it still feels surreal. I am preparing myself for the excitement and buzz of walking onto that stage again."
Te Matatini is unapologetically Māori, Hikawai says. It's a time to celebrate Te Ahurea Māori, to explore the challenges of current affairs, and an opportunity to express Te Ao Māori, and te reo Māori, to the world.
"I think kapa haka, ngā mahi a Rēhia, ngā mahi a Tānerore as a whole is a vehicle for revitalisation. All of these things were used as tools and resources to teach, create, and retain kōrero tuku iho. Māori performing arts has been vital in the revitalisation of te reo Māori."
Hikawai has been doing kapa haka since childhood on the Ahurei stage, and says that Te Matatini is the "biggest, bestest, most amazingest" indigenous cultural event in the entire world.
"It's full of kai, kākahu, catch ups, laughter, fierce competition, and most importantly – kapa haka."
He's been a part of Te Kapa Haka o Ngāti Whakaue since 2018 and is excited to cheer on fellow Te Arawa teams who will also be taking centre stage this year.
"I'm looking forward to watching Te Hekenga a Rangi, it'll be their first time. I'm sure they will be giving it all they've got.
"Alongside my own kapa, I am supporting so many roopu as I have so many friends and whānau who are performing for their respective kapa from all around the motu.
"For those who are going to Te Matatini - Prepare to be in awe of the hard work and dedication of each roopu."
Waipapa Taumata Rau, the University of Auckland, is a sponsor of Te Matatini Herenga Waka Herenga Tangata National Kapa Haka Festival 2023, in support with the University's Iwi-manaaki and hosting rohe, Ngāti Whātua Ōrākei. Te Matatini brings together the country's most elite Kapa Haka groups in celebration of Māori culture. The festival is held biennially in different cities and is welcomed back to Tāmaki Makaurau after 21 years. The University of Auckland's sponsorship aligns with Taumata Teitei, the University's strategy to enhance kaupapa Māori.