University raises capital for sustainability initiatives
Waipapa Taumata Rau, University of Auckland has signed a $50 million sustainability loan, breaking new ground for New Zealand's university sector.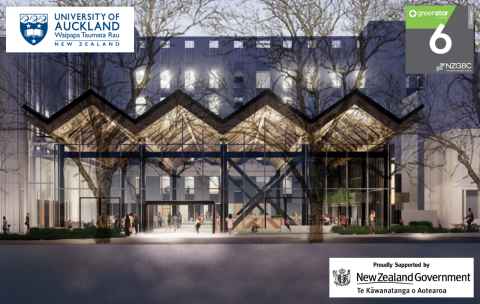 The University of Auckland is the first in Aotearoa to qualify for a 'use of proceeds' (UoP) sustainability loan, which will be used to help fund the adaptive reuse and refurbishment of the former social sciences building (B201).
The project, supported by the Government's Covid infrastructure recovery fund, will see B201 transformed into a state-of-the-art educational facility, which will act as a new home for the Faculty of Education and Social Work and the Faculty of Arts.
The University set high standards for the venture, which achieved a 6 Green Star Design rating from the New Zealand Green Building Council, exemplifying world leadership in sustainable design.
Key to the top rating is that the main 50-year-old structural frame will be kept in the build. As a result, embodied carbon has been significantly reduced.
Meanwhile, an assessment of the building's life cycle found that emissions for the construction and operation of the building over its lifetime will be almost 60 percent less than an equivalent new build.
The former social sciences building will provide healthy, comfortable and more accessible spaces for students and staff to work, learn, research and socialise. The new facility will also be accessible in alignment with the University's equity policies and break down barriers faced by a number of students.
Director of Property Services, Simon Neale, says the infrastructure will serve students, academics, researchers and the University community for decades to come, and as such, notes that it's critical to embed ambitious levels of sustainability in the design to ensure it supports the transition to net zero and a better future for all stakeholders.
"Sustainability is high on our agenda and we look forward to working with sustainable finance providers to facilitate our journey."
Tim Bluett, Chief Financial Officer, says sustainability initiatives represent an increasing proportion of the University's capital plans.
"We will seek to augment our financial plan with sustainable finance options where appropriate. We are delighted to be awarded the loan and look forward to the opportunity to work with the sustainable finance market as we develop our future plans."
The Commonwealth Bank of Australia served as sole sustainability coordinator and sole lender for the loan, which was a tranche within a larger $100 million bilateral transaction. Assurance and risk management company DNV provided a second party opinion on the transaction and its alignment with Asia Pacific Loan Market Association's 'green loan' and 'social loan' principles.
Charles Davis, Managing Director sustainable finance, environmental, social and governance at Commonwealth Bank, says, "We are excited to support the University of Auckland on entering the sustainable finance market and the innovative approach that's being taken by this organisation."
Some of the key environmental and social features of the B201 project include:
• Seismic strengthening, which enables the reuse of the existing building structure reducing the embodied carbon by over 30 percent
• Highly efficient building services and environmental control
• Elimination of combustion appliances and fossil fuel use on site reduces operational carbon emissions by nearly 70 percent
• New Zealand's highest 6 Green Star Design and As Built NZ v1.0 Certified Design Rating with all 10 innovation points awarded
• A naturally ventilated central atrium provides connection to the outside environment
• A Solar Photovoltaic System provides around 10 percent of the energy demand
• Low toxicity materials and finishes
• A rain water harvesting system and low flow fittings are estimated to reduce potable water consumption by nearly 80 percent
• Façade replacement improves thermal comfort, energy efficiency, seismic performance and durability
• Window to wall ratio is optimised for daylighting on work surfaces
• Construction waste diversion from landfill set at a target of > 80 percent
• On-site training and education for construction workers around health, wellbeing and sustainability
• Connections to local public transport and prioritisation of low carbon travel modes
• Mass timber secondary structure to the atrium roof
• Use of fly ash to reduce Portland cement content in concrete.