2023 Kupe Leadership Scholars announced
Students from across the University are undertaking an exciting experience of personal growth and challenge this year thanks to a Kupe Leadership Scholarship.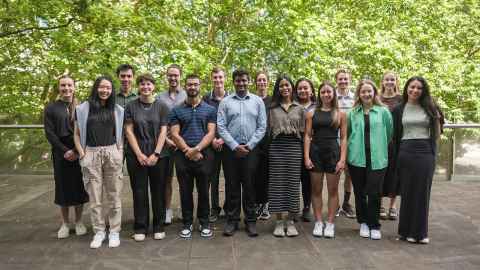 Improving the health and well-being of Māori and other Indigenous peoples is a priority for newly announced 2023 Kupe Leadership Scholar and Master of Public Health student Ariana Andrews.

Ariana, and 17 other exceptional Waipapa Taumata Rau, University of Auckland students, each with their own priorities for the future and a commitment to leadership and service, were officially announced as Kupe Leadership Scholarship recipients in March.

There's Bachelor of Engineering (Honours) student Jannik Wittgen, who is interested in exploring the optimal use of some of Earth's limited resources.

Then there's Master of Arts student Ashley Vaotuua who is delving into Indigenous knowledge systems and is being mentored by acclaimed poet and academic Professor Selina Tusitala-Marsh, ONZM FRSNZ.

Meanwhile Bachelor of Engineering (Honours) and Commerce scholar Emily Hacket Pain is determined to help build a more sustainable Aotearoa for current and future generations.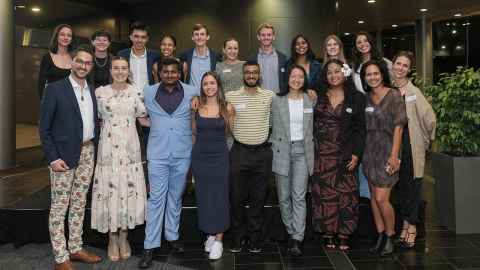 The talented group of 2023 Kupe scholars all have the potential to become transformational leaders and are committed to using their skills and knowledge to address social, environmental, and economic challenges. Qualities such as compassion, integrity, humility, respect for others, a desire to serve and a big vision for Aotearoa New Zealand and its communities are also hallmarks of these scholars.

Over a year, they will benefit from a range of experiences designed to enhance their leadership skills and broaden their perspectives, including one-on-one mentorship with leaders in a range of fields.
In addition, they will participate in an experiential development programme that provides intimate opportunities to kōrero with leaders addressing challenges across all facets of society, from responses to the climate emergency to health equity, the housing and hunger crisis, business and educational leadership.

One of the unique features of the Kupe Leadership programme is its emphasis on mentorship. Each scholar is paired with a mentor who is a leader in their field of interest. The mentors provide guidance, support, and advice to the scholars, helping them to develop their leadership skills and supporting them to navigate their academic and professional journeys.

The 2023 awardees will join a network of Kupe alumni who have participated in the programme since its inception. This network provides a platform for scholars to connect, share ideas and experiences, and collaborate on initiatives that promote social and environmental change.

The scholarship, founded by Canadian philanthropists John and Marcy McCall MacBain, and supported by generous domestic and international donors and is now in its fifth year.
The Kupe programme draws on the legend of the great Pacific explorer, Kupe, who, together with his wife, Kurumārōtini, is credited with discovering and naming Aotearoa. Their sense of adventure and courage in heading out across uncharted waters, drawing on their sailing skills and travelling by the stars, exemplifies the spirit needed by leaders in today's uncertain and fast-changing world.
Find out more about the Kupe Leadership Scholarships
The 2023 Kupe Leadership Scholars are:
Adela Plakic, Bachelor of Science (Honours) Psychology
Alexander King, Bachelor of Arts (Honours) Geography
Annah McPherson, Master of Physiotherapy Practice
Arianna Bacic, Bachelor of Laws (Honours), Bachelor of Global Studies (International Relations and Business)
Ariana Andrews, Master of Public Health
Ashley Vaotuua, Master of Arts
Charlotte Noble, Master of Urban Planning (Professional) and Heritage Conservation
Chelsea Naepi, Bachelor of Arts (Honours) Sociology, Bachelor of Laws
Elizabeth Gane, Bachelor of Laws (Honours), Bachelor of Arts | Chinese and Economics
Emily Hacket Pain, Bachelor of Engineering (Honours) Engineering Science, Bachelor of Commerce | Finance and Economics
Harry Pottinger-Coombes, Bachelor of Laws (Honours), Bachelor of Commerce | Accounting, Finance
Jannik Wittgen, Bachelor of Engineering (Honours) Mechatronics
Kiana Young-Whenuaroa, Bachelor of Health Sciences (Honours)
Kimberly Thio, Bachelor of Science (Honours) Psychology
Meghshyam Prakash, Master of Commerce | Global Innovation and Management
Nakita Daniel, Master of Marine Conservation
Shaheer Salman, Bachelor of Commerce (Honours) | Economics
Thomas Swinburn, Bachelor of Medical Science (Honours)
Media contact
Sophie Boladeras | Media adviser
M: 022 4600 388
E: sophie.boladeras@auckland.ac.nz