Dame Margaret Brimble: mother of the magic molecule
A drug approved by the FDA in March had its molecular discovery in a University of Auckland lab with Dame Margaret Brimble at the helm.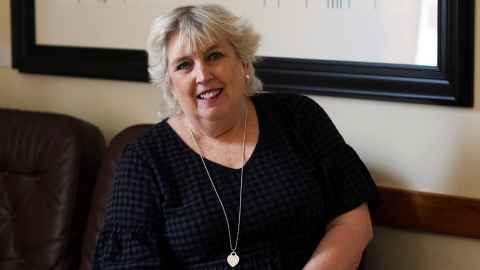 When Distinguished Professor Dame Margaret Brimble discovered the molecule that led to the life-changing neurological drug Trofinetide, she was working in a humble University of Auckland lab with three chemists.

"My old PhD supervisor visited me from England where he was director of medicinal chemistry at Merck, Sharp and Dohme. He had a team of around 40 chemists. He said, 'Margaret, how do you think you're ever going to discover a new neurological drug candidate with three chemists? You're dreaming!'"

It took five years for Margaret's chemistry team, working with a team of biologists, to discover and design the chemical structure of NNZ-2566, the molecule that is the heart of Trofinetide. The drug itself has been 20 years in development.

"In 2001, I was working with a team on designing a drug molecule for traumatic brain injury, through University of Auckland spinout company Neuren Pharmaceuticals," says Dame Margaret.

"The goal was to synthesise a mimic of a natural peptide from insulin-like growth factor 1 (IGF-1)."

She was working with three early-career chemists, David Callis, Nick Trotter and Paul Harris (now an associate professor in the School of Biological Sciences) alongside biologists including Associate Professor Jian Guan (Liggins Institute) and Professor Mike Dragunow (Faculty of Medical and Health Sciences).

The NNZ-2566 molecule discovered is a synthetic analogue of the neuropeptide, GPE, which had been suggested in the literature to show neuroprotective properties. These properties were later confirmed by Jian and Professor Sir Peter Gluckman at Liggins.

While NNZ-2566 didn't work out for traumatic brain injuries, it was clear it had neuroprotective effects that Neuren scientists believed could be explored elsewhere.

"Our team just did the medicinal chemistry that created the drug molecule," says Dame Margaret.

"Neuren Pharmaceuticals then looked for neurological disorders that NNZ-2566 might be useful for and were inspired by a MIT study that showed promise for Rett syndrome. They took the investigational drug NNZ-2566 into phase two clinical trials, and it was named Trofinetide by the World Health Organisation," she says.

"Along the way, there were biomedical scientists, clinicians, patients, business people and investors, many people were involved."
The public don't realise how many people have been hanging on for this decision.
Later, Neuren entered an agreement with Acadia Pharmaceuticals in San Diego, partnering with Acadia for the Trofinetide clinical trials because of the company's experience in such trials in the US.

After years of graft, for Acadia and the patients in the trials, Acadia submitted its application to the US Food and Drug Administration (the FDA) for approval.

On 10 March 2023 the FDA approved Trofinetide, to be marketed in North America as Daybue for the treatment of Rett syndrome.

"Obviously, having created the key molecule, I've followed its progress into clinical trials closely and understood the importance for Rett syndrome patients," says Dame Margaret.
"The public don't realise how many people have been hanging on for this decision."
Rett syndrome is a debilitating condition that causes symptoms similar to cerebral palsy or autism in an estimated one in 10,000 girls, affecting motor control and communication skills, which stagnate or regress after the first six to 18 months of a child's life.

It is caused by mutations in a gene called MECP2 that inhibit the formation of a molecule that's essential to cognitive and motor function. Successes in clinical trials with Trofinetide have included girls with the syndrome starting to talk for the first time and having improved mobility.

"I think about the impact this will have on the lives of people like Rett sufferer Katelin Lancaster and her mother Melinda, in the US."

Dame Margaret met Melinda and Katelin in 2019 when she went to San Diego to be inducted into the American Chemical Society Medicinal Chemistry Hall of Fame.

Melinda recently blogged about the special gratitude she felt towards Dame Margaret: "Because of Margaret, I heard Katelin speak sentences, read from a book, draw a circle, be calm, pour with precision … Katelin will get to experience that all again and ... other Rett children and adults and their families will get to experience that and more for the first time."

Katelin had received the drug in the first two clinical trials, but the cut-off age for the third trial was 25 so she couldn't take part.

In Dame Margaret's office in the School of Chemical Sciences, where the air conditioning seems non-existent and there is no natural light, a hand-painted plate and coffee mug Katelin made sit proudly on a shelf.

"The handprints on the plate are green, which Katelin knew was the Kiwi colour. With help, she also drew a picture of the Trofinetide molecule. She's just saying thank you."

Melinda also had necklaces made in the shape of the chemical structure of the molecule and gave them to Rett patients for encouragement as they participated in the clinical trials.

Dame Margaret's office walls are covered in awards. She was made a Dame in the 2019 Queen's Honours, has been inducted into the American Chemical Society Medicinal Chemistry Hall of Fame, received the 2023 American Chemical Society Ernest Guenther Award for natural products chemistry and the 2022 Royal Society of Chemistry Pedler career award for research and innovation in organic chemistry. In 2018, she became a Fellow of the Royal Society of London, the first female New Zealander working in New Zealand to do so. Other accolades, too many to list, include the Te Apārangi Royal Society of NZ (RSNZ) Rutherford Medal, RSNZ Hector Medal and the RSNZ MacDiarmid medal.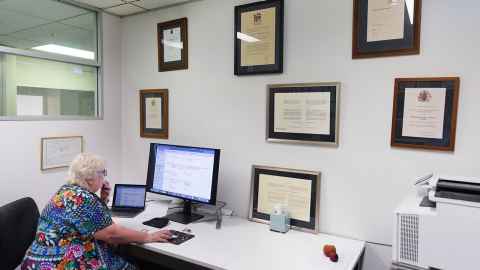 This drug was painstakingly developed over many years by many New Zealanders and a New Zealand company, Neuren Pharmaceuticals, which started at the University of Auckland.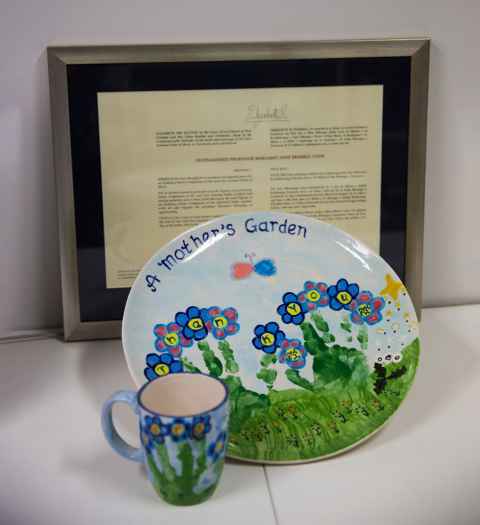 But will the creator of NNZ-2566 – the component of the first neurological drug to be discovered by a New Zealander and approved by the FDA – receive any material reward other than media attention and gratitude from patients? Probably not. Dame Margaret's share options with Neuren Pharmaceuticals, now listed on the Australia Securities Exchange, expired before the drug showed promise in clinical trials for Rett, although more recently she did buy some shares privately.

"At the time I was just happy to have a lab and to be able to give three early-career chemists jobs in New Zealand; for me, that was the most important thing. I'd also not long had a baby and had returned to the University of Auckland from Australia. I'd been working on the molecule for traumatic brain injury not Rett, and couldn't have known how it would evolve. But I'm so glad it did."

What she's now hoping is that the drug will get Pharmac approval to enable New Zealanders to be treated.

"While there might only be around 40-60 Rett patients in New Zealand, this drug was painstakingly developed over many years by many New Zealanders and a New Zealand company, Neuren Pharmaceuticals, which started here at the University of Auckland, so I'd really hope it can be used in this country."

There are other potential benefits to the approval of Trofinetide. Clinicians may be able to prescribe it for other genetic disorders such as Fragile X syndrome. There's even some hope it could help in autism.

Meanwhile Dame Margaret and her team, again working with Dr Jian Guan, have discovered another drug molecule, NNZ-2591, which is showing potential in clinical trials for other rare neurodegenerative syndromes: Phelan-McDermid, Angelman, Pitt Hopkins and Prader-Willi.

"Neuren is running phase two clinical trials using NNZ-2591 for some of these disorders. But you need a huge amount of money for trials – it cost $54 million for the phase three trial for Trofinetide."

After a flurry of media interest since the FDA approval, Dame Margaret is getting on with her postgraduate teaching, and pursuing her research in organic chemistry. She works in the Faculty of Science as a distinguished professor in Chemical Sciences and Biological Sciences. She is also deputy director of the Maurice Wilkins Centre for Molecular Biodiscovery, a National Centre of Research Excellence.

She says she was lucky to have had the opportunity to run the lab where NNZ-2566 was born.

"Academics tend to be working on our next best paper and working with students; not many get to work in drug discovery."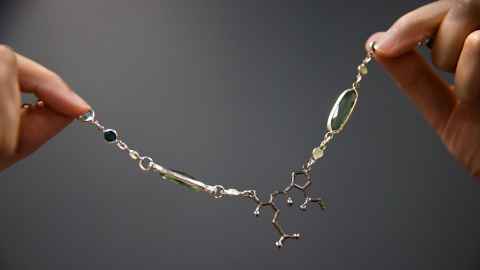 She has funding from the Ministry of Business Innovation and Employment to develop new- generation antibiotics, with antibiotic resistance a major global health concern. Her team is reinvestigating two existing last-line-of-defence antibiotics, the polymyxins (colistin) and daptomycin (cubicin) and trying to reduce their known toxicity to the kidneys.

"We're changing one part of a lipid in the antibiotic for another synthetic lipid and tinkering with other parts of the molecules … we'll be working on that for the next few years."
She is also interested in traditional Chinese medicines.

"In Chinese medicine, when you dig down, some of these plants/herbs have really challenging structures. That's what I find interesting.

"I've had some very talented Chinese students. I believe that if they're coming to New Zealand to train, it's good to train them on a topic of relevance to China as well."

Another of her students, Eilidh Young, is also interested in this area. She's working on a Chinese medicine project using a compound from Goji berries.
"She has successfully synthesised it," says Dame Margaret. "She's a brilliant student."

Dame Margaret says she has worked with more than 100 PhD students and has more than 650 publications to her name and around 50 patents. But the scientist who once said "creating molecules is my art" actually preferred languages in high school, especially Latin. "I did chemistry, but it wasn't until I came to this university that I really enjoyed it. My father was a GP, but I didn't like the blood and guts so didn't want to do medicine.

"Although I liked languages, in those days you had to choose between degree programmes. I did a BSc but kept the French along with maths, which I also liked, and chemistry. I enjoyed organic chemistry because of its logic and pattern recognition. Students may think it's rote learning, but it's definitely not.

"I was talking to a group of PhD students to find a new project recently. We looked at the chemical structures for some natural products published in the literature, trying to choose one to synthesise. We ended up with two options from 20. One of the students asked, 'how did you get to those?' I just thought they looked nice and interesting.

"It's a bit like mountaineers choosing mountains to climb. We choose our next molecule to make.
"We try to map out a synthetic route – how are we going to get from chemicals we buy off the shelf to the complex target molecule? It's like molecular chess. It can take 25-plus steps and then it could all go wrong and you have to start again with a new strategy. But along the way, students learn a lot about all the different reactions they encounter so that after completion of their PhD, they're really well trained in different areas of organic synthesis."

She says they need to be resilient.

"It's really tough. You have to accept it's 90 percent failure."

Right now, such a big success for Dame Margaret and her fellow scientists will outshine the failures for a bit longer.

Denise Montgomery
This story was first published in the April 2023 edition of UniNews magazine.