Think again before you buy that tacky souvenir
A new art exhibition uses souvenirs to explore ideas about place, memory and cultural representation.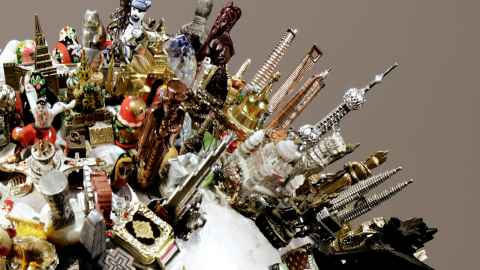 Artist Ruth Watson has spent years cultivating a vast collection of weird and wonderful souvenirs.
But most of them aren't from trips that she's taken overseas.

The Senior Lecturer at Elam School of Fine Arts has rummaged through op-shops up and down the country, searched for countless hours on eBay and called in favours from friends to help source hundreds of souvenirs for her new exhibition, The Ambassadors.
The exhibition is on display at the University of Canterbury's Ilam Campus Gallery and uses souvenirs to explore ideas about place, memory and cultural representation.
"I think people buy souvenirs with the idea that they're going to be a little memory aid, or they might trigger a smile when they look back on them," says Ruth.
"But that can sometimes wear off pretty quickly. Perhaps that's why the op-shops are full of them."
The Canterbury-born artist has been researching souvenirs since 2016 and says her curiosity about them is an extension of her previous work into the history of cartography.
"I'm quite interested in common visual languages that we all have a relationship with. Maps and souvenirs both fit that category. Also, our recognition of these languages speak to issues of our complicity with these sign systems."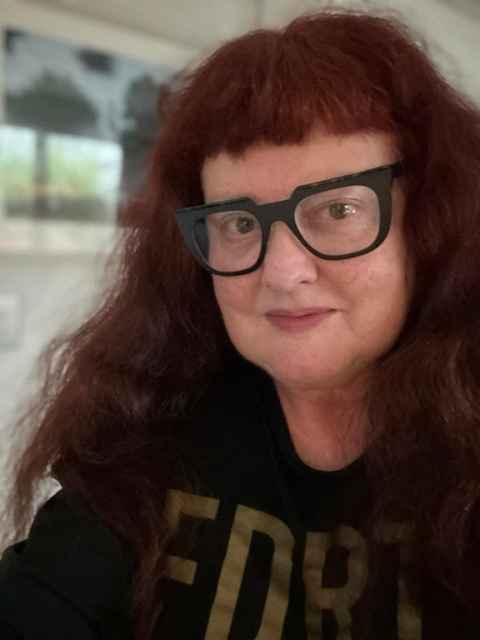 All of the works in the exhibition have a different relationship to memory and place, says Ruth. That includes a book, The Greatest Thing in the World, which has been encrusted with gold and silver souvenirs akin to early modern gem-laden Bibles or Korans.
Another work, Je Reviens, is a piece Ruth created in 1992 that she had remade for the exhibition.
"I wanted to reconnect with a longer history within my work, because when people think of me, they think about my cartographic-related work. I wanted to point out that there's been other things that I've done that draw a connection to representations of place."
The centrepiece of the exhibition, Kosmos, is a globe that's been abundantly decorated with keyrings, badges and other trinkets that represent the countries and cultures of the world.
Ruth spent over seven years fashioning the artwork from dozens of souvenirs, including Matryoshka dolls from Russia, a miniature Taipei 101 skyscraper from Taiwan and a Little Mermaid figurine from Denmark.
Fluffy dice, a tui charm and a Pania of the Reef figurine from an old snow globe were some of the souvenirs she used to represent Aotearoa New Zealand.
Other countries like Australia were not so easy to piece together.
"I had trouble finding Aboriginal material that wasn't racist," she says.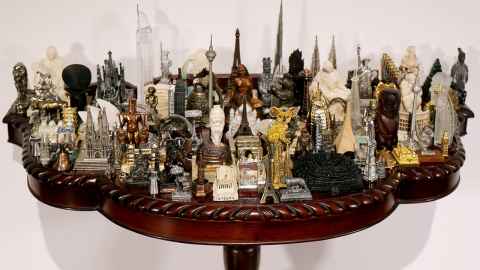 Another work in the exhibition, titled The Implacability of Things, is a retro hall table covered edge to edge with larger-scale souvenirs of buildings from around the world.
"If a souvenir is supposed to spark a memory, perhaps too many of them might indicate thoughts or memories that can't be forgotten."
The little trinkets around your house might not seem the same again.
Ruth Watson's solo exhibition The Ambassadors will run from 27 April – 24 May at the Ilam Campus Gallery, University of Canterbury. Ruth Watson has had over 40 solo exhibitions nationally and internationally, and she currently teaches art at the Elam School of Fine Arts at the University of Auckland.