Female leaders need support not the abuse they so often endure
Opinion: At a time of global challenges, we need the best leaders to respond. To enable this, Dawn Freshwater writes that women leaders need support to deal with the abuse they face because of their gender.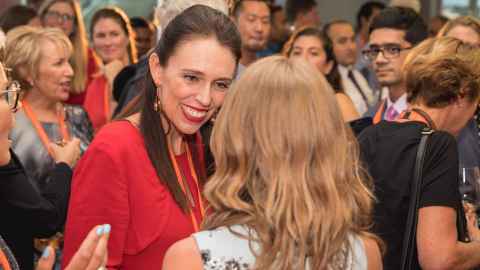 Last month, Times Higher Education told us that 48 of the world's top 200 universities are led by women, including four of the top five.
But 48 is still barely a quarter, at a time when in many countries female students outnumber their male counterparts. Moreover, I have been reminded on multiple occasions in recent months that women in higher education – be they leaders, academics, professional staff or students – are still disadvantaged.
Aotearoa New Zealand is a country that has a pedigree in advancing gender equality. It boasts multiple women prime ministers, governors general, chief executives and chief justices. Former governor general Dame Patsy Reddy is now the first woman to chair the NZ Rugby Board.
More and more young women are joining the trades. The country's largest university has its first female vice-chancellor: that's me. Yet the gender pay gap persists, the cost of childcare remains high and the women who do secure leadership positions are still subjected to levels of abuse and scrutiny unknown to male leaders.
Aotearoa New Zealand recently lost a high-profile international leader in prime minister Jacinda Ardern. When announcing her departure, she said: "I know what this job takes, and I know that I no longer have enough in the tank to do it justice." The role of prime minister is unrelenting and exhausting, especially given the pandemic and a series of crises she dealt with. But it was made all the harder for Ardern by the volume of abuse she encountered.
When asked about this, her successor, Chris Hipkins, acknowledged what all women leaders know: "There is no question, unfortunately, [that] women in leadership positions ... are the subject of far more abuse and vitriol than men doing comparable jobs."
Research undertaken by the University's Hate and Extremism Insights Aotearoa research unit found that Ardern faced online vitriol at a rate between 50 and 90 times higher than anyone else in a sample group of seven leading New Zealand politicians and bureaucrats between 2019 and 2022.
I can only imagine what it must be like to endure that scale of abuse, but I've certainly experienced what feels like more than enough of such treatment personally. Daily, my inbox fills with personally abusive emails. Some of the abuse is anonymous, but most is not – and the writers span age, gender and education levels.
This phenomenon is not new nor unique to Aotearoa New Zealand. The scale of abuse endured by well-known men and women in domains including politics, business, entertainment, sports, science and crime has been studied by prominent researchers at Canada's McGill University, the European Institute and Stanford University in the US.
In their 2022 paper, Women Who Break the Glass Ceiling Get a "Paper Cut": Gender, Fame and Media Sentiment, the researchers report that when women's fame increases, the media scrutinise them more closely, keener to find blemishes in their performance than to celebrate their achievements.
The researchers refer to the disproportionately negative media coverage that women receive after breaking the glass ceiling as a "paper cut" and attribute it to the fact that "successful and prominent women pose a threat to traditional gendered status hierarchies and stereotypical ways of thinking about femininity and gender roles".
No doubt they are right, but it isn't just the media that drives the backlash. The Reykjavik Index measures wider social attitudes towards women leaders in G7 countries and has found that those attitudes haven't improved since 2019, with the most recent report finding that "deeply rooted views on female leadership are hard to shift".
Women are also unreasonably scrutinised – and shamelessly abused – by private individuals, whose enduring prejudices are empowered by their easy access to social media and email addresses, and by a society that has lost touch with basic human respect.
Hence, women are also unreasonably scrutinised – and shamelessly abused – by private individuals, whose enduring prejudices are empowered by their easy access to social media and email addresses, and by a society that has lost touch with basic human respect.
These troll stabs, as we might call them, only add to the pain of the paper cuts – which, in themselves, "can be deep and surprisingly painful, with substantial repercussions for careers and personal lives", according to the researchers.
Across the world, leaders are unexpectedly stepping away from their jobs. Many of them are women and many are higher education leaders. They cite the demands and intensity of their roles in the Covid-19 era, when decision-making has become more complex, ambiguous, changeable and controversial.
But as women leaders head for the exit there are also hushed discussions about the level of abuse they endure in roles they would previously have described as career pinnacles.
Society must do better. We live in a time of global challenges and existential crises. We are confronting the physical reality of climate change day by day, our geopolitical environment has slipped into instability and our economies risk being undermined by both, alongside the rapid march of technology.
Our world is challenging and, for many, it threatens their way of being. We need all hands on deck to meet these demands. That means making space for the best leaders, of whatever gender, to work with communities to make the best decisions for everyone.
Professor Dawn Freshwater is vice-chancellor of Waipapa Taumata Rau, University of Auckland.
This article reflects the opinion of the author and not necessarily the views of Waipapa Taumata Rau University of Auckland.
This article was first published in Times Higher Education. 
Media contact: Gilbert Wong, gilbert.wong@auckland.ac.nz