Nuala Gregory: creative strategies are in her blood
Professor Nuala Gregory built a new life in moving from Ireland to New Zealand, and is now hoping to build a fresh identity for the Faculty of Creative Arts and Industries.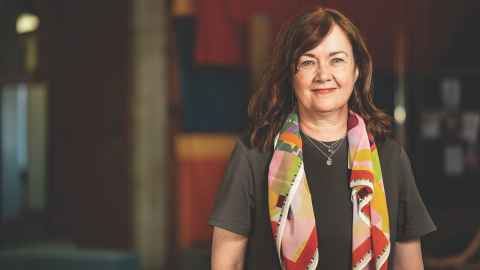 Professor Nuala Gregory knew she would have to leave her home in West Belfast.

Back in 1997, opportunities were few and far between for artists from an Irish Catholic background. Despite the search for a political settlement, the legacy of discrimination lingered on after decades of conflict in the area.

"I always felt the need to get out of that environment, because you couldn't thrive," says Nuala. "You could struggle; there was little hope and genuine danger."

She had scanned the UK newspapers and decided to apply for teaching roles overseas. "One came up in Scotland, a second was advertised in England and a third was in this place called Auckland, New Zealand."

She interviewed for the first two without success, but with the luck of the Irish secured the third: a part-time gig lecturing at Elam School of Fine Arts. Within a year she was promoted to full-time senior lecturer and Head of Painting.

"It was the most amazing five years of teaching and studio work, alongside artists and educators like Judy Millar, Séraphine Pick, Kristy Gorman and Peter Robinson," she says. "It was incredible."

For the past 26 years living and working in New Zealand, Nuala has held numerous senior management roles across the University, including Head of Elam School of Fine Arts and Deputy Dean of Creative Arts and Industries.

She was promoted to Dean in 2022, and turned her focus to building a new identity for the faculty.

"There's always been a lot of creativity and a hunger for generating new ideas," she says.

"But we've started to question certain things that we've done in the past and ask, 'Has that really delivered on our wider goals; do we really want to go on doing that?'

"We now see a future in which the faculty will have a strong public purpose, with clear mission areas and targeted outcomes linked to Taumata Teitei. We will focus on local cultures and communities against a global background.

"Our aim is to build 'collective intelligence' across all of our schools; to make a positive impact on climate change, the built environment, sustainability, a thriving economy and a new world of balanced work, education, art, culture and well-being.

"It's all about creativity for the individual and the public good. An ambitious strategy but we're determined to make it happen."
As creatives, we have a role to play within the University in influencing all aspects of the business.
While consolidating her vision as Dean, Nuala continues to exhibit widely. She recently visited Ireland to begin work on a retrospective exhibition of her decades-long art career and plans to launch the show in Belfast before bringing it to Auckland.

Her strikingly colourful abstract paintings and collages feel like a challenge to the conceptualism that dominates the art world today.

"I'd rather point towards the potential for meaning that arises from encountering a painting, than try to make a direct statement. Painting can generate new meaning rather than simply communicate a message."
She says that out of all the art forms, painting retains a unique ability to generate feelings and draw people in.

"There's something special about experiencing a subtle new sensation that can make us question our perceptions and ourselves. That can feel strangely archaic in a world where we're focused on screens all the time."

Alongside her painting, Nuala has recently rediscovered her love of fashion and is working on prototypes for a line of silk scarves featuring her eye-catching designs. She was inspired by finding '70s vintage scarves in op-shops, with odd combinations of colours that spoke to her own work as an artist.

Other ideas for her scarves came from visits to a vintage Japanese kimono warehouse.

"The way they combine floral and abstract designs is fabulous and inspiring," she says.

Her sun-filled office overlooks the gardens outside the University's School of Architecture and Planning, but West Belfast is never far from her thoughts.

She grew up in a working-class family living in a conflict zone.

"The '60s and '70s were really hard times for my parents," she says. "There weren't many books in our home, let alone art."

But her mum had a creative side and taught Nuala and her sister Jeanette how to sew. The two sisters would then huddle together each night to create collages out of old newspapers that they kept under their bed.

"We would take the newspapers and tear them into shapes, then lick them and stick them onto the headboard above our bed. They would fall off in the middle of the night and our bedclothes would be covered with black ink. Our long-suffering mother eventually put a stop to it."
The '60s and '70s were really hard times for my parents. There weren't many books in our home, let alone art.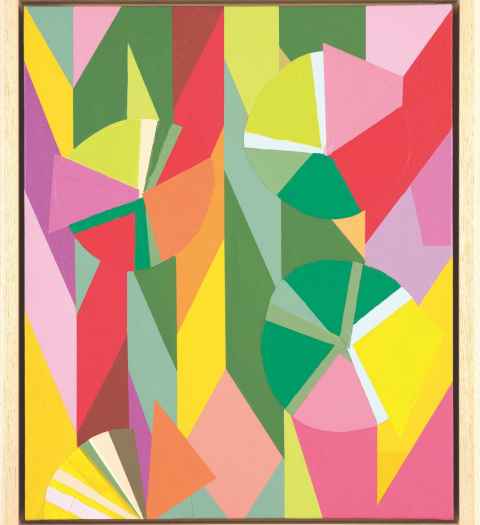 After graduating with a Bachelor of Arts at the University of Ulster, Nuala did a ten-year stint with a local artists' collective. Being part of a community of experienced artists helped her learn how to "do a lot with very little" such as organising exhibitions and securing funding from the local arts council.

It was when she went back to university to start her masters that she realised her career could take a new direction.

"I got some experience teaching and realised I absolutely loved it and wanted to do it."

She went on to complete a masters and her doctorate at the University of Auckland and believes that "it doesn't always take a lot to do something really inventive".

"As creatives, we have a role to play within the University in influencing all aspects of the business," she says.
"We can do amazing things with our collective ingenuity and invention to produce outcomes for our communities and, ultimately, our students. At the end of the day, that's what it's all about."

By Hussein Moses