Peng Du: bioengineering breakthroughs and the art of science
From 9-14 May, the Auckland Bioengineering Institute is holding a public showcase. Ahead of that, one of its academics Dr Peng Du talks about the work he does and how he landed in his field of expertise.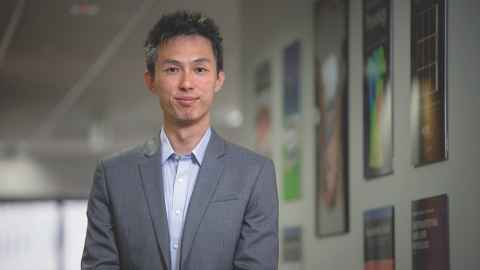 One notable quality of Dr Peng Du is his humour. His students agree. He uses it a lot. To engage, to get through 50 minutes of dry lectures. To be humorous, he says, you need to see the funny side of life; equally it's his way of carrying a truth.

Peng is Associate Director of Research at the Auckland Bioengineering Institute (ABI) and Associate Professor of Engineering. In 15 years of academia at Waipapa Taumata Rau, University of Auckland he has gathered a long list of accolades including the Prime Minister's MacDiarmid Emerging Scientist Prize in 2019 and the 2022 University of Auckland Research Impact Award antalizing a decade of world-leading research culminating in a non-invasive wearable device, Gastric Alimetry, now used in more than 15 hospitals in five countries. The device records gut bioelectrical activity and Peng's research has uncovered new disease biomarkers for previously undiagnosable digestive diseases. Alimetry Ltd, the company spun out from the research, grabbed a record three awards at New Zealand's 2022 Hi-Tech Awards.

Still, rather than research into the bioelectrical activity of the gut, it is the entrancing aesthetics of science that make Peng beam. Peng curated the Art of Bioengineering exhibition held at the Gus Fisher Gallery in 2015. The unexpected and dramatic visions are still on show in the foyer of ABI at 70 Symonds Street.

"Art is another form of communication. Things that you can't put into words, you can put into pictures. You can see something created through science, yet the artwork allows you to inspect your work through another mindset."

Peng's view that life can be experienced from different vantage points was formed early. He spent his childhood in the city of Ürümqi in Xinjiang province, a city at the furthest point from the coast in Asia with a majority Muslim population.

"I grew up in a bicultural environment as a Han Chinese. There is a segment of the population that has an interesting dynamic, similar to Pākehā and Māori. There's the coloniser and the Indigenous people. There is integration and sometimes a clash of cultures."

He describes his family's move to New Zealand in the late 90s as "a drastic change in environment and culture". One day landlocked and the next, all at sea. In the school grounds of Kelston Intermediate, it was the relaxed freedoms that stood out for 11-year-old Peng: small classes, calling teachers by their first names, open fields, barefoot classmates. There was also a different mix of ethnicities and a new language. Somewhere in the background was the sense of a newcomer finding identity and belonging in another bicultural context.
With university spin-outs, there is no middle ground where you can have one foot on each side.
At Avondale College, Peng started in the bottom stream and worked his way up to the top-stream class. In his final year, he see-sawed between university-level paper mathematics and catch-up subjects needed for Bursary. Right there, a moment of glee: "I ended up taking Classics – and English!"

He still has a keen interest in ancient architecture.

"In Rome, I enjoyed seeing all those buildings I learnt about in high school – the Pantheon, Hadrian's bath, the aqueduct, the Colosseum. Traces of the ancient world in the modern day is an interesting juxtaposition."

He's trying to engage the curiosity of travel in his preschoolers, Valerie and her younger brother Dominic. "This is the Taj Mahal; this is Red Square."

An enquiring mind replies, "Is this just a building or a playground?"

By the end of high school, Peng had fallen in love – with chemistry. The Nobel Prize for Chemistry was not only in his reach, he held it in his very own hands after an inspiring public lecture from Alan MacDiarmid.

But it turns out that Peng swoons at a bit of pizzazz. At the University's Open Day, Chemical Engineering "put on a really great show" so Peng made a slight deviation. He incorporated chemistry, biology, and engineering into the fairly new degree of Biomedical Engineering.

Peng's introduction to the gut came in his second year when he was looking for a summer internship. He wanted work – and to work on the heart. But Professor Nic Smith, now Vice-Chancellor at Victoria University of Wellington, introduced him to Professor Andrew Pullan who was transitioning cardiac techniques to the arguably less attractive organ. When Nic left for the UK, he offered Peng a antalizing opportunity to do a PhD in cardiac research. But Andrew offered him a PhD in New Zealand on the gut.

The show won Peng over – again.

"Andrew was charismatic. He could paint a picture, 'the heart is all intricate detail, whereas here's the gut – this green pasture, the new and final frontier'". Peng was persuaded and went with his gut. (Sadly Andrew passed away of melanoma in 2012.)
I can relate to politicians in New Zealand because they all have a three-year cycle. In academia we call it the grant cycle. 
Peng also met Professor Greg O'Grady who taught him about clinical translation and putting a device into patients' hands. That combination ultimately led to start-up company Alimetry Ltd. But despite the rapid rise of Alimetry, Peng is still in academia.

"With University spin-outs, there is no middle ground where you can have one foot on each side, but ABI is working hard and making the case where you can go back and forth between the two."

Peng describes academia as a sheltered environment to investigate questions of interest.

"It's more of a lifelong mission than a short-term goal – but job security is always a concern.

"This will resonate across academic communities. The rolling contract, the uncertainty of where you are going to be, has always been my biggest work challenge.

"I can relate to politicians in New Zealand because they all have a three-year cycle. In academia we call it the grant cycle. We think, 'Oh I need to put in something good'. That can motivate people, but on the other hand, it is stressful, especially when you have a family and expenses to pay."

For the immediate future, Peng points to growing interest in applying what has been learnt from the gut to another smooth muscle organ in the body, the uterine smooth muscle.

And there's also chemistry. "Alan MacDiarmid's claim to fame, leading to that Nobel Prize in Chemistry in 2000, was conductive polymers, plastic materials that conduct electricity. It just happens that my story may come full circle to what inspired me to do science in the first place."

He's now working with Professor Jadranka Travaš-Sejdić and Dr Peikai Zhang from the Department of Chemistry to translate MacDiarmid's work into a new frontier in gut research. It's the next generation of biocompatible sensors (ones that don't cause immunological reactions) to be used in gut functions. "The sensors are already used in acute situations, but the plan, in the long term, is to implant them."

By Megan Fowlie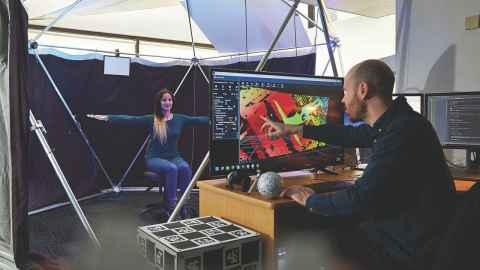 Event: Bioengineering the Future 
The Auckland Bioengineering Institute (ABI) is holding a family-friendly showcase at the Cloud, 89 Quay Street from 9-14 May.

There will be more than 40 fun, interactive demos on display from 10am-4pm daily.

The ABI was established in 2001 and one of its major goals is to enhance the diagnosis and treatment of a range of medical conditions, to help improve the lives of people with disabilities or injuries. ABI students and researchers work on everything from artificial intelligence avatars, to innovative gadgets and implantable devices, to world-leading 3D models of the human body.
The free event will showcase and raise awareness about the ABI's life-changing research. To attend, search for Bioengineering the Future on Eventbrite.
This story first appeared in May 2023 UniNews magazine.