World-leading diagnostics for digestive disease
Digestive disease affects about 10 percent of people globally. A non-invasive device Gastric Alimetry, offers doctors reliable diagnostic data to enhance treatment.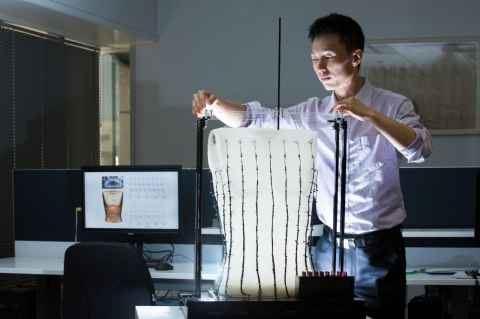 Nausea and chronic indigestion, symptoms of digestive disease, are a daily reality for about 10 percent of people. In Aotearoa, Māori are 20 percent more likely to be hospitalised with a digestive disorder than non-Māori, with many suffering in silence.
After a decade of world-leading research, a team led by Associate Professor Peng Du, Auckland Bioengineering Institute, has successfully developed the wearable diagnostic device Gastric Alimetry, which enables routine and reliable detection of gastric function.   
The device is non-invasive, and is in use in more than 15 hospitals in five countries, revealing new disease biomarkers for previously undiagnosable digestive diseases.
The work of Associate Professor Du and his team was recognised with a Research Impact Award at the Celebrating Research Excellence Awards 2022 at Waipapa Taumata Rau, University of Auckland.
Media contact
Gilbert Wong
M: 021917 942
E: gilbert.wong@auckland.ac.nz
Mātātaki | The Challenge is a continuing series from the University of Auckland about how our researchers tackle some of the world's biggest challenges. Challenge content is available for republication.