Mussel farms may act as fish nurseries, research shows
Mussel farms may have a helpful spin-off effect, write PhD candidate Lucy Underwood and Professor Andrew Jeffs.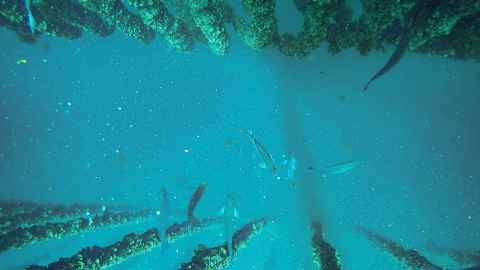 One hundred years ago green-lipped mussel or kūtai beds covered an area of seafloor larger than metropolitan Auckland in the Hauraki Gulf/Tikapa Moana/Te Moana-nui-a-Toi.
However, in the latter half of last century these extensive mussel beds were fished to extinction by commercial dredging vessels who sold most of the harvested mussels to hungry Aucklanders.

The supply of wild mussels to Aucklanders was soon replaced by the emergence of farmed mussels that were mostly grown on ropes hung in the coastal waters around Coromandel township.

Since that time, green-lipped mussel production has expanded in the Hauraki Gulf to the point where it now produces around 25,000 tonnes of mussels a year.

The expansion of mussel farming has created some concerns about possible environmental effects of on the Hauraki Gulf, but it is possible that farmed mussels may have similar ecological effects to wild mussel beds that deserve to be investigated.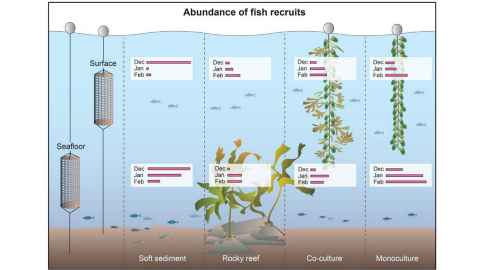 We know that small fish, especially juveniles love to hide and feed in wild mussel beds on the seafloor, with around fourteen times the number of fish found in wild mussel beds compared to nearby bare sediment seafloor.
To find out if mussel farms might provide an alternative nursery habitat to wild mussel beds for baby fish in the Hauraki Gulf, we measured the numbers of larval fish settling and establishing themselves over summer into four different underwater habitats near Coromandel; a farm with only mussels, a farm with kelp and mussels, a natural rocky reef with kelp, and soft sediment seafloor.
A total of nine different fish species were found to be settling as larvae and recruiting into the four different habitats, with no overall difference in the mix of fish species turning up in the four different habitats.
Both of the aquaculture habitats outperformed the soft-sediment habitat for the survival and growth of some settling fish species, such as the common triplefin, which also did well in the natural reef habitat.
Overall, these findings indicate that the aquaculture habitats are providing effective nursery habitats for young fish by providing food and physical structure for shelter. The study is thought to be the first in the world to show the value of aquaculture to act as nursery habitat for baby fish.

This article was first published on the Hauraki Gulf Forum website
Media contact 
Paul Panckhurst | media adviser
M: 022 032 8475
E: paul.panckhurst@auckland.ac.nz