Jazz powerhouse couple in good company at the School of Music
Roger and Caroline Manins, founders of the Creative Jazz Club, talk about how it provides an outlet for budding performers.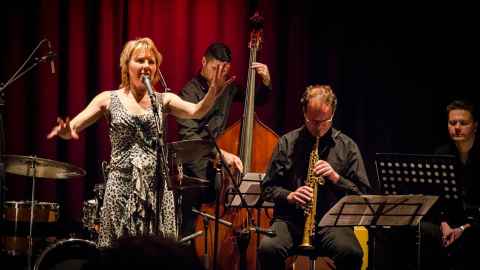 It's fun that it feels like a classic jazz dive. On a Wednesday night, you descend from the cheerful chaos of Karangahape Road eateries down two flights of stairs into darkness.
A wall is draped in shadowy velvet, a French basket chandelier glimmers softly over the bar. The bar's name – Anthology – is the one bright hit, glowing neon cyan behind the low stage. If this were 1950s New York, Anthology would be full of cool cats smoking cigarettes.

As it is, we're jazz aficionados in comfy street clothes – from young students to retirees – here for the weekly CJC – the Creative Jazz Club. We've all paid to get in – not only for CJC to compensate its international, national and homegrown musical guests, and to secure serious equipment like the handsome grand piano, shining black – but also to ensure we really care.

Through ticketing, "we could guarantee our audience wouldn't be there to hear 'Ipanema'", quips CJC co-director Dr Roger Manins, renowned saxophonist and University jazz senior lecturer. Instead, we care to hear original projects – CJC is a weekly engine for jazz innovation.

And tonight, we're in for a treat. Roger announces "the founder of CJC … our very own Caroline Minuscule", aka Caro Manins. The applause is warm for the singer and former University jazz vocal tutor, who will perform jazz arrangements of medieval songs, and her own medieval-inspired compositions, for the first time in five years, after a back injury left her in "vocal lockdown". Impressively, her clear, beautiful tones seem effortless.

"We started playing, and my voice opened up, and I think I also opened up. Music is amazing," says Caro later.

"Something happens when you're with other musicians and performing that I can't replicate off-stage."

This is dream-sequence, unearthly jazz – no lutes involved – playing with time signatures in ear-catching ways. The medieval songs are full of yearning and longing as troubadours pine for high-born ladies.

But one of Caro's own pieces is more contented – a vocal composition, initially recorded as an improvisation in the shower.

"It's called 'You'," says Caro in her introduction. "This is the only piece I've written for my 'You'. So, this is for him."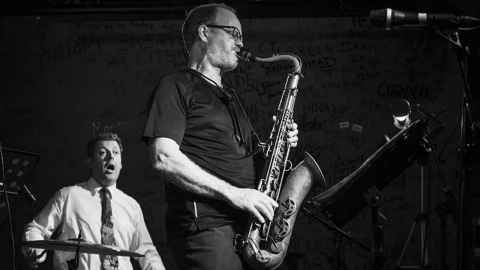 Auckland is creative – I've seen so much creativity and individual musical growth happen here. 
She sings a playful, relaxed, wordless, and softly staccato melody that evokes enjoyment of being together, of deep connection.

Her 'You' is Roger himself; the couple met 20-odd years ago at his 30th birthday party in Sydney – the English singer meeting the Āwhitu saxophonist. They enjoyed a lively party discussion but "It took six months for me to get her on side", reports Roger.

He invited Caro to a gig of his.

"And I could feel this huge brain energy happening … I thought this guy is actually really intelligent!" she laughs.
It turned out he was transposing the music as he played "so that's why I was feeling all this concentration".

Roger and Caro moved to Auckland with their baby daughter Milli in 2004 to spend more time with Roger's mother, who had a life-limiting illness. Roger began teaching at the University jazz school casually then full-time and the couple started CJC in late 2009, a few months after Auckland's legendary London Bar closed its doors. Caro, who has a Master of Music (Performance) from the University, explains: "Music was relegated to background music in pubs or restaurants. I turned to Roger one day – I had my own music – and I said, 'Where do I play this?' There was nowhere, there were no decent pianos either. And we said, 'Well, let's create something.'"

Another saxophonist, Ben McNicoll, came on board as third co-director and web designer.

The links between the University and the CJC are myriad.

"It's an amazing relationship," Roger says.

Where possible, he arranges for international CJC guests to feature in University jazz school forum workshops. Caro's superb band illustrates how CJC and the University regularly share personnel: linchpin jazz senior lecturer Ron Samsom is on drums, and the other band members were taught by both Roger and Ron (Jack Thirtle on trumpet, Ben Gailer on piano and some arrangements, Elliott Park on double-bass, and Michael Gianan and Michael Howell both guesting on guitar). Jazz school students who occasionally volunteer on the club's door get free entry. Roger points out young musicians have been exposed to outside music at CJC for 13 years, informing their own "musically happening" projects, and then featuring at CJC themselves.
Something happens when you're with other musicians and performing that I can't replicate off-stage.
Where the 'Australian sound' is humorous and irreverent, the couple think Auckland's developing aural character emphasises originality: "Auckland is creative – I've seen so much creativity and individual musical growth happen here," says Roger.

He credits the University jazz school, CJC, and other outfits like the Audio Foundation and Vitamin S for fostering a free spirit approach. The core University jazz staff are "very open musically", says Roger. Roger himself is considered one of the leading saxophonists in the southern hemisphere. He has appeared as a featured soloist on more than 40 albums, with six under his own name.

"So, none of us were saying, 'Hey, jazz is like this. Jazz has gotta be be-bop, jazz has gotta be John Coltrane, it's gotta be European, it's gotta be free'. We've all just been open and done our own thing and we have different experiences, so we all brought an open mind to the table."

Roger's own artistic practice is a case in point.

"I'm musically really curious … so there's joy in everything if you let yourself," says the musician who has featured on six albums that have won Tui awards over the years.

He researched jazz improvisation and composition for his musical arts doctorate ("they're the same thing, really, composition is improvisation slowed down quite a lot"), but he has previously worked happily in rock bands, wedding cover bands, in musicals and playing jazz and blues in the subways of New York. You name it, he's done it, even working a cruise-ship stint for ten months.

"The challenges are exciting! Even if this is not my thing but their thing, I'll get joy out of that," he says.

"It's finding the joy in the small parts of the music which are insanely beautiful – every time you play a single sustained note. Getting the pitch, the dynamics of line. I tell my students, 'It's a whole world! It's a universe.'"
And many of those whole beautiful universes can be found every Wednesday, down two flights of stairs in the dark.
Story by Janet McAllister
This article first appeared in the Autumn 2023 edition of Ingenio.