Passion, energy, excellence recognised with Liggins' top role
The newly appointed Director of the Liggins Institute, Professor Justin O'Sullivan hopes to lead an energised and engaged research group.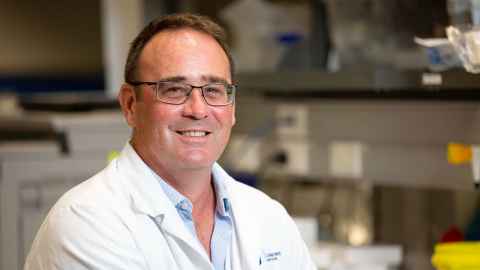 Following an international search, Liggins deputy director Professor Justin O'Sullivan has been appointed to the role of Director of the University's Liggins Institute.
Former director Professor Frank Bloomfield has moved to the role of Deputy Vice-Chancellor Research and is delighted by the news.
"Justin will bring his passion, experience, enthusiasm and huge commitment to the role," Frank says.
Justin has worked in the Liggins Institute since 2012, starting as a Senior Research Fellow and rising through the ranks to Associate Director Research and then Deputy Director since February 2020.
Prior to that, Justin attained a Ph.D. degree in molecular microbiology from the University of Otago, then undertook postdocs at the University of Kent at Canterbury and Oxford University. He then taught as a Senior Lecturer at Massey University in Albany.
Justin grew up in Ōtautahi, Christchurch and now lives in Torbay with his family, enjoying walking and sea-kayaking.
"It is an incredible privilege to be able to represent the Liggins Institute," he says, "and to lead it through a period of change and opportunity in New Zealand's scientific endeavours.
"I believe that success has many parents, failure only one. I see my role as ensuring we continue to have an exciting, energised, and engaging research environment that reflects the ambitions and needs of our community," Justin says.
"I hope to be able to take people on a journey in which we recognise opportunities and are nimble and agile enough to take advantage of them. This is going to be particularly important as we continue to grow our next group of internationally recognised researchers here at the Liggins Institute."
For the remainder of 2023, there will be a strong focus on Māori engagement.
The Liggins also has an inaugural lecture from Professor Katie Groom (26 July), and several public lectures on the following topics:
nutrition in pregnancy and early life (16 August)
nutrition for healthy ageing (12 September)
newborn genomics. (16 November)
"At the same time, we will be looking to grow opportunities through which the Institute can continue to make significant impacts within Waipapa Taumata Rau, Aotearoa and internationally," Justin says.
Justin officially takes up the role on 1 July, when acting director Professor Richard Mithen returns to his research, and roles as Associate Director Research and Chief Scientist for High Value Nutrition.
Media contact
Media adviser Jodi Yeats
M: 027 202 6372
E: jodi.yeats@auckland.ac.nz