Kānuka products a potential boon for Māori landowners
University researchers are using their expertise to turn kānuka into gourmet products and help benefit Māori landowners in Tairāwhiti.
A Government-backed project aims to turn locally grown kānuka into high-value gourmet products, which could deliver significant economic and social benefits for Māori landowners.
Nuka Charitable Trust, a start-up company set up by Dr Kiri Dell (Faculty of Business and Economics) and Associate Professor Saeid Baroutian (Faculty of Engineering), will receive $1.9 million over three years through the Ministry for Primary Industries' Sustainable Food and Fibre Futures fund.
The funding will be used to establish a pilot plant at the Faculty of Engineering producing 'liquid smoke' and juice from kānuka.
"This is a timely project because we need to really embrace our innovation and be creative to address climate change and other global impacts. This is a Māori-led project activating the lives we want to create for ourselves," says Dr Dell.
Kānuka juice can be used as an ingredient for beverages such as kombucha, while liquid smoke has a taste similar to hāngī. It's created by burning kānuka wood chips at high temperatures in the absence of oxygen and capturing the smoke in a liquid form. The liquid smoke can be added to cheese, meat and seafood.
"It has a unique, pleasant aroma and flavour," says Associate Professor Baroutian. "It can also be used to protect food products against degradation and enhance their shelf life."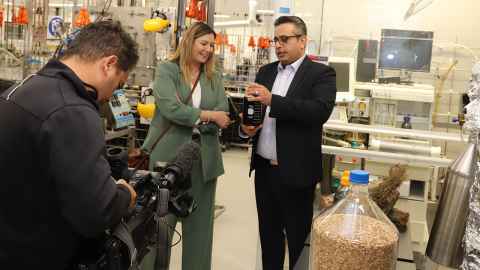 The kānuka will be sourced from the more than 15,000 hectares of Māori-owned land in Tairāwhiti, which will benefit local landowners, especially those with currently unproductive land, says Associate Minister of Agriculture Jo Luxton.
"There's a huge opportunity to start a new industry for Aotearoa, provide jobs and contribute to the local economy in Ruatōria," she says.
"Representatives of Whareponga from Ruatōria are in Auckland this week to put a programme together for training in how to maintain and operate the pilot plant, which will be relocated down south when the timing is right.
"The business expects to eventually employ about 15 people in skilled jobs. This is significant in a community of less than 800, recently impacted by Cyclone Gabrielle in February."
Nuka was established as a charitable trust in November 2022 to facilitate commercial opportunities for tangata whenua and Māori landowners. The purpose of the trust includes reducing barriers to education and academic research for tangata whenua.