Knowledge is brewing, so raise your glass
Top academics will speak at Auckland watering holes for free on Tuesday 29 August.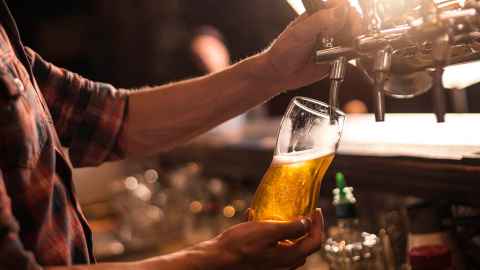 University of Auckland academics are once again putting the pub into public lecture with the annual Raising the Bar event to be held on August 29.
Now a staple on the university's calendar, Raising the Bar is a once-in-a-year chance for the public to attend lectures by some of our brightest minds, in the comfort of their local.
A colourful mix of academics will deliver 20 lectures in ten of central Tāmaki Makaurau's favourite watering holes, all on one night.
Some of the highlights from the 2023 circuit include:
Geologist and astrobiologist Professor Kathy Campbell examines the search for extraterrestrial life in the Solar System 
Senior Lecturer in Music Dr Fabio Morreale delves into the dark side of music streaming. 
Run for the hills, the robots are coming! Or should we? asks Dr Craig Sutherland, Senior Lecturer in Electrical, Computer and Software Engineering.
Other speakers will explore how to harness the power of machine learning; fight breast cancer from a petri dish; and the relationship between mātauranga Māori and science, to name a few.
Mark Bentley, director of Alumni Relations and Development, says Raising the Bar harks back to a time when the local pub was a place of community connection, interaction, and lively debate.
"For the fifth consecutive year, we are thrilled to once again offer the chance for our academics to venture beyond the confines of university lecture theatres. The community in Auckland Tāmaki Makaurau has embraced this unique event demonstrating that curiosity and a thirst for knowledge is alive and well."
Media contact
Danelle Clayton
M: 021 294 1720
E: danelle.seagar@gmail.com