Gutsy win for tuatara researcher at 3MT
Biological Sciences' PhD candidate Cam Hoffbeck and her engaging talk on the microbiome of the tuatara took out the top prize at the Three Minute Thesis Final from a high quality field.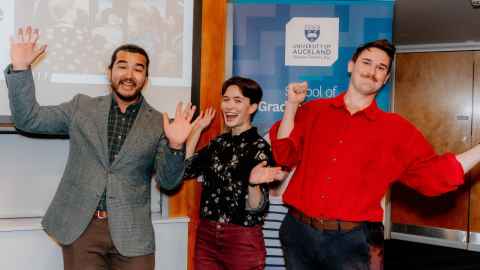 Can studying tuataras' microbiome help us conserve them? This intriguing question had a 200-strong audience captivated at the Three Minute Thesis Final on Friday 4 August.
Impressing the audience and judges alike, microbiologist Cam Hoffbeck from the Faculty of Science took out both the top doctoral prize and the coveted People's Choice Award.
"It was a shock to win!" says Cam. "The presentations were all very well put together and I enjoyed hearing about everyone's research; I would've had an impossible time picking a favourite from such a solid crowd of presentations."
She believes the ancient tuatara, native to Aotearoa, is a worthy candidate for attention.
"I hope the audience's enthusiasm reflects their interest in the tuatara and its conservation, and that they take away a bit of what makes tuatara so special."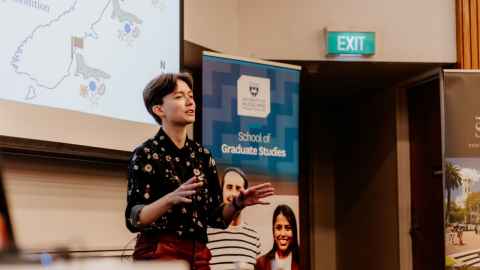 Originally from the United States, Cam came to New Zealand on a Fulbright Scholarship in 2020, and quickly became interested in New Zealand conservation. Having won the University of Auckland Finals, her next challenge will be to represent the University at the 3MT Asia-Pacific Final and U21 3MT Final.
"I'm really excited to share my research about a unique New Zealand species to a non-New Zealand audience. I didn't know much about tuatara before coming here so I'll be interested to see if it plays internationally!"
Her hope is that her research adds to our understanding of what makes tuatara so unique; and the answer might be in their guts.
"Tuatara have been really successful in New Zealand over millions of years, and their microbiology may be part of that story, and how they might adapt to a changing climate.
"They're also very important as taonga species, but aren't necessarily on people's radar as one of the coolest inhabitants of New Zealand and in need of conservation."
The effects of music on what happens in hospital operating theatres was the subject of Faculty of Medical and Health Sciences' student Anantha Narayanan, who was the doctoral runner up.
Anantha is training to be a vascular surgeon himself, and during the course of his research found the use of music during operations was widespread around the world, but what sort of a difference it makes has yet to be widely studied.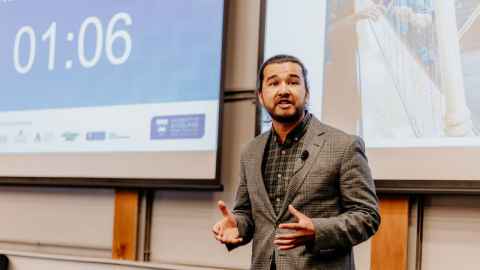 Masters winner Robbie Delany, from the Faculty of Science, talked about his research on the impact of air pollution, in particular, carbon monoxide, on the brain.
Robbie will go on to compete at the national Inter-University Masters Final, which will be hosted by the University of Auckland this year.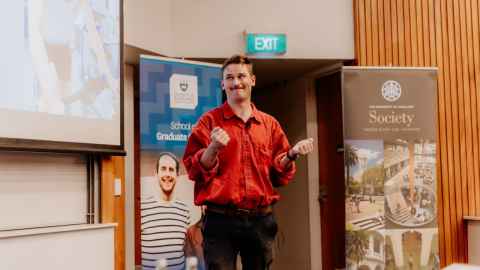 "I enjoyed presenting my research to a wide range of people from different academic and work backgrounds, allowing feedback from a range of sources and perspectives," Robbie says.
"Above all, I was mesmerised to hear the PhD research beyond my own discipline. I love to walk away having truly learned something new or having the tools to question something about society, science or the material world."
Judges Professor Trevor Sherwin (Associate Dean, Postgraduate Research), Julianne Evans (University of Auckland media adviser), Jae Lee (product and marketing manager, Citizen Watches) and Smridhi Marwah (3MT Doctoral Runner-Up 2022) all noted the outstanding quality of the presentations in this year's competition.
"We found judging this competition extremely tough," says Julianne. "Each presentation was lively and engaging, as well as showcasing some crucially important work. Topics included killers like melanoma and pancreatic cancer, as well as the maintenance of bridges after earthquakes, the underrepresentation of the youth voice in Africa and the survival rates of Māori and Pacific pre-term babies with heart issues.
"There really was so little to pick between them that we were down to fine margins. I honestly thought the result might end up as a multiple tie, although we were all delighted with Cam's win."