Research aims to aid cancer care for Sāmoan patients and their aiga
A scholarship funded by the Pasifika Medical Association will support research by a Sāmoan PhD student into racism in cancer care.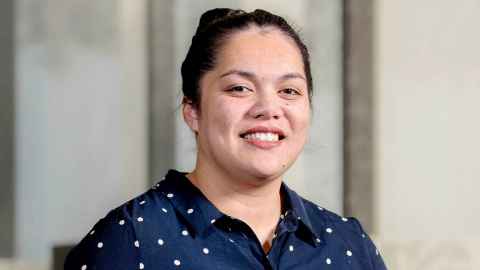 Fofoa Pio-Bentley has been awarded the PMA Knowledge Hub Doctoral Scholarship, worth $35,000 per year plus tuition fee costs, to investigate  racism and discrimination faced by Sāmoan cancer patients and their families in Aotearoa New Zealand.

"This research is really personal to me. Racism is embedded in our health system and this continues the ongoing cycle of inequitable outcomes, particularly for Indigenous and minority communities," says Pio-Bentley.

"My father was diagnosed in 2009 with acute myeloid leukaemia, just when I had started a bachelors degree in health science here at Waipapa Taumata Rau, University of Auckland.

"It was eye opening in a way that many of my family had not heard of this cancer before, and I witnessed first-hand how cancer care impacted someone very close to me, and how it impacts a family."

High rates of certain cancers in Pacific communities and missed opportunities for diagnosis leading to low survival rates are key concerns.

"My research aims to create a patient centred cancer model of care. This will help identify what wrap-around support is available and needed for families and their loved ones."
New Zealand-born, Pio-Bentley's Sāmoan roots are in the villages of Iva, Ti'avea and Fasito'o-Uta. Her masters thesis looked at the health literacy of Sāmoan mothers in Aotearoa and how it influences the management of their children's healthcare.
"There are so many barriers that prevent families from even accessing the bare minimum of care that includes access to primary health care and getting the right medication," she says. "One of my findings is that our Pacific peoples are resilient, considering what they continue to go up against."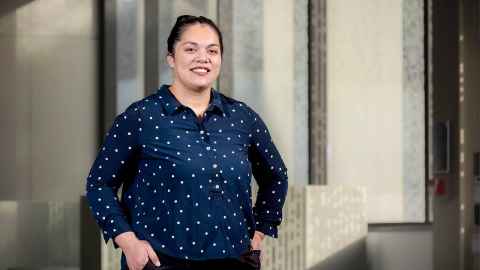 Pio-Bentley is supervised by Associate Professor Donna Cormack, a senior lecturer at Te Kupenga Hauora Māori who has been involved in Kaupapa Māori studies, particularly the impacts of racism on Māori health,and Associate Professor Melani Anae, a senior Pacific academic and activist who championed Pacific peoples' rights during the 1970's Dawn Raids movement.
"I am so privileged to be led by changemakers who continuously seek to better the lives of our people."
High rates of certain cancers in Pacific communities and missed opportunities for diagnosis leading to low survival rates are key concerns.

Pio-Bentley's parents moved from Sāmoa to Aotearoa New Zealand in the late 1980s, her mother in her late teens and her father in his early twenties, with the migrant dream of creating success and prosperity for following generations.
"I'm the eldest of four siblings, and we hope to live up to and carry that dream for them."
Mother to a beautiful baby boy, she says her parents, siblings and husband are her biggest supporters.

The Faculty of Medical and Health Sciences Office of the Associate Dean Pacific, led by Sir Collin Tukuitonga, includes flagship projects such as the Knowledge Hub and Te Poutoko Ora a Kiwa - Centre for Pacific & Global Health.
The Knowledge Hub is funded by the Pasifika Medical Association Group, which recently became a member of the Sir George Fowlds Society due to its significant contribution to the University.
"Our partnership with the University of Auckland is about growing Pacific research and learning pathways to enable Pacific people to live longer, better lives," Pasifika Medical Association Director of Knowledge and Evaluation Seini Jensen says.
The scholarships build Pacific research capacity by supporting post-graduate study with the aim of improving Pacific health and social outcomes.