University marks 140 years with posthumous honour for motorsport legend
Bruce McLaren, founder of the renowned racing and supercar company that still bears his name, has been recognised with an honorary doctorate.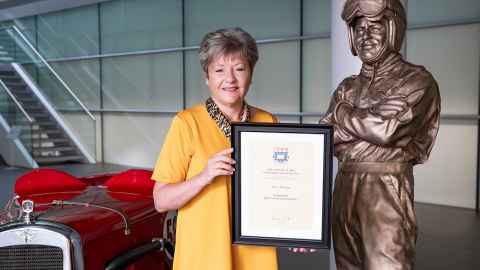 As part of the commemorations for its 140-year anniversary, Waipapa Taumata Rau, University of Auckland has conferred posthumous honorary doctorates on a group of extraordinary New Zealanders. The first of these celebrates the achievements of engineer, innovator and racing driver Bruce McLaren (1937-1970), with others to follow.
Bruce will posthumously receive an honorary Doctor of Engineering for his contributions to engineering. The award coincides with the 60th anniversary of Bruce's founding of the UK-based company that still bears his name.
When, as a University of Auckland engineering student, Bruce McLaren won the first New Zealand International Grand Prix Association's Driver to Europe Scholarship, it changed his life, and the international car racing industry. In 1959, at the age of 22, he became the youngest winner of a World Championship Formula 1™ Grand Prix, a record that remained unbroken for 44 years.
Just four years later, he established Bruce McLaren Motor Racing Ltd, initially designing, building and racing cars for the New Zealand/Australian Tasman summer series. With Kiwi teammate Denny Hulme, he dominated the North American Can-Am Championship series from 1966 to 1970, a record cut short when he tragically lost his life in June 1970 while testing his latest Can-Am car. He was just 32.
From its beginnings as Bruce McLaren Motor Racing Ltd, McLaren has evolved into one of the world's most admired racing and automotive brands. The McLaren of today is a validation of Bruce's vision, as a producer of lightweight, carbon fibre constructed supercars and a pioneering racing team competing around the world in Formula 1, IndyCar, Formula E, Extreme E and esports.
An honorary doctorate is one of the most prestigious awards the University can bestow and must be approved by both the Vice-Chancellor and Council. This is the first time posthumous honorary doctorates have been awarded.
Vice-Chancellor Professor Dawn Freshwater said the 140-year celebrations provided an ideal opportunity to honour a small group of leading New Zealanders who have played a significant role in education, the University of Auckland and the wider community.
"The University today is built upon the mahi, the mana and the academic achievements of many who have gone before us. With these degrees, we honour and celebrate a small and important number of these trailblazers."