Eliminating whakamā in learning te reo Māori
For Te Wiki o Te Reo Māori, Huarahi Māori student Tane Marsters writes about empowering Māori to learn te reo.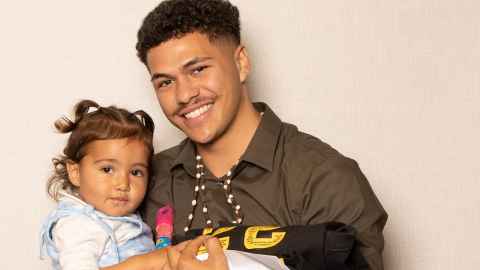 Ko Parihaka te maunga
Ko Hātea te awa
Ko Whangarei Terenga Paraoa te moana
Ko Ngāpuhi te iwi
Ko Tane Marsters tōku ingoa
Tihei mauri ora!
What inspired you to pursue Huarahi Māori?
Education is something that I have always had a passion for, and through that passion, I decided to pursue Huarahi Māori.
I was privileged to have a few Māori teachers in high school that put their time and energy into creating pathways for Māori success. Their willingness to enhance Māori achievement in education reflects my choice to secure a future on this path.
I have been inspired by other Māori kaiako, Māori lecturers, and classmates by their involvement in strengthening Māori achievement within our education system.
Māori stands at the forefront of my future.
Ko te akoranga ki au he tino mate nui, a, ka whāia hoki i tāku Huarahi Māori. I waimarie au ngā Kaiako Māori i te kura tuarua, kia karawhuia ā rātou wā, ā rātou riaka, ō rātou mātauranga ki te araara ki te angitū Māori. Ko ā rātou pūtohe ki te whakanuia te angitū Māori ki te kura, kua huri tēnā ki tāku Huarahi Māori. Kua whakaohoohotia e au nā ngā pouako Māori me ngā tauira ki te whakahaumako te angitu Māori i te pūnaha mātauranga.
E tu ana Māori ki mua i te huarahi.
How long have you been studying te reo Māori?
I first started learning te reo Māori during my final years of primary school, but before that, I did not have much knowledge or understanding of the language. However, it was during intermediate and high school where my connection with the reo and tikanga grew immensely.
I became more open minded and have grown a thriving desire to eliminate all the whakamā with learning the reo. Currently, my reo is still within the beginning stages and it's improving. Although I am only at this stage of my reo journey, I hope to learn, teach and speak te reo confidently.
I akona e au i te reo i ngā tau whakamutunga o te kura tuatahi. I tērā wā, kāore au i ako me te mārama i te reo. I te wā o te kura takawaenga me te kura tuarua, i whakawhanake nui tāku honohono ki te reo me ngā tīkanga. Kua whakatuwhera tāku mātauranga, a, ka whakapiki ake tāku matenui kia patua te whakamā, kia pai te hē. I tēnei wā, kua piki haere taku reo. Ahakoa he kakano ki tāku reo, ka waimarie au ki te ako, me te kōrero i te reo ia wā ia rā.
E tu ana Māori ki mua i te huarahi, Māori stands at the forefront of my future.
How do you intend to use your degree once completed?
I hope to encourage Māori and Pacific students to seek a pathway in education and teaching. Our education system needs teachers, especially of Māori and Pacific descent.
Education is important for our rangatahi and the future of their achievements and success, so I aim to create a positive and influential impact on Māori and Pasifika students. Te reo Māori is in a process of revitalisation, and I aim to push this progress further within my teaching.
Ka hōkaka au ki ngā tāngata Māori me ngā tāngata Pasifika kia whaia te huarahi i Te Kura Akoranga. Ko te pūnaha mātauranga o ngā kura, kia whakamōmori ngā kaiako Māori me ngā kaiako Pasifika. E whai tikanga ana te akoranga ki ngā rangatahi me ōnā whakatutuki.
E whai ake ana au ki te riariaki ngā whakaaro o ngā tauira Māori me ngā tauira Pasifika. E whakahaumanu ana te reo Māori, a, ka awhi tēnā i tāku whakaako.
What have been motivating factors since starting this haerenga?
My whānau have been my motivation throughout the start of my studies, my partner and my daughter have really pushed me beyond what I thought I could handle. To have them by my side throughout the duration of my studies makes me extremely grateful.
My parents and siblings, as well as my in-laws, have been very encouraging in pursuing this pathway. In addition, seeing my classmates and their passion towards Māori, teaching and learning has motivated me to keep progressing forward. Without any of the help I have received along this journey, I would not have made it this far.
Ko tōku whānau te whakaohooho i tāku akoranga. Ko tāku whaiaipo rāua ko tāku tamāhine kia awhina mai ki au i toku mohio ki te mahi. He tino whakawhetai rawa atu ki a rāua. Ko tōku whānau me te whānau ō tāku wahine, I tino awhi ki tēnei huarahi. I kitea e au ngā tauira, ngā hoa, hei whakaohoohotia ki te whaia ngā whetu ki runga. Kaore au i taea ki te whai i tēnei huarahi i kore raua. Hei rite tonu ki te whakatauki, ehara taku toa i te toa takitahi, he toa taki tini.
What would your advice be for other/future tauira to combat their whakamā with pursuing Huarahi Māori or similar pathways?
Patua te whakamā! Teaching has no limit to the impact it can have on our future rangatahi. I encourage all those who have interest in teaching education to give it a go. The future of our rangatahi education is in our hands. It is up to us to identify where change is needed and implement change. The opportunities you receive through teaching and education is immeasurable.
Āe! Patua te whakamā! Ko te akoranga, he kore rawa mahi tonu a te pūtanga o ngā rangatahi. Māku kōutou e āki ki te akoranga kia whaia tonu. Ko te wā a muri mō ngā rangatahi, kia takoto ki a tātou ringa.
Huarahi Māori is a three-year Bachelor of Education (teaching) degree for people who are proficient in te reo. It fosters understanding of education, familiarises students with the Māori-medium curriculum, enhances students' knowledge and skills in the areas of te reo matatini (literacy), pāngarau (numeracy), tikanga Māori, mātauranga Māori, Māori pedagogy and second language acquisition and pedagogy.
Huarahi Māori enables individuals to develop a richer relationship with their cultural identity and is a pathway that contributes to the revitalisation of te reo Māori in Aotearoa New Zealand. Huarahi Māori is available to study at our Tai Tokerau and Epsom Campuses.