Pūtaiao Symposium brings mana of Māori to science faculty
Te Whare Pūtaiao, Faculty of Science held its first biennial Pūtaiao Symposium to strengthen pathways for Māori in science.
Primary school students featured in the mihi whakatau to open the University's inaugural Pūtaiao Symposium at Te Papa Ako o Tai Tonga Campus to explore science grounded in kaupapa Māori. 

The welcome was led by Ngāti Te Ata Te Waiohua leader Kaperiere Peita alongside staff from the offices of the University's Pro Vice-Chancellor Māori and Pro Vice-Chancellor Pacific.

Besides taking part in the ceremony, the students from Wiri Central School's Mōkai Āwhina listened to speakers and asked questions, highlighting one of the symposium's themes: encouraging rangatahi into the sciences.

"Our tamariki are the 'why' of the event, the scientists of the future," says Faculty of Science Kaiārahi Teariki Tuiono.
The two-day event aimed to ignite a flame for Māori success in pūtaiao and STEAMx3 (Science, Technology, Engineering, Arts, Medicine, Math, and Mātauranga Māori).
Held on 7 and 8 September, ahead of Te Wiki o Te Reo Māori, the gathering offered a safe space for reo, akōnga, rangahau, amio, whakawhanaungatanga, rangatiratanga, and kaitiakitanga.

"We're really appreciative of the manaakitanga and our hosts at our South Auckland campus, Te Papa Ako o Tai Tonga," Tuiono says.

"They reflect what it means to have meaningful engagements, whakawhanaungatanga, and rangatiratanga, which is what this symposium is about."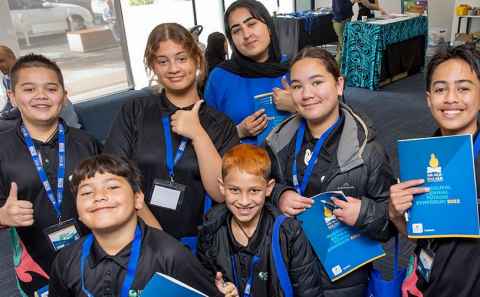 'Ma Mua Kaa Hua,' exploring the past to inform the future, was the theme, with the aim of supporting future generations of Māori students and researchers.
The event showcased Māori-led initiatives for pūtaiao and mātauranga research. Breakout sessions and workshops explored kaupapa Māori and mātauranga Māori practices with a kanohi ki te kanohi (face to face) and a whakawhanaungatanga (relationship building) approach.
Keynote speakers included Dr Jade Le Grice (University of Auckland), Tammy Tauroa (Te Ara Whānui Research Centre), and Arohaina Owen (Auraki Group).
Keynote and panel discussion topics

Decolonising research
Jade Le Grice, a senior lecturer in the School of Psychology, opened the symposium with a kōrero on decolonisation in research, Māori and western narratives of abortion, and how colonisation is a key determinant in struggles for Māori (particularly around sexual violence).
Data sovereignty
A panel of Andrew Sporle, Professor Tahu Kukutai, Dr Donna Cormack, Larissa Renfrew, and Daniel Wilson discussed Indigenous data sovereignty and why Māori data is a taonga, especially when connected with areas such as te reo Māori, Māori culture, resources and the environment.
Science curriculum, teaching, and learning
Te Pūtahi Pūtaiao co-director Te Kahuratai Moko-Painting hosted a panel about teaching, learning and the science/pūtaiao curriculum, featuring Professor Tony Trinick (Faculty of Education and Social Work), Ella Newbold, Amber Te Tau, Melina Marama Waite, and Hineatua Parkinson.