Te reo Māori opens many pathways
Second year Huarahi Māori student says te reo Māori opens many career opportunities, making learning fun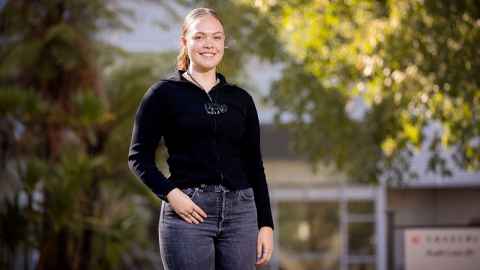 Ki te taha ō tōku tūpuna matua, ko Ngāti Whātua te iwi, ko Te Uri ō Hau te hapū. Ki te taha ō tōku tupuna whaea, ko Te Rarawa te iwi, ko Ngāti Manawa te hapū. He mea whakatupu ahau e ōku tūpuna, ko Tayla tōku ingoa.
I tupu ake au i ngā rekereke o ōku tūpuna, me tōku waimarie katoa. I whakatōkia e rāua ngā mātāpono Māori ki roto ki a au.
Nā konā i tupu taku hiahia kia whakatōkia hokitia aua mātāpono e hau ki roto ki ā tātou tamariki. Ki roto i te reanga e tupu mai nei, horekau i waimarie ki te noho tahi ki te reanga koumātua pēnei i tāku.
I tupu mai ahau i ngā rūmaki reo o Tāmaki Makaurau. Nō tērā tau ahau ka tīmata ki te ako ōkawa i te reo, ki roto i Te Pīnakitanga ki te reo Kairangi.
Kia puta taku ihu i te Huarahi Māori, e hiahia ana au te hoki ki roto o te wā kāinga, ki roto o Ōruawharo whakaako i ā tātou tamariki. He mahi ki raro i te iwi, he whakatupu i te āpōpō o tōku iwi, o Ngāti Whātua.
E tino waimarie ana ahau i taku kāhui tautoko, mei kore ake ko te tautoko mai o tōku whānau i a au e kore kāhore kua kore hau e tae ki te taumata kua tae nei hau.
Ka mutu he āhuru mōwai anō te kaupapa nei o te Huarahi Māori.
E kaha tautokohia ana mātou ngā tauira e te kāhui kaiako, nōku katoa te whiwhi. Ko te mea e kaha āki ana i a au ko ā tātou tamariki, ko te oranga tonutanga o tō tātou reo!
Patua te whakamā! Ko tātou te whakatinanatanga o ngā moemoeā ō ngā tūpuna.
Ko tātou ngā maunga kanohi o ō tātou iwi. Mahia te mahi hei painga mō te iwi!
Hoinō, āe he ara pakeke i ōna wā. Engari ngā hua, he nui he kounga ka taea e koe!
Te reo Māori is my first language. I had the privilege of learning it with my grandparents, the language of our kaumātua is so special.
My upbringing was largely based on te ao Māori, that is where I draw my inspiration from and I hope to instill those same values into the next generation.
Although I grew up skeaing te reo Māori, and went through Māori education, it wasn't until
last year that I formally started studying te reo Māori. I hope to move home to Ōruawharo and work alongside my iwi to grow strong reo speakers, nurturing our tamariki to be confident in who they are.

I'm really fortunate to have such an amazing support system, without my whānau, I don't know where I'd be. Huarahi Māori kaiako are one in a million, they provide support and an amazing whānau-like environement. But what keeps me pushing is our tamariki and the revitalisation of our language.
Māori language can be really fun to learn, which is an important aspect I'd like our children to see. A fun and engaging teaching style is what I intend to develop through Huarahi Māori.

There are so many opportunities with te reo Māori, I thought, why not try sitting a translation license too. It goes to show the demand for the language, how revitalisation is embraced, and the interesting different pathways it can take you.
I generally enjoy learning, so I don't intend to stop after gaining my Bachelor of Education degree.
Why not explore other realms of te reo Māori under the likes of Hēmi Kelly, Ruth Smith, Pāpā [Robert] Pouwhare – champions of te reo Māori.
We are the embodiment of our ancestors' hopes and dreams. We are the faces of our iwi.

Huarahi Māori is a three-year Bachelor of Education (teaching) degree for people who are proficient in te reo. It fosters understanding of education, familiarises students with the Māori-medium curriculum, enhances students' knowledge and skills in the areas of te reo matatini (literacy), pāngarau (numeracy), tikanga Māori, mātauranga Māori, Māori pedagogy and second language acquisition and pedagogy.
Huarahi Māori enables individuals to develop a richer relationship with their cultural identity and is a pathway that contributes to the revitalisation of te reo Māori in Aotearoa New Zealand. Huarahi Māori is available to study at our Tai Tokerau and Epsom Campuses.