Pacific focus for Global Studies graduate
Graduate Imogene Woodmass has followed in her father's footsteps by continuing her education and pursuing what she loves; looking at how Pacific countries can work together for mutual benefit.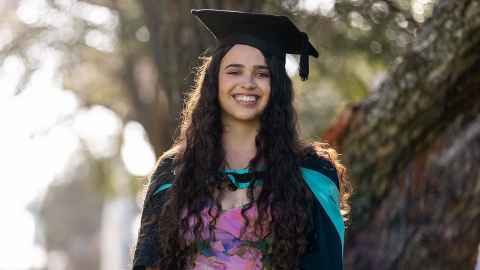 Imogene Woodmass is one of the first three in the University of Auckland's inaugural Global Studies cohort to graduate with a Master of Global Studies and the only one of the postgraduate group who did her undergraduate degree in the subject at Auckland.
Imogene will graduate with first class honours in the University's spring graduation ceremony on Tuesday 19 September.
Raised in Auckland by a single father after her mother died when she was very young, she says seeing her father go off to university as a mature student to qualify as a teacher when she was about five had a big impact.
"My dad really encouraged my sister and I to pursue reading, education and university and to follow what we enjoyed rather than any particular career path."
Early school experiences at Meadowbank Primary, which has a strong focus on environmental education as part of its location within a bushy gully, developed her interest in the natural world, and inspiring teachers and schooling right through to high school at Glendowie College consolidated her interest in further study.
But straight after school she was keen to explore the world and ended up taking a gap year, backpacking around Europe and teaching English in Poland, which she chose because it was unfamiliar and not English-speaking.
"I really wanted to challenge myself in that way and Poland offered that opportunity."
Initially she stayed with her mentor teacher from the language school and her family (a husband and two teenage boys) in a small town where very few people spoke English.
"Unfortunately I didn't learn too much Polish, it's an extremely difficult language to learn, it has so many consonants!"
 
However, she says the experience overall was formative and eased her into the country and its education system.
"Just seeing the boys go through their schooling and exams was rewarding as I was able to help them with their English as well."
Back home again she returned to the University to study communications and anthropology but still felt it wasn't quite the right time for her, although a paper in Pacific Studies struck a chord.
"I ended up leaving and volunteering in a Fijian village as a kindergarten assistant for a month and that gave me the same dynamic as Poland; learning about life and other cultures outside the lecture room."
Her return to study in 2019 coincided with the second year Global Studies was offered at Auckland.
"I really liked the look of it because it combined lots of my interests; the environment, a focus on a particular area of the world [she chose the Pacific], and it also seemed to include the politics and sociology side that I liked in one nice little package!"
Another bonus turned out to be the small inaugural cohort and a small teaching staff, which enabled deeper relationships between students, and between staff and students.
"That's something I've really appreciated in this discipline, right through to my masters; I feel like with the teaching staff in particular, I've had such great relationships that have really uplifted and supported me."
I really liked the look of it because it combined lots of my interests; the environment, a focus on a particular area of the world [she chose the Pacific], and it also seemed to include the politics and sociology side that I liked in one nice little package!
Her masters research focused on geopolitics in the Pacific, and in particular the different dynamics going on between countries who form part of the Pacific Islands Forum; an inter-governmental organisation which aims to improve cooperation between 18 Pacific countries and territories, including by forming trade blocs and regional peacekeeping operations.
"I had done my undergraduate degree in global politics and human rights and for my masters, I was interested in the forum and a particular episode that broke down relationships within it."
This involved the election of the new Secretary General and a long-standing 'gentlemen's agreement' that the position would be rotated around between sub regions, and it was Micronesia's turn this time around.
However, Imogene says, they nominated the Cook Island candidate instead and this caused a huge rift and upset.
"All the Micronesian countries said they were going to withdraw from the forum as they'd been disrespected and undermined by the bigger Polynesian and Melanesian countries. So that was the context for my masters thesis.
Her research also looked at the notion of the Pacific Way as it relates that particular rift at the forum; a term first used by Fijian chief minister Ratu Sir Kamisese Mara at the UN General Assembly in 1970, referring specifically to Fiji's peaceful transition to independence, but also used over the years to refer to a particular type of diplomacy, involving doing things in ways that are mutually respectful, consultative and allow for compromise.
So is a career in diplomacy a possibility?
"I definitely used to think so, but I've become a bit disillusioned with the ethics behind certain things, so I now see myself pursuing a more 'bottom up' kind of approach, looking at what a community needs and how they want to progress themselves.
"And that could be in the Pacific, or it could be here in Aotearoa, supporting how particular communities relate back to the Pacific."
Meanwhile Imogene is a graduate teaching assistant on the undergraduate Global Studies programme and is looking forward to walking across the Spark Arena stage to receive her degree in front of her proud father, sister and wider whānau.