Rising opera star Tayla Alexander takes centre stage
Music graduate Tayla Alexander is ready to take the world by storm after signing a multi-million dollar production deal.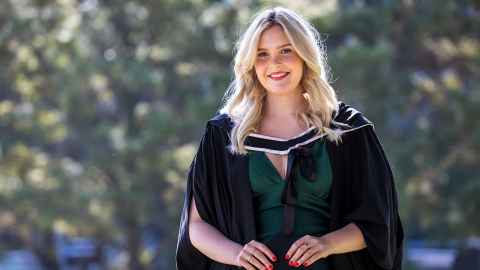 Kiwi soprano Tayla Alexander has dedicated her life to carving a new path in the world of classical music – and it's paying off big time.
She was only 11 years old when she released her first album. Now 22, the Auckland singer will take another huge step in her flourishing career when she heads to Europe next month to begin work on a new album as part of a multi-million dollar production deal.
Tayla, who graduated this week with first-class honours for her Bachelor of Music degree, scored the deal after German producer Daniel Loitz discovered a video of her and her dad Dwayne singing a cover of Elvis Presley's 'Love Me Tender' during the Covid-19 lockdown in 2020.
"It happened so organically. It was my dad and I sitting in our study, deciding to do karaoke on his computer," says Tayla.
The video was recorded as a tribute to her grandad, who had been diagnosed with cancer.
"He was told that he had a very short amount of time left. We were in the pandemic and not allowed to see him, so we wanted to do something that would cheer him up. The love of music in my family comes from him, so we wanted to honour him."
The deal with Loitz will see Tayla record an album of schlager music – a style of European crossover pop music – which will be mastered at the iconic Abbey Road Studios in London.
"I love opera because it's challenging. I love the technical elements and understanding how the voice works and the languages and stories, but you are sort of at the beck and call of your maestro and director. You wear what you're told to wear, and you do what you're told to do. There's definitely room for that, but there's also something really exciting about expressing myself without all of those rules," she says.
As part of the deal, Tayla will also get to record a duet with her dad.
"It's really cool," she says. "My dad is so excited."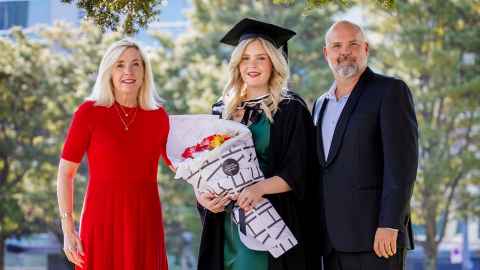 Tayla works as a soloist with the New Zealand Opera company, the Auckland Philharmonic Orchestra, Auckland Youth Orchestra and the Auckland Opera Studio. She was a semi-finalist in last year's Lexus Song Quest and has performed in the NZ Opera productions of Macbeth, The Unruly Tourists and Così fan tutte. This year, Tayla also became a 2023 NZ Opera Studio artist where she received one-on-one training.
In December, she'll begin two weeks of rehearsals for The Phantom of the Opera before flying to Japan, where she'll perform 16 shows in 14 days.
On top of that, she plans on beginning her masters studies overseas next year and is currently studying part-time towards a Graduate Diploma in Applied Psychology at the University of Auckland.
"I see myself performing and touring for quite a long time, but I could see myself in a leadership role at a university or something along those lines. Studying psychology is hugely beneficial."
When she was 18, she launched the Tayla Made Foundation, a charitable organisation backed by the Perpetual Guardian trust that offers financial support for young classical musicians in need. In the first two years, the foundation awarded $40,000 in grants.
"There were so many scary moments for young people during Covid. It was like 'How are you supposed to survive as a performer and an artist during this time?' I suddenly realised that there really isn't a lot of financial support, and I wanted to do something because I feel that there is funding, but it's not quite directed at that age group."
Tayla discovered her love of singing through her parents, who introduced her to music from sopranos like Maria Callas, Montserrat Caballé and Dame Kiri Te Kanawa.
Her family moved to New Zealand from South Africa when she was one, and she began taking singing lessons at age five. By ten, she was already doing commercial gigs.
Music has helped her through some rough times in her life. She's struggled with anxiety over the years and says that singing gave her a healthy way to escape her troubles.
"There were times when it was really hard to get out of bed, but singing gave me something to aim for and a sense of identity when other parts of my identity didn't feel right."
Tayla says she's especially thankful for her lecturers at the School of Music, including Dr Morag Atchison, for "taking me seriously and making it work".
"Music is not the same as other degrees where you come in and out, and the lecturers don't really know who you are. My lecturers know me very well. We've spent a lot of time in rehearsals and one-on-one lessons together, and they've been a huge part of my success.
"University has truly been the trampoline for me to keep going and move upwards," she says.