'We need you:' City Missioner's plea
Auckland City Missioner Helen Robinson laid down a stirring challenge to social work students in her recent lecture to "keep going" as the need has never been greater.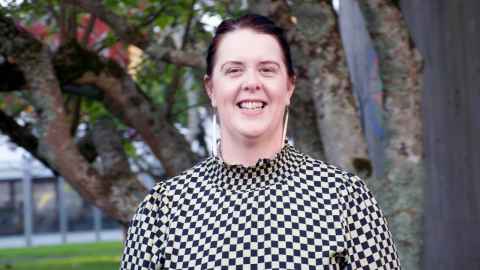 "We need you, keep going!" was the challenge Auckland City Missioner and University alumna Helen Robinson extended to her audience of social work students, staff and others gathered to hear the last in the Dean's Winter Lecture series at the University of Auckland's Epsom Campus on 21 September.
Helen's message was clear and powerfully stated: there is a huge need for the work that organisations like the Auckland City Mission-Te Tāpui Atawhai do; feeding the hungry, housing the homeless, caring for the chronically unwell and generally supporting those trying to survive on the margins in conditions that will only get tougher.
But in tandem, she said, there's also a need for the kind of social research and data provided by programmes like the one she graduated from herself, the Master of Social and Community Leadership programme, led by Dr John Fenaughty in the Faculty of Education and Social Work.
She took a moment to pay tribute to the rich legacy of teacher and social worker education on the Epsom site, and said she felt humbled to be delivering a lecture in front of those who had taught her so much; in fact her supervisor, Head of School, Associate Professor Allen Bartley was in the audience, as was another mentor, Professor Christa Fouché.
Helen's thesis topic, food insecurity [the condition of not having access to sufficient food, or food of adequate quality, to meet one's basic needs] in Tāmaki Makaurau, left her "outraged" at the extent of it and who was most affected, but was also a challenge to decision makers to step up.
"I found food insecurity disproportionately affects wāhine Māori bringing up children on their own, so it's a problem with a gender and a colour."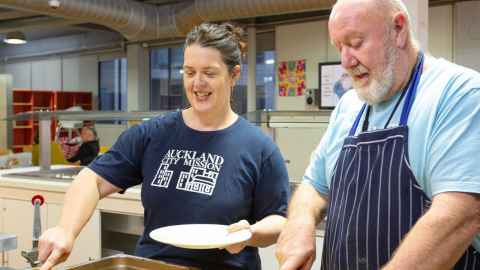 Over the past ten years, the Auckland City Mission has gone from handing out 10,000 food parcels a year to around 60,000, and in 2015/2016, 19 percent of New Zealand's children were food insecure.
Started 103 years ago at St-Matthew-in-the-City by the Reverend Jasper Calder, with a focus on food, housing and access to healthcare, the Mission was one of the city's original foodbanks.
Things really gained momentum in the early 1990s when Ruth Richardson's 'Mother of All Budgets' cut the unemployment benefit by $14 a week, the sickness benefit by $27, the families benefit by $25 and completely abolished universal payments for family benefits.
On a more hopeful note, Helen said, the Mission's wonderful new $110 million facility, HomeGround in Hobson Street, is now a reality, "after 16 years in the dreaming;" the combined result of three city missioners, including Helen herself, Dame Diane Roberston, who was its first driving force, and previous missioner Chris Farrelly, alongside government funding and extensive fundraising.
"It's an expression of courage and resiliency, and it's a place where everybody belongs," said Helen.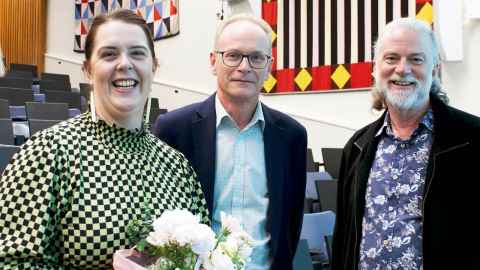 The supportive housing concept offers 80 permanent apartments, now at 96 percent occupancy by those who would otherwise be rough sleeping or unstably housed, and they know the need is great.
It also has wraparound services like a low cost health and social services centre (Calder Centre), state of the art addiction withdrawal services, a beautiful rooftop garden, shared recreational and contemplative spaces and Haeata, a light and airy dining and kitchen area serving up to 300 morning meals a day.
Many people walk through HomeGround's doors and find a welcome there, including people with a background in criminal offending, who have mostly all had very rough starts in life and are consequently unwell.
"We put people in prison for being sick," Helen said.
She spoke about the sadness of a Matariki service at the Mission earlier this year in which they acknowledged the loss of 29 street whānau, most of whom she knew, ("I knew where they lived, and where they didn't live") many who were Māori, and who were mostly all under 60.
In wrapping up, she yet again extended a powerful invitation to everyone in the room to be brave enough to accept her challenge; to fight for truth, justice and change, especially leading into an election.
"It might fall on deaf ears, but my experience is that one plus one equals more than two.
"This is a reality we've constructed, but the hopeful thing is, we have the power to construct another reality, by contributing our leadership, by doing what we can."