Champion for change honoured with University award
Engineering student Sarina Todd has been recognised with a major award at the 2023 Blues Awards for her efforts to advance gender equity.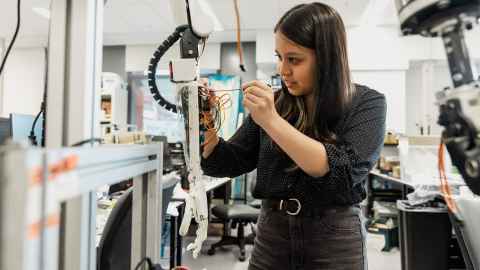 Sarina Todd has made it her mission to bring the crucial issues of gender equity and education into the spotlight.
And now the engineering student's tireless efforts to champion these causes has been recognised with a major award at the 2023 University of Auckland Blues Awards.
The accolade for Most Outstanding Contribution (Service and Leadership) recognises Sarina's dedication to STEM (Science, Technology, Engineering and Mathematics) education and her efforts to promote gender equity in these fields.
Women remain significantly underrepresented in STEM fields, and Sarina views the recognition for her work to drive change in this area as an opportunity to inspire greater participation from people and organisations "to get involved and make a difference".
Sarina is in her third year of a Bachelor of Engineering (Honours) in Mechatronics Engineering. She is the co-founder of Women In STEM NZ, as well as the Treasurer of the Women in Engineering Network (WEN), Vice-President of the Mechanical and Mechatronics Student Association (MECHA) and graduate of the Dean's Leadership Programme.
Sarina says that Women in STEM NZ was born out of a desire to provide young women with role models and insights into the diverse opportunities within STEM fields. The website features interviews with women from across New Zealand, showcasing their experiences, career paths and advice for aspiring young women interested in similar careers.
"In high school, all I really knew about the STEM fields was the science and mathematics taught in the curriculum. I also didn't have many women role models to look up to; I knew of people like Dr Michelle Dickinson, but she seemed out of reach, and I wanted to know what it was like as a typical woman in STEM."
The initiative has been a resounding success and is now used in New Zealand high schools as an educational resource.
"The many women and gender-diverse individuals featured on the website are there to show what sorts of jobs a career in STEM can lead to, beyond the science and maths taught in school. By sharing these stories, I hope to ignite a passion for STEM in young women, encouraging them to pursue their dreams and make their mark on the world."
Sarina was also the recipient of a second Service and Leadership honour at the Blues Awards for her outreach work at Silverdale Primary School, where she collaborated with students on their sustainability projects. Sarina's expertise in 3D printing and laser cutting played a pivotal role in helping students bring their ideas to life, and her work will serve as a valuable resource for primary school student teachers.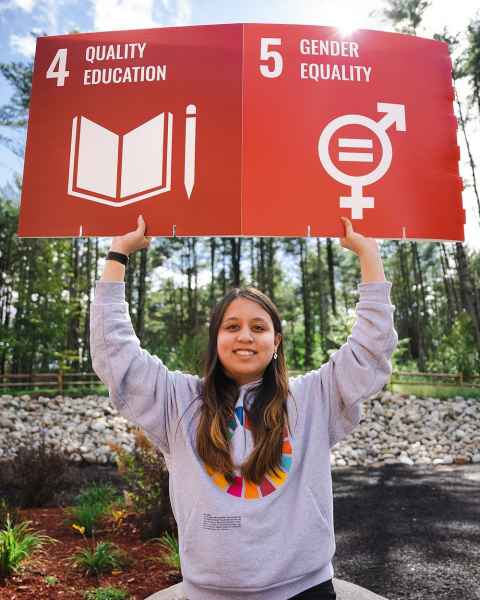 Beyond her work in New Zealand, Sarina recently attended UNITE Camp 2030 in New York City. The camp brought together 150 young leaders from over 50 countries, all dedicated to making a positive impact on the world in alignment with the United Nations' Sustainable Development Goals (SDGs).
During the programme, Sarina and her team focused on SDG 4: Quality Education. The aim was to find an innovative solution for equitable education for public school students in Venezuela, particularly those interested in pursuing STEM careers.
Sarina also moderated a panel discussion during UN Global Goals Week, where she shared the stage with individuals who have made significant changes in their communities.
"Moderating this panel allowed me to facilitate discussions about critical issues, share the
stories of changemakers and contribute to the broader dialogue on sustainable development."
Sarina says she's thankful for the generosity from the Faculty of Engineering and Department of Mechanical and Mechatronics Engineering, who sponsored the trip to New York.
"I am immensely grateful for the opportunity to develop my leadership skills and global citizenship and look forward to continuing my service and leadership to the University as I begin my honours year."
The Blues Awards honour students who have performed at the highest level. The winners are recognised as excelling in their chosen endeavour, achieving success at a national or international level or making a significant impact on their community. See the full list of winners.