Finding balance and enjoying the blues
From serving tables to serving up innovation on a global stage, Blues Award-winner Luke Davis is turning challenges into triumphs.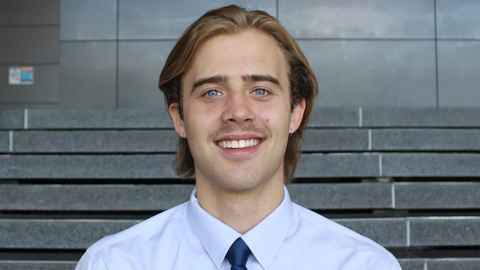 Blues Award winner Luke Davis embraces innovative thinking in all areas of his life - from waiting tables to managing accounts receivable for an NZX-listed company, to excelling in international case competitions.
The third-year Bachelor of Commerce and Bachelor of Law conjoint student received the 2023 Blues Award for the Most Meritorious Innovation thanks to his creative and innovative problem-solving skills, which were on show in several recent case competitions.
Earlier this year, he and his teammates Emily Hacket Pain, Ellie Cammell and Trinayan Krishnan travelled to Los Angeles to compete in the Marshall International Case Competition at the University of Southern California.
Competing teams from 19 premier business schools worked under pressure to solve real business problems while up against simulated conditions such as time-critical deadlines and incomplete information.
Luke's team was tasked with proposing a strategy for a global healthcare company designed to address actual challenges, including managing large databases and protecting the privacy of patient information.
"In competitions like the USC Marshall one, we utilised innovative ideas and strategies to solve the problems presented to us."
It's this kind of thinking that the Blues Award is acknowledging.
"I was shocked to receive the award and so glad that the efforts of the whole team were elevated," says Luke, who earlier this year was named the EY Business Student of the Year.
Alongside his academic success, Luke has two part-time jobs, including managing the accounts receivable for Savor Group's 17 venues. Additionally, his passion for inclusivity and equity shines through his pivotal role in re-establishing Rainbow Business and his leadership positions on the Queer Student Council and Business School Equity Committee.
"Rainbow Business was pretty much a dead club, so it was amazing to bring it back to life and now it has around 350 members," says Luke.
"I'm passionate about trying to lift others up and to empower people around me, particularly those in the queer community. I find meeting new people and hearing different perspectives so rewarding, and when I'm problem-solving or working to understand something, I don't come at it from just one angle, I come at it from ten."
Although Luke is getting a well-rounded university experience and displays an abundance of drive and passion in everything he does, handling all of the components of his life is a juggling act - one that he's still working to master.
"I sometimes find it really hard to find balance and that's what I'm working on. It comes down to managing time really well, making sure that every minute I'm here, I'm not wasting time. But... I'm pretty chatty, so that can be difficult! So yeah, finding balance is a work in progress."
The Blues Awards honour students who have performed at the highest level. The winners are recognised as excelling in their chosen endeavour, achieving success at a national or international level or making a significant impact on their community. See the full list of winners.
Media contact
Sophie Boladeras | Media adviser
M: 022 4600 388
E: sophie.boladeras@auckland.ac.nz