Olaf Diegel: printing 3D backups of taonga
Professor Olaf Diegel is creating 3D-printed reproductions of invaluable taonga in a convergence of technology and heritage preservation.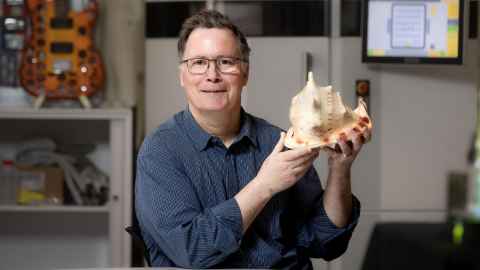 This is an expensive technology. But compared with any other way of preserving a cultural artefact, it's way cheaper and much more flexible.


A few months ago, Professor Olaf Diegel walked through the doors of Auckland Hospital. But he wasn't there to treat a health issue or pay a visit to a loved one.

His visit had a unique purpose: to get a CT scan of a pūtātara (conch shell trumpet), one of many highly prized taonga pūoro (traditional Māori instruments) with immense cultural significance. The hospital's CT scanner was needed because it was bigger than any scanner on campus.

As the head of the University's Creative Design and Additive Manufacturing Lab, the scan gave Olaf the intricately detailed images he needed to craft a 3D-printed reproduction of this invaluable taonga.

The trumpet was a cherished family heirloom of the University's Kaiarataki Michael Steedman, and had been passed down his whānau through generations.

"The problem is that you couldn't have children playing with it because if they drop it, it's gone forever," says Olaf.

That concern is now a thing of the past. The trumpet that Olaf created is not only fully functional, but it faithfully reproduces the sound of the original.

"We've printed a bunch of them, including full-colour prints and nylon 'strong' prints that you can pretty much throw against the wall without having to worry about them breaking," Olaf says.

Since then, he has been working on 3D printing a pūkāea (long trumpet), which was created using the same process as the conch shell trumpet and took 16 hours to print.

These taonga pūoro are some of the most unique and rare instruments found across the motu. Replicas of both are now held at Ōrākei Marae in Auckland.

This convergence of technology and heritage preservation is shaping a new era in how we safeguard and share our cultural treasures.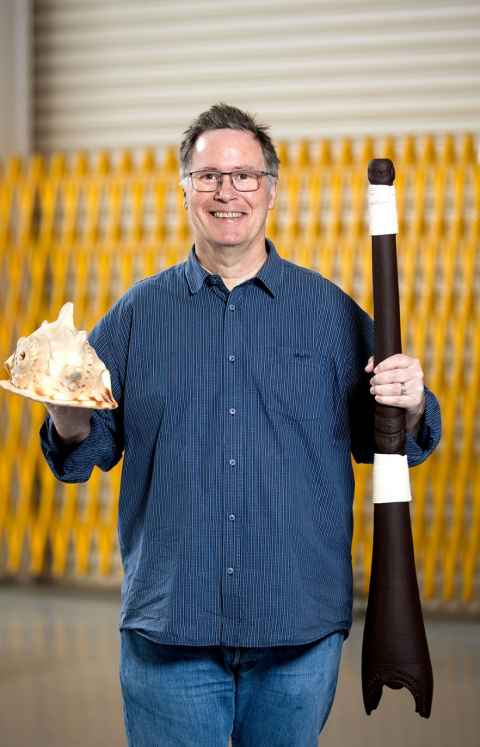 You don't want to remove the value from the original artefact.

Over the past decade, the technology has been increasingly used for preservation work by museums and cultural institutions. Tourists can now visit a 3D-printed replica of Tutankhamun's tomb in the Valley of the Kings in Egypt or view ancient artefacts from China's Forbidden City that have been restored, thanks to the technology.

"Don't get me wrong, this is an expensive technology. But compared with any other way of preserving a cultural artefact, it's way cheaper and much more flexible."

Olaf is playing a significant role in combining the power of digitisation and 3D technology in Aotearoa New Zealand. He is working with Auckland Museum to digitally scan a traditional waka and create a 3D model of it.

Software will also be used to restore any damaged parts of the waka, says Olaf.

"Once you have the digital file of an artefact that's been damaged, you can fix it and then print a good artefact rather than a damaged one."

However, replicating cultural artefacts does raise some ethical considerations.

When the long trumpet was being printed, a dilemma emerged: should the replica closely mimic the original, down to its wood texture? In this instance, Olaf and his team engaged with iwi Ngāti Whātua Ōrākei and made the decision to produce it using white plastic, as a sign of respect for its cultural value and significance.

"You don't want to remove the value from the original artefact," Olaf says.

Olaf set up the Creative Design and Additive Manufacturing Lab – or "giant toy room", as he likes to describe it – at the Newmarket Campus in 2018. It's filled with all sorts of weird and wonderful 3D-printed projects, including an assortment of guitars decked out with LED lights, which he designed.
"Anything you can imagine, we can make here; whether it's metal, food, ceramics, or plastics, we try to make it as quickly and as efficiently as possible," he says.

Most projects don't require a trip to the hospital. They can be designed using computer-aided design (CAD) software and then created layer by layer in a 3D printer.

Olaf says the technology is very accurate.

"With the colour prints we did of the conch shell, the layer thickness is about 20 microns – that's 0.02 of a millimetre."
The efficiency that 3D printing offers is already having a big impact on manufacturing by helping companies slash costs, reduce waste and cut production lead times.

"If you can take a product that, say, weighs 16 kilograms, and you can reduce it to one kilogram – and you think about that being shipped around the world or being a part on an aeroplane – the fuel you save every year because of that weight saving is huge," says Olaf.

Although it's still an emerging technology, significant advancements have already been achieved in 3D printing, particularly when using it for medical applications.

"We all have different-shaped bodies, so being able to make a medical implant that's custom-made and fits you perfectly is a huge advantage.

"We can print a titanium hip replacement and make the outer surface of it porous so that after we implant it, the bone grows into it and you don't have to go back five or ten years later to get all the screws tightened up."

Another notable innovation in medical applications revolves around bioprinting, where the goal is to print tissues and organs. Although printing complete organs can't be done yet, Olaf is working to produce synthetic muscle substitutes using electroactive polymers. The technology could help people with muscle atrophy, effectively replacing their weakened muscles.

Olaf and his team of students in the lab are also experimenting with 3D-printed food using cutting-edge industrial-grade printers. This ground-breaking technology holds the potential to benefit people with dysphagia, a condition that impedes their ability to chew or swallow food. Although still a work in progress, they aim to offer tailored, dissolvable bite-sized meals, delivering essential nutrition in a format that suits the unique needs of those with the condition.

In another remarkable development in additive manufacturing, local company QOROX successfully used 3D printing technology to construct an entire concrete house in the West Auckland community of Huia.

"We have a housing crisis in New Zealand. Now imagine if you could print a house in 48 hours or a week instead of six months or a year. Think how that would change how we live and how we build houses around New Zealand."

Olaf says there's another exciting frontier on the horizon: the integration of artificial intelligence (AI) into the realm of 3D design. This innovation promises to revolutionise the creative process and push the boundaries of what's possible.

"You will be able to type, 'I'd like a guitar that looks like Donald Trump', and the AI will then generate a guitar that looks like him.

"I'm not sure why anybody would want one," he says. "But you could do it."

Story by Hussein Moses
This article first appeared in the November 2023 issue of UniNews.
The writer is also the media adviser for the Faculty of Engineering. 
Media contact
Hussein Moses | Media adviser
M: 027 361 1000
E: hussein.moses@auckland.ac.nz